Rockdale Musical Society brings Singin' In The Rain to the Rockdale Town Hall in March 2020
Based on the classic Metro-Goldwyn-Mayer film, the stage production of Singin' In The Rain promises high-energy choreography, a superb score and a joyous story,.
All you have to do is hum a little "doo do doo doo, doo do doo do doo doo" and everyone smiles, recognising the familiar introductory song.
Set in 1927 Hollywood, Don Lockwood and Lina Lamont, the famous silent movie acting pair, are promoted to the public as the aspirational romantic couple of the decade. At the premiere of the studio's latest picture, gossip columnists ask, "Are they a couple?", "Are wedding bells in the air?" The truth is, the two stars chemistry is only for the screen and behind the scenes there's a very different story.
The movie world is then thrown upside down when the first 'talking picture', The Jazz Singer is a massive hit. Studio bosses demand that Lockwood and Lamont's new feature be filmed with sound – the days of the silent picture are over. There's just one problem – Lina Lamont has no acting ability and a voice like screeching cat being dragged across a blackboard.
Don Lockwood and his childhood friend and fellow performer Cosmo Brown come up with a plan – they'll get Don's new girlfriend, Cathy, to double as Lina's voice. It's a perfect plan, just as long as Lina doesn't find out!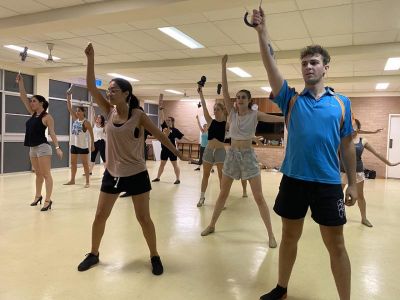 Christopher Brennan plays the handsome and charismatic Don Lockwood. Currently studying a Bachelor of Music, Chris said, "I'm so excited to play this role and hopefully do justice to the great Gene Kelly."
Michael Osbourne takes on the challenge of bringing Cosmo Brown to the stage. From a young age, Michael was inspired by movie musicals, in particular, the timeless performances of Gene Kelly and Donald O'Connor.
"It's so exciting to beSingin' in the Rain ... again! I hope we can bring some joy to people in our community and help inspire others to dream through life's hardships," Michael said.
Director Kathy Petrakis has many directing credits for straight plays, however, this is her very first musical.
"This show brings back great memories of watching 'Golden Years of Hollywood with Bill Collins' on Friday nights as a child – with all the magic and charm of old Hollywood," Kathy said. "This production is filled with catchy numbers and as a lover of dance, we have amped up all the dancing in this version of the musical – it should be called Dancin' in the Rain!"
With dance playing such a big role in this musical, this production is fortunate to have choreographer and dancer Chris Bamford at the helm.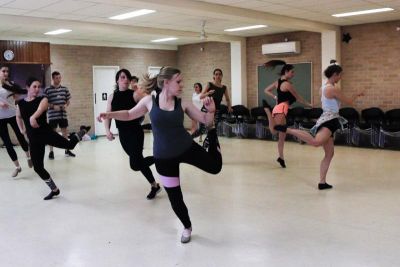 "This is a bucket list show for me to choreograph," Chris said. "Whenever I choreograph a show, I always like to try to do a fresh take on the choreography whilst staying true to the core of what was originally done. I want to honour the legacy that audiences have come to expect and love about iconic musicals."
SINGIN' IN THE RAIN
6th - 14th March 2020
Rockdale Town Hall-
www.rockdalemusicalsociety.com
More Reading