Matt Byrne Media will present the South Australian Premiere of Hairspray at the Arts Theatre, Adelaide from July 4 – 14, followed by a season at the Shedley Theatre, Elizabeth from July 19 – 28.
Producer / director Matt Byrne met writer John Waters last year, and told stage Whispers, "David Gauci (Edna) and I were lucky enough to meet John Waters himself when he brought his one man show to Adelaide last year (pictured above, from left - Matt Byrne, John Waters and David Gauci).
"He is quite a character in real life and it's no surprise Hairspray sprung from that pencil thin moustache.
"He was delighted we were doing the show and still amazed but grateful that he'd had such a hit with Hairspray and that it continued to get new lives."
Of the cast for the SA Premiere, Matt says, "We have an amazing array of talent, led by the unstoppable Michelle Davy who was born to play the role of Tracy Turnblad.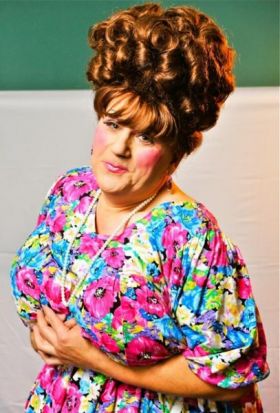 "David Gauci (pictured right) understudied Edna Turnblad in the Australian production and now gets the chance to put his impressive stamp on the part. He has also designed the production and the set is amazing!
"We have a bunch of Adelaide musical theatre's finest performers with Joshua Penley as Corny Collins, Shelley Crooks as Velma Von Tussle, Brady Lloyd as Link Larkin, Brendan Cooney as Wilbur Turnblad, Kat Sachse as Penny Pingleton and Lisa Simonetti as Motormouth Maybelle.
Then we have some incredible new talented black performers in Igor Igiraneza as Seaweed J. Stubbs and Dee Kalei as Little Inez.
"There's no way I would do Hairspray and not feature some true black performers in the cast. If you build it they will come.
"We had a huge turnout for auditions and I ended up with a cast of 60, which is the biggest in MBM history.
"I wanted to give as many great people as possible who sing, dance and act an opportunity to be part of this wonderful show, and fill the stage with the energy required to deliver this incredible piece of 60s retro musical theatre.
As for the different mediums in which the Hairspray story has been told:
"I loved the message as much as the era and colour and movement. I was born in 1958 so grew up in the 60s and remember what a remarkable time it was. Once the rights became available I decided I had to give it a shot. Adelaide has missed out on the professional version so I wanted to make sure Hairspray came here, just like we did with The Producers, The Full Monty, Tommy, The Wedding Singer and many other MBM SA Premieres.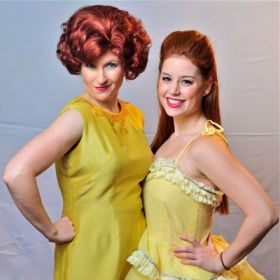 "This production owes more to the original spirit of the 1988 movie version rather than David Atkins' hi-tech version or the John Travolta movie version. I want the emphasis on the characters and to gloriously unfashionable Baltimore."
What has the directorial approach been?
"I have experience with bringing big shows here - we did Avenue Q last year with great success. I like to challenge myself and my cast and production team to aim high, think big and be passionate about their work. I know what I want and having that vision keeps everyone on their toes.
"Adelaide missed out on the national production of Hairspray. Why is it so important that local audiences see the show?
"We miss out too often on some of the big shows, like Mary Poppins, so Hairspray is a must see for anyone who loves a very big night out of outrageous, contagious musical theatre."
Of the costumes and sets, Matt says, "the pastel Hairspray colour scheme, the Beehive hairdos, and fabulous costumes will take everyone back to a very specific look that the show demands.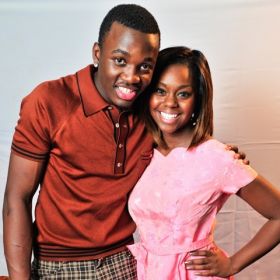 "Our costume team has managed to find many 60s original dresses and outfits.
"They raided opportunity shops and also their parent's wardrobes.
"The design will be flexible, eye-catching and full of surprises as characters appear out of our huge mobile, flexible set."
Nine big letters at the back of the set spell out the word Hairspray. Each is triangular with different letters on each side.
They rotate during the show with different messages appearing. Plus they open up and people come out of them.
"They are like a giant Toblerone. Rich and full of surprises and available for hire after the season finishes."
As for the themes of the show, Matt says:
"The show quite blatantly confronts issues such as prejudice and personal identity. How did you go about handling these themes and ensuring that they were adequately portrayed by the cast?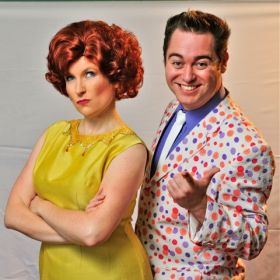 "Firstly I had to have true black performers in the cast and that they were capable of doing justice to the roles. We've been extremely fortunate in attracting a bunch of young talent that have knocked our eyeballs out. We talk about the message for tolerance, and integration that creator John Waters preaches.
"It's 1962 and America is about to undergo enormous social upheaval, and Hairspray heralds the change that is coming.
And the message?
Hairspray's main message is a belief that all things are possible if you believe in yourself first. Once change comes You Can't Stop The Beat!
Hairspray plays July 4 to 28. More details at www.mattbyrnemedia.com.au
Check out our feature on community Theatre productions of Hairspray in the July / August edition of Stage Whispers - link.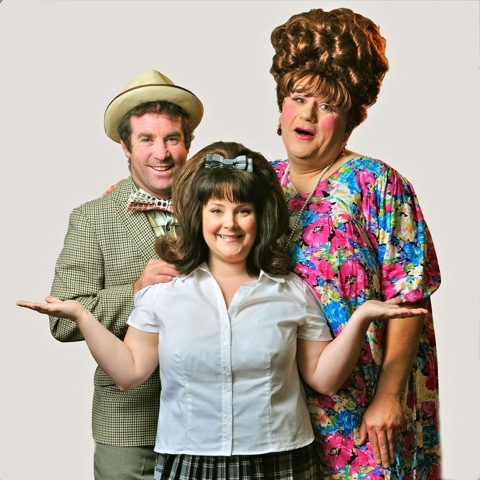 More Reading
Community Theatre Seasons 2012 - www.stagewhispers.com.au/community-theatre/community-theatre-seasons-2012
More Community Theatre - www.stagewhispers.com.au/community-theatre