Some musicals are performed to provide the audience with fond moments of happiness, joy and an all round good night out. But in 2012 Melbourne company Burwood Student Theatre Company (BuST Co.) have chosen present theatre-goers with a challenging musical with such powerful themes as love, loss, death, and greed.
BuST Co's producer Alexandra Cole told Stage Whispers that the company has chosen a musical that is on many a performer's 'must-do-this-show' list and comes with a fair whack of expectations.
As a primarily youth oriented theatre company, BuSTCo has set themselves a huge challenge. The cast is fresh faced, emotionally committed and talented, with not only skill but experience too. Rehearsing for over just 9 weeks, the cast has thrown themselves head first into the emotional journey that RENT has to offer. Songs are performed with heart wrenching honesty and dialogue delivered with raw and vulnerable intent, this cast of 22 have tackled this emotional train wreck of a show without the typical cliché's RENT evokes.
BuSTCo.'s RENT does not focus simply on the tragedy of RENT, but wants 'hope' to be their key message.
Staged at the intimate Cromwell Road Theatre in South Yarra, promises an 'up close and personal' journey through the complex lives of the residents in alphabet city.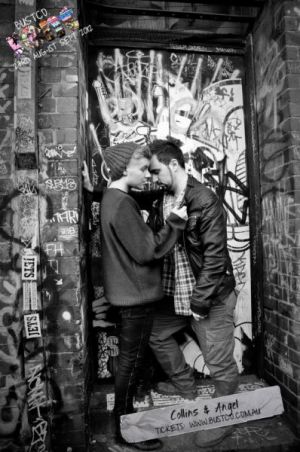 Alexandra spoke to Mark Stefanoff about the harsh truths that RENT has to offer and why he auditioned for the role of Angel. Stefanoff thinks of Angel as a challenge, 'that's one reason that drew me to audition! This musical hits close to home [for me].' Earlier in 2012 Stefanoff lost a close friend, who 'was an individual who gave me hope in my day to day life.' This is just one of the ways that Stefanoff identifies with Angel. 'I feel that there is a message of hope that Angel provides during the show and the opportunity to share that with others night after night would be a joy!' Angel is a transgender AIDS sufferer in love with alphabet city's resident academic Tom Collins. Angel provides a mixture of comedic relief and some of the stories most heart wrenching moments. This role is huge and demanding. Stefanoff says of Angel, 'he is an eccentric character and is so much fun to explore!' Stefanoff feels that there is such a fixed idea on how angel should be played. He thinks, 'there is a bigger message of hope…each time Angel appears we learn a little more about him, her.' Stefanoff, like the rest of BuSTCo.'s cast of RENT, has had a life changing experience with this show and all it has to offer. Stefanoff wishes to impart 'that no matter where the end is, it is the journey that makes us what we are each and every day. Love can be found anywhere and can end at any point, make the most of the love you share with each other and never give up on the path you may wind up on. Life is too short and love is too special to be lost, NO DAY BUT TODAY!'
Burwood Student Theatre Company's (BuSTCo.) RENT will be performed at The Cromwell Rd Theatre, South Yarra (Vic) from August 23 and September 1, 2012. Tickets can be booked at www.bustco.com.au