The Queanbeyan Players' second production for 2012 (from November 2 to 17) is Lerner and Lowe's Brigadoon. This will be the third production of Brigadoon for the NSW company (Queanbeyan is 15km from Canberra), having previously performed Lerner and Loewe in 1995 and 1980. And thanks to the Players' friendly approach and family-like atmosphere, there are several people who have been involved in all three productions.
Life Member of the Queanbeyan Players, Janetta McRae, is doing the costumes this time around, but appeared on-stage in the previous two productions (with her daughter joining her on-stage in the 1995 production). Janetta remembers helping to clear out Queanbeyan's Nova Cinema to create a performance space for the 1980 production, and the Players presented several more shows there before moving into the Queanbeyan Bicentennial Centre (now the Queanbeyan Conference Centre), where the 1995 production was performed. The 2012 production will be in Queanbeyan's relatively new performing arts centre, the Q, where the Players have been performing since 2008. Those who remember the old days in less than ideal venues are delighted to be performing the show in a purpose-built theatre!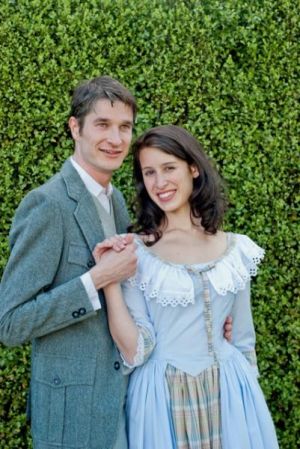 The only cast member to appear on-stage in all three productions is Phil Perman, one of the Canberra region's most respected performers. Phil played Tommy Albright in the 1980 production and Mr Murdoch (also called Mr Lundie in some productions) in 1995. In the current production, Phil is revisiting the role of Mr Murdoch. This is actually Phil's fourth visit to Brigadoon; he also played the role of Charlie Cameron in a production with the Canberra Philharmonic Society. And it may not be his last production of the show – he loves it so much, that, in his words, "I'll keep returning to Brigadoon even when I'm playing the third tombstone from the left".
Several other members of the production team have also been involved in all three productions. Even director Greg Wallace, who has been involved with Queanbeyan Players since 1988, worked in the lighting box for the 1995 production.
Queanbeyan Players' third production of Brigadoon promises to be a special one, and a trip down memory lane for many of those involved.
Brigadoon
Book and lyrics by Alan Jay Lerner and music by Frederick Loewe.
2 November 8pm, 3 November 8pm, 9 November 8pm, 10 November 2pm and 8pm, 11 November 2pm, 15 November 8pm, 16 November 8pm, 17 November 2pm and 8pm
Performing at the Queanbeyan Performing Arts Centre (the Q). Bookings at www.theq.net.au or (02) 6285 6290.
Tickets $40 adults/$35 concession (all tickets Thursday and Friday nights at the concession price).
Images (top): Brigadoon cast members Alexandra Dunn (Jean), Charles Hudson (Charlie), Gerard Ninnes (Tommy), Alyssa Morse (Fiona), Janet Tweedie (Meg) and Paul Jackson (Jeff) & (lower) Tommy (Gerard Ninnes) finds love with Fiona (Alyssa Morse) when he stumbles across the mysterious village of Brigadoon, which only appears for a day every hundred years. Photos by Rebecca Doyle Photography.