The fourth production of the 2017 Season at Castle Hill Players' Pavilion Theatre is The Women of Lockerbie, by Deborah Brevoort, directed by Bernard Teuben.
Presented in the style of a Greek tragedy, the play is inspired by a true story surrounding the tragic loss of Pan Am Flight 103 which crashed into the village of Lockerbie on 21 December 1988.
Opening on Friday 21 July and running until Saturday 12 August, the production is a superbly written pronouncement of courage and triumph over hatred.
Set in Lockerbie, 7 years after the terrorist attack which blew the aircraft out of the sky and into the homes and lives of the people living in this quiet Scottish village, we meet a mother from New Jersey who lost her only child in the crash. Bill (Stephen Snars) and Madeline (Kim Schad) have come to Lockerbie to seek some level of closure, to find some evidence - anything – which may grant this desperate mother some peace. She roams the hills of Lockerbie, and meets the women who were there that fateful night.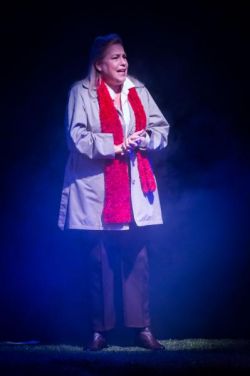 The women, played by Michelle Masefield, Anne Geenen, Rebecca Fletcher and Penny Johnson, are committed to converting an act of hatred into an act of love, and want to wash the clothing of the victims and return them to their families. The US Government official (Larry Murphy), determined to see the case closed as per instructions, gets far more than he bargained for when he takes on this strong-willed group of Scottish women, who are dealing with their own grief and trauma resulting from the horror they witnessed.
Expressed through beautiful words of loving wisdom and encouragement, the play has an uplifting effect on audiences, despite the confronting nature of the subject matter. Subdued lighting, traditional Scottish music and wonderful characters bring this event, of historic proportions, to the Pavilion stage with a gentleness and beauty audiences will appreciate.
The Women of Lockerbie runs Fri, Sat, Sun and Wed from Friday 21 July until Saturday 12 August. Full details and bookings are online at www.paviliontheatre.org.au or call 02 9634 2929. The Pavilion Theatre is located within Castle Hill Showground, entrance is at the lights located between Gilbert and Carrington Roads, Castle Hill.
Ticket prices: $27/$22. Generous discounts for groups of 10 or more.
Licenced bar facilities are available Friday and Saturday nights with beer, wine and bubbles as well as soft drinks and snacks for sale. Proof of age may be required.
Images: Michelle Masefield and Stephen Snars, & Kim Schad. Photos by Chris Lundie.