Was the Australian Government involved in the death of 15,000 innocent people? Robert Cockburn's The Hotel Hibiscus, an Australian political thriller, which has its World Premiere at Chatswood's Zenith Theatre (NSW) from October 19, questions Australia's complicity and silence in war crimes carried out just 20 years ago.
Sent secretly to a Pacific island off Papua New Guinea (the fictional island of Hibiscus), to run a dirty war for an Australian gold mine, Colonel Chris Baulkham falls in love with Dr Patty Carmichael, a 30 year-old academic whom he fools into providing his cover.
As Patty cleans up her late father's hotel, the Colonel is cleaning up the war crimes of his foreign minister's failed war. Colonel Baulkham is a puppeteer, juggling his and Patty's worlds as she and her staff unwittingly risk their lives to support his gruesome work. Politics becomes dangerously personal and the strings begin to tangle as Patty uncovers the inconceivable truth.
This play about the misuse of soldiers was inspired by the conflict in the 1990s for control of an Australian mine on Papua New Guinea's Bougainville Island. An astonishing 15,000 civilians - or nearly 10% of the population – were to die.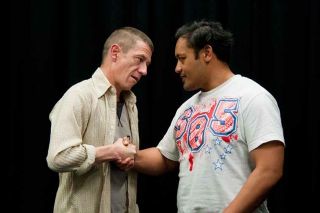 Robert Cockburn reported on the Bougainville conflict for The Times, the BBC, the ABC and to Amnesty International after investigating the army's murder of a young bus driver.
World Premieres are a rarity for community theatre companies. Stage Whispers asked director Greg Friend how Epicentre comes to be producing this one?
"Last year the Committee took a change in direction and sought out new worthwhile Australian plays that we could produce," Friend told Stage Whispers, "sort of our way of supporting the industry whilst tackling something exciting. About one month after we made this change Robert Cockburn contacted us out of the blue and asked us if we'd be interested in his play. We all read it and jumped at it. There was something special about reading The Hotel Hibiscus for the first time. I remember sitting down thinking I'll knock over a couple of scenes now and then go out and play with the kids. Two hours later I was still on the couch dreaming up ways to stage what I had just read.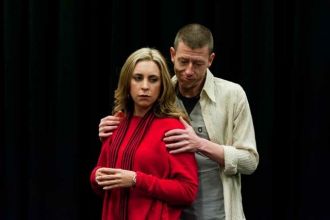 Has the playwright been involved in the rehearsal process for the play?
"Robert has been involved in the rehearsal process. Prior to rehearsals Robert and I spent many hours together with me offering suggestions from a Director's POV and Robert heading back to the laptop and massaging his work. He's very passionate about his work and the story, which is based on his time in Bougainville and I felt privileged to be able to see him refine his script. I invited him into the rehearsal room as I wanted him to see his words come to life and, where required, make some subtle changes to the rhythm of a line or a slight tweak in the plot line. He's also been a great Dramaturg in the room, running off his real life war stories and memories of what it was like being in Bougainville some 22 years ago."
There's often a great deal of workshopping and rewriting during the rehearsal of a new production. Has this been the case with The Hotel Hibiscus?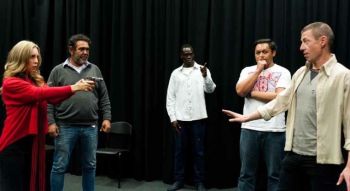 "We've been a little restricted because of time restraints - two of my cast had to finish jobs elsewhere before we could start rehearsals so it's been a crazy 5 week rehearsal schedule. We've had some time to workshop and Robert has been reworking some lines and character objectives. It was originally written with elements of farce in it but Robert has stripped those elements out of it now and turned it into a beautifully dramatic political thriller. It's intense, fast paced and has 7 delicious characters."
The Hotel HibiscusfeaturesBilly McPherson (Dead Heart with Bryan Brown), Dominic McDonald, Amanda Jermyn, Sopa Enari, Colin Huxley, Charlotte Hazzard - fresh from graduating from WAAPA - and Sudanese-born Mandela Mathia in his stage debut.
"The cast are exceptional," says director Greg Friend. "We have incredibly experienced actors involved who have been a delight to direct. The vast majority of them have worked extensively as professional actors but were taken in by the story line and wanted to be part of the production - even though it's a community production with no pay. It's a wonderful chance for theatregoers to see some of Sydney's best actors in action in this new Australian work."
Epicentre Theatre Company presents
THE HOTEL HIBISCUS by Robert Cockburn
18-27 October Zenith Theatre, Chatswood
Railway & McIntosh Streets (near Chatswood Station)
Performances: Fri 19th 8pm, Sat 20th 8pm, Sun 21st 5pm,
Thu 25th 8pm, Fri 26th 8pm, Sat 27th 2pm and 8pm.
Tickets $28 / $20 conc. Bookings call: (02) 9777 7547
or online www.epicentretheatre.org.au