Almost 100 years ago Scottish singer and comedian Harry Lauder was given an extraordinary welcome to Australia and the hype was repaid when he charmed the pants off audiences. Sadly the Great War wiped away his smile. Leann Richards reports.
It was August 1914. Harry Lauder, with his wife and son, John, were sitting at lunch in a Melbourne hotel. War had just been declared and a strange feeling was in the air. A hall porter came in from outside holding a telegram.
"Lieutenant Lauder," he called.
John Lauder, a Lieutenant in the Territorial Battalion of Highlanders, beckoned, and the man handed him a message. "Mobilise. Return."
John looked at his parents with shining eyes, "What do you think dad?"
Harry Lauder replied gruffly, "This is no time for thinking son. You know your duty."
John eagerly replied, "I'm off."
Thus John Lauder, with thousands of others, joined the British army in the 'war to end all wars'.
His father, world famous comedian Harry Lauder, had just turned 44. He was a sober, non-drinking, Scotch Presbyterian. His bulbous nose and rubbery features had entertained people around the world. When Harry Lauder arrived in Australia in March 1914, he had no inkling that the tour, his first to this country, would begin in laughter and end in a sorrowful parting.
Lauder left his home in Dunoon Scotland in November 1913 bound for the US. He left San Francisco on March 10th 1914 and 15 days later his boat steamed into Sydney Harbour.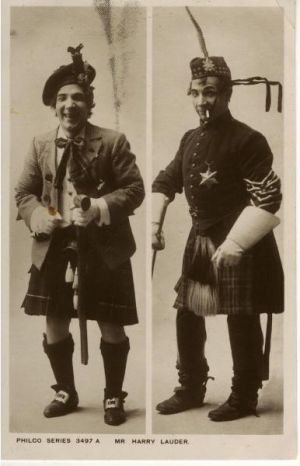 A flotilla of brightly bedecked boats, big and small, greeted his arrival.
Harry and his family watched this display in puzzlement. Suddenly they realised that the parade was in honour of his arrival in Australia. Thousands of people, mostly of Scottish origin, had turned out to greet him.
As Lauder and his wife alighted from the boat they were surrounded by people playing bagpipes and dressed in kilts. Huge numbers of men dressed in suits and straw boater hats escorted them to an open-topped car. The crowds were so dense that the car could only move at a crawl as hundreds of bodies pressed against it.
Lauder travelled to Melbourne and performed there for several weeks before returning to Sydney, where he made his first stage appearance at the Theatre Royal
His arrival on stage was preceded by a long series of vaudeville acts, which made the audience impatient. Finally, late in the evening, Harry Lauder sauntered on stage. He performed sketches and songs. Amongst the songs wereTobermory and I love a lassie. The latter was a song that Harry had written and composed. It was to become one of his signature tunes.
He sang and spoke with a strong Scottish brogue. His enunciation, however, ensured that he was clearly heard throughout the theatre.
According to the Sydney Mail, Lauder sang with a pleasing baritone. Yet it was not his voice that made him a comic success. It was his presentation and the antics that accompanied his songs that created the comedy. The Mail commented on his 'unusual power of facial expression' and 'queer little distinctive tricks in his bristling movement.' Harry Lauder's smile was infectious and he bubbled with humour and happiness. He projected a warmth and emotion which crossed the footlights and enchanted an audience.
His charm crossed all class boundaries and the Theatre Royal was packed with over 2000 people. Soon all Sydney was asking the question, "Have you seen Harry Lauder yet?"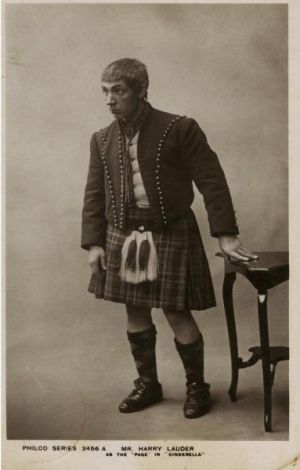 His very successful run came to an end on July 1st 1914. He travelled back to Melbourne where he and his devoted wife had a warm reunion with his son John. They were in the midst of this reunion when war was declared and John received the fateful telegram from England.
War fever was overwhelming Australia; Lauder saw lines of men outside recruiting offices anxious to volunteer for King and Country. In New Zealand, bands played and colours were raised, and everybody wanted to fight before the war was over.
After a brief tour of New Zealand, and a sad parting from his son, Lauder returned to Scotland and devoted himself to recruitment.
He made speeches in England and Canada persuading young men to join up and fight for the Empire. He sang for the wounded and performed for the troops on leave. Everywhere he went he urged young men to enlist.
John Lauder was wounded in France and came home to his parents in Scotland. He was pale and sombre and his eyes were shadowed with the knowledge of the carnage he had seen. After his wounds had healed he went back to the front as Captain John Lauder.
His father continued his performances and his recruiting drive. During Christmas 1916 Harry was expecting John home on leave. The family were planning a wedding, John was to marry his Scottish sweetheart and his parents were eagerly anticipating the ceremony.
Harry was performing in London at the Shaftesbury Theatre. On New Year's Eve 1916, Harry was tired and retired early to his hotel room in London.
January 1, 1917 dawned and a loud banging wakened the famous vaudevillian. He sleepily rose and saw a porter standing at the door with a telegram in his hand.
Capt John Lauder killed in action, December 28.
Harry Lauder returned to the stage in London three nights later. His act included a scene set at the Horse Guards. A company of men marched past in khaki as Harry Lauder sang a song about the boys coming home.
Read more Stage Whispers history stories www.stagewhispers.com.au/history
See more articles by Leann Richards at www.hat-archive.com
Visit Leann's blog www.hat-archive.blogspot.com/
Originally published in the January / February 2014 edition of Stage Whispers.