Decades before Shirley Temple, Australasia had its own young starlets. The Beatty sisters, Maud and May, were two of our most famous exports during the late 19th and early 20th centuries.
Leann Richards reports.
Maud and May Beatty had theatre in their blood. Their father was the owner of one of New Zealand's best venues – the Theatre Royal and the adjoining the Palace Hotel in Christchurch. Maud was born in 1878, while May came two years later. Some of the girls' earliest memories were of living above the dress circle of the theatre and acting out the plays they heard below. May was particularly fond of opera at a young age.
When they were 11 and 13, Pollards Lilliputian Opera Company, a company of child actors who performed operettas for Australian and New Zealand audiences, came to the theatre. The two girls, close in age and look, and distinguished by the fact that Maud had dark hair while May was fair, were quickly recruited for the troupe.
Like other children in the company, the sisters would have entered into legal apprenticeships, guaranteeing professional stage training, schooling, food, board, clothing and allowances. Their parents received their salaries. Their days began with breakfast at 9am, followed by a short time to play, two hours of rehearsals, an hour's play and a light lunch. Next came two hours of formal schooling, an afternoon nap, then an hour to play and bathe before dinner at 6pm, prior to departing to the theatre. Returning to the hotel, they would be asleep by 11.30. They were expected to write to their parents weekly.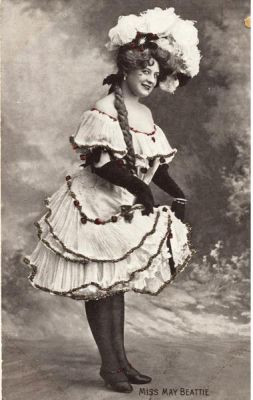 Performing for the company for the next 10 years, both became stars. Maud, with a deep voice, became ideal for male parts and was applauded for her performance in the musical Paul Jones. May, the younger and more spirited of the two, took more glamorous female roles. As a pair they became a feature of the Pollard group.
May was a cheeky girl and was often the naughtiest of the children. She later admitted hiding in cupboards to avoid school and always being in trouble. It was only the presence of her more sober older sister that kept her in the company.
The girls spent the years learning stage craft. They performed in early Gilbert and Sullivan productions, worked in JC Williamson pantomimes and toured Australia and New Zealand incessantly. By 1900, they were seasoned performers with singing and stage skills far beyond others of their age.
That year both girls decided to leave the company. They were now adults and decided to find their own way. Maud married an Englishman, Mr. Milbourne, and went to London in 1902. Whilst there, she played the role of principal boy in a Drury Lane pantomime.
May, on the other hand, remained in Australia and travelled to Melbourne to improve her singing voice with Madame Slappoffski, a famous singing teacher. However, her studies were interrupted by an offer of work by George Musgrove and with his company she toured Australia and New Zealand in a series of performances, including a memorable turn in The Chinese Honeymoon.
In this piece May had to dance and she was paired with a gentleman called Edward Lauri. May praised him lavishly in 1902 as her best dancing master, and it was no surprise that the pair later married. At this time May was described as a typical English girl with a plump face, radiant blue grey eyes, light brown hair and a low voice characterized by clear enunciation.
Meanwhile, Maud was gaining success in London, but in 1904 she returned to Australia to play a series of dates for Harry Rickards' Tivoli circuit. Her turn consisted of a series of songs which were well received by large audiences. The applause increased when she removed her skirt to stand clad merely in tights as she sang "There is music in the air." Her stirring voice and imposing figure contributed to the success of the turn. During her performances in Brisbane she received fan mail and bouquets and responded politely to admirers with personal letters.
In 1905 Maud divorced her husband for desertion and adultery and it was as a free woman that she finished the Tivoli tour.
Maud's freedom, however, was short. In 1906 she travelled with a small touring group to Manila. There she met and reportedly married the Chief of Police, Captain Jack Dawson. After Manila, the group travelled to China and then to the United States where they narrowly avoided the San Francisco earthquake and settled down to tour the American West Coast circuit. Captain Dawson was, according to the papers, an American.
During this time, May had married Edward Lauri and the pair travelled to England where they began a successful decade starring in pantomime and vaudeville. This included appearances at the Coliseum in London and principal boy performances in Manchester. They had a home in Tavistock Square which acted as a meeting place for antipodean actors touring England and Europe.
It was a decade before either sister came home. In 1918 Maud made a triumphant return to Australia appearing in two productions Oh, Boy! and High Jinks. In the latter she had the opportunity to show off her rich contralto voice, which the Sydney Morning Herald said was so effective, that she could have been principal boy in the annual Williamson Christmas pantomime.
Maud's return to the stage was to be her last appearance, because she planned to remarry. Maud had met Sidney Kibble, a war veteran who raised horses in Buenos Aires, on the boat from San Francisco to Sydney. She married him in 1919, and gave up the stage. One of her final comments to the press was about the reputation of the Australian theatrical profession: "Maud Beatty, recently with the JC Williamson firm in Australia, was sufficient passport for me when I sought an engagement abroad."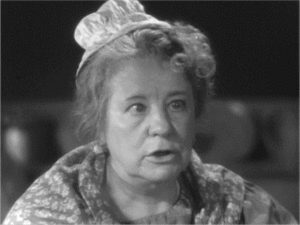 May was certainly more settled in her romantic entanglements. Her marriage to Edward Lauri was very successful, and they had a daughter, Bunny, who began acting at an early age. Edward died in 1919.
May returned to Australia in the early 1920s to perform in a series of musicals. These included high profile performances in Tangerine, Little Nellie Kelly and The O'Brien Girl. May, dressed in high 20s fashion, wowed audiences with her smart and professional performances.
After fulfilling her obligations, May moved to the United States where she began working in movies. Her most notable role was as Mrs. Philips in the original 1940 version of Pride and Prejudice, which starred Laurence Olivier and Greer Garson.
Maud's date of death is unknown. She lived a private life in South America with Sidney and hopefully found some happiness away from the footlights. The irrepressible May, however, continued to entertain till her later years and died in California in 1945.
Images: Theatre Royal, right, and Palace Hotel (left), where the Beatty sisters developed their love of theatre courtesy of Steve Mclachlan (Shades Stamp Shop). Postcards of Maud and May (from the collection of Neil Litchfield) and May in Pride and Prejudice.
See more articles by Leann Richards at www.hat-archive.com
Visit Leann's blog www.hat-archive.blogspot.com/
Originally published in the March / April 2011 edition of Stage Whispers.
To keep up with the latest news and reviews at Stage Whispers, click here to like us on Facebook, or follow us on Twitter.