In a double first, the Matilda Awards have bestowed just one Gold Matilda as its pinnacle, and honoured the recipient posthumously.
This ultimate accolade recognised late legend Carol Burns' lifetime achievement, which culminated in a final outstanding performance last year in Queensland Theatre Company's Happy Days, for which she also received a Silver Matilda award nomination.
The streamlining from five awards to only one Gold is a response to industry feedback, designed to reduce repetition following the introduction of formal categories for the Silver Matildas several years ago, which superseded undefined commendations.
QTC emerged as the 2015 awards' most successful company, also associated with five of the twelve Silver Matilda wins.
Its original production BRISBANE claimed Best Mainstage Production, Best New Australian Work (playwright MATTHEW RYAN) and Best Male Actor in a Leading Role (DASH KRUCK), while LIBBY MUNRO and NAOMI PRICE took out Best Female Actor in leading and supporting roles respectively for QTC's Grounded and Ladies in Black.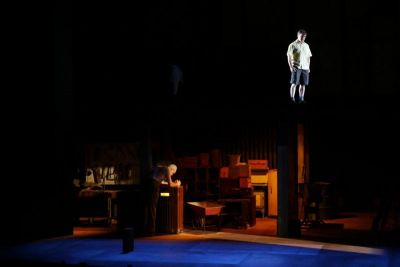 Kruck took home a second gong for Best Musical or Cabaret for his one-man showI MIGHT TAKE MY SHIRT OFF,produced by QPAC in association with Queensland Cabaret Festival and Jai Higgs.
The big independent winner was Shock Therapy Productions' THE PILLOWMAN. On top of Best Independent Production (in partnership with Brisbane Powerhouse), it scored Best Director for SAM FOSTER and Best Supporting Actor in a Supporting Role for TAMA MATHESON.
shake & stir theatre co's adaptation of Dracula won both design category awards, JOSH MCINTOSH for his set design and JASON GLENWRIGHT for lighting.
Pirates of Penzance and Into the Woods star GEORGINA HOPSON edged out fellow Queensland Conservatorium Musical Theatre graduates Billy Bourchier and Kimberly Hodgson, plus Ladies in Black's Sarah Morrison, to claim the Bille Brown Award for Best Emerging Artist.
I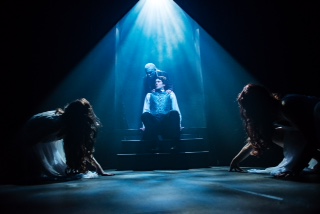 n addition to celebrating the achievements of Queensland artists, the Matilda Awards promote and showcase local talent in the awards presentation, this year directed by 2014 Matilda recipient Cienda McNamara.
A record-breaking audience turned out for the 28th Matildas ceremony, held at QUT Gardens Theatre and hosted by past winner Carita Farrer Spencer and flamboyant fashion designer Leigh Buchanan.
ACPA's talented students provided additional entertainment, while 2010 Silver Matilda Best Lead Actor winner Leon Cain, recently seen in shake & stir's Revolting Rhymes and Dirty Beasts, appeared as special guest presenter.
The Matilda Awards' committee of critics, arts administrators and aficionados thanked and farewelled Alison Cotes for more than a quarter-century's dedicated service following co-founding the awards with fellow reviewer Sue Gough in 1987.
2015 MATILDA AWARD WINNERS
GOLD MATILDA AWARD
Carol Burns
SILVER MATILDA AWARDS
Best Mainstage Production
Brisbane, Queensland Theatre Company
Best New Australian Work Proudly Supported by Brisbane City Council
Brisbane, Matthew Ryan
Best Independent Production
The Pillowman, Shock Therapy Productions in partnership with Brisbane Powerhouse
Best Male Actor in a Leading Role
Dash Kruck, Brisbane
Best Female Actor in a Leading Role
Libby Munro, Grounded
Best Male Actor in a Supporting Role
Tama Matheson, The Pillowman
Best Female Actor in a Supporting Role
Naomi Price, Ladies in Black
Best Director
Sam Foster, The Pillowman
Best Design (Set and Costumes)
Josh McIntosh (set), Dracula
Best Technical Design (Lighting, Sound or Multimedia)
Jason Glenwright (lighting), Dracula
Bille Brown Award for Best Emerging Artist
Georgina Hopson, Pirates of Penzance/Into the Woods
Best Musical or Cabaret
I Might Take My Shirt Off, QPAC in association with Queensland Cabaret Festival, Jai Higgs & Dash Kruck
Images: Happy Days, starring Carol Burns, Brisbane and Dracula.