The countdown to the 16th Annual Helpmann Awards is on, following the announcement of the 2016 Helpmann Award Nominees.
The Helpmann Awards are the premier celebration of Australia's live performance industry and recognise distinguished achievement and excellence in Australia's live performance sectors including musical theatre, contemporary music, comedy, opera, classical music, theatre, dance and physical theatre, children's presentations, regional touring and cabaret.
Live Performance Australia (LPA) announced the Nominees in the 41 categories at simultaneous events in Melbourne, Sydney, Adelaide, Perth and Brisbane.
Matilda leads the nominations in the Musicals categories with 13, ahead of Ladies in Black (6), Little Shop of Horrors (5), The Sound of Music and Fiddler on the Roof (4 each) and Singin' In The Rain and Ghost (3 each).
North by Northwest heads the field in the plays categories with 5 nominations, ahead of Prize Fighter (4), The Bleeding Tree (3) and Ivanov, The Present and Birdland (2 each).
MTC leads the company totals with 8 nominations, with QTC on 6, ahead of STC, Belvoir and La Boite (5 each) and Griffin and STCSA (3 each).
LPA Chief Executive, Evelyn Richardson said "This year has been a remarkable year for live performances in Australia reflecting a vibrant industry with more than 18 million people attending shows across the country and ticket revenues of $1.5 billion".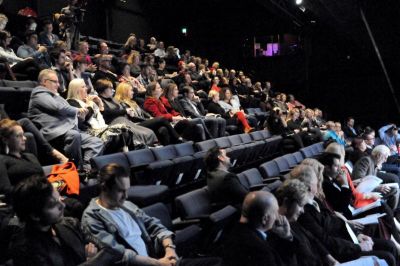 Ms Richardson also said "This year we are delighted to announce one additional award that will be given to the Melbourne International Comedy Festival for their 'Outstanding Contribution to the Development of Comedy in Australia'. The Helpmann Awards Industry Panel and the Helpmann Awards Administration Committee (HAAC) felt strongly that the festival's sustained development of comedians and comedy programmes around the country over three decades was worthy of recognition".
The 2016 Helpmann Awards will also incorporate the final Brian Stacey Award for Emerging Australian Conductors. This year the award goes to Toby Thatcher who will receive a $10,000 prize. Currently Assistant Conductor for the Sydney Symphony Orchestra, a position he has held since early 2015, Toby displays outstanding conducting and musical skills.
As previously announced, Michael Lynch CBE AM will be the recipient of this year's Sue Nattrass Award®. The prestigious 2016 Sue Nattrass Award® honours exceptional service to the Australian live performance industry, shining a spotlight on people in service roles that support our industry.
The recipient of the JC Williamson Award® will be announced on Wednesday 29 June.
The winners of the 2016 Helpmann Awards will be announced at a ceremony on Monday 25 July at the Sydney Lyric Theatre on the set of Singin' in the Rain.
Photography from the Sydney nomination announcements by Lightbox Photography.
THE NOMINATIONS
BEST NEW AUSTRALIAN WORK
CAROLYN BURNS AND TIM FINN WITH SIMON PHILLIPS
Ladies in Black
A Queensland Theatre Company production
CHRISTOPHER LATHAM, OMAR FARUK TEKBILEK, GARETH FARR, RICHARD NUNNS, GRAEME KOEHNE AO, PETER SCULTHORPE AO OBE, ELENA KATS-CHERNIN, KAMRAN INCE, ROSS HARRIS, ANDREW SCHULTZ, ROSS EDWARDS AND DEMIR DEMIRKAN
The Gallipoli Symphony
Department of Veterans' Affairs, Queensland Government, QPAC and Qantas Airways
DAN GIOVANNONI AND LUKE KERRIDGE
Bambert's Book of Lost Stories
Barking Gecko Theatre Company
FRANCES RINGS, DEBORAH BROWN AND WAANGENGA BLANCO
lore
Bangarra Dance Theatre
FUTURE D. FIDEL
Prize Fighter
La Boite Theatre Company and Brisbane Festival
TOM WRIGHT
Picnic at Hanging Rock
Malthouse Theatre and Black Swan State Theatre Company
BEST COSTUME DESIGN
GABRIELA TYLESOVA
The Sleeping Beauty
The Australian Ballet
GABRIELA TYLESOVA
Ladies in Black
JENNY TIRAMANI
The Marriage of Figaro
Opera Australia
ROB HOWELL
Matilda The Musical
The Royal Shakespeare Company and Louise Withers, Michael Coppel and Michael Watt with Chokey Productions, Just for Laughs Theatricals, Glass Half Full Productions, Paula Marie Black, Greenleaf Productions and Michael Lynch
BEST LIGHTING DESIGN
HUGH VANSTONE
Matilda The Musical
HUGH VANSTONE
Ghost The Musical
Ambassador Theatre Group Asia Pacific, GWB Entertainment and Red Live
NICK SCHLIEPER
North by Northwest
Presented by Melbourne Theatre Company and Kay + McLean Productions, by special arrangement with Warner Bros. Theatre Ventures
PAUL JACKSON
Picnic at Hanging Rock
BEST ORIGINAL SCORE
DAVID PAGE
Ochres
Bangarra Dance Theatre
EDDIE PERFECT
Songs From The Middle
Adelaide Festival Centre's Adelaide Cabaret Festival
TIM FINN
Ladies in Black
TIM MINCHIN
Matilda The Musical
BEST MUSIC DIRECTION
IAIN GRANDAGE
Home
Perth International Arts Festival
ISAAC HAYWARD
Ladies in Black
NICOLETTE FRAILLON
The Sleeping Beauty
STEPHEN AMOS
Matilda The Musical
BEST SCENIC DESIGN
DAN POTRA
Handa On Sydney Harbour Turandot
Opera Australia
GABRIELA TYLESOVA
The Sleeping Beauty
NICK SCHLIEPER AND SIMON PHILLIPS
North by Northwest
ROB HOWELL
Matilda The Musical
BEST SOUND DESIGN
DAVID PAGE
Ochres
IAN MCDONALD
North by Northwest
MICHAEL WATERS
Fiddler on the Roof
Tim Lawson for TML Enterprises
SIMON BAKER
Matilda The Musical
THEATRE
BEST DIRECTION OF A PLAY
EAMON FLACK
Ivanov
Belvoir
KIP WILLIAMS
Love and Information
Sydney Theatre Company and Malthouse Theatre
LEE LEWIS
The Bleeding Tree
Griffin Theatre Company
SIMON PHILLIPS
North by Northwest
BEST FEMALE ACTOR IN A SUPPORTING ROLE IN A PLAY
ANNA SAMSON
Birdland
Melbourne Theatre Company
KATRINA MILOSEVIC
The Distance
Melbourne Theatre Company
MICHELLE DOAKE
Romeo and Juliet
Bell Shakespeare
SARAH PEIRSE
The Golden Age
Sydney Theatre Company
BEST MALE ACTOR IN A SUPPORTING ROLE IN A PLAY
COLIN FRIELS
Mortido
Belvoir and State Theatre Company of South Australia
JOHN HOWARD
Ivanov
MARK LEONARD WINTER
King Lear
Sydney Theatre Company
THUSO LEKWAPE
Prize Fighter
BEST FEMALE ACTOR IN A PLAY
CATE BLANCHETT
The Present
Sydney Theatre Company
CATHERINE MCCLEMENTS
The Events
Belvoir, Malthouse and State Theatre Company of South Australia
NONI HAZLEHURST
Mother
If Theatre and GPAC
PAULA ARUNDELL
The Bleeding Tree
BEST MALE ACTOR IN A PLAY
DAN SPIELMAN
The Blind Giant is Dancing
Belvoir
MARK LEONARD WINTER
Birdland
PACHARO MZEMBE
Prize Fighter
RICHARD ROXBURGH
The Present
BEST PLAY
PIECE FOR PERSON AND GHETTO BLASTER
Performing Lines and Nicola Gunn
PRIZE FIGHTER
NORTH BY NORTHWEST
THE BLEEDING TREE
MUSICALS
BEST DIRECTION OF A MUSICAL
DEAN BRYANT
Little Shop of Horrors
Luckiest Productions and Tinderbox Productions
MATTHEW WARCHUS
Matilda The Musical
ROGER HODGMAN
Fiddler on the Roof
SIMON PHILLIPS
Ladies in Black
BEST CHOREOGRAPHY IN A MUSICAL
ANDREW HALLSWORTH
Little Shop of Horrors
ANDREW WRIGHT AND JAYE ELSTER
Singin' in the Rain
Lunchbox Theatrical Productions, Michael Cassel Group, David Atkins Enterprises and Dainty Group
ARLENE PHILLIPS
The Sound of Music
Andrew Lloyd Webber, David Ian, John Frost and The Really Useful Group
PETER DARLING
Matilda The Musical
BEST FEMALE ACTOR IN A SUPPORTING ROLE IN A MUSICAL
ELISE MCCANN
Matilda The Musical
ERIKA HEYNATZ
Singin' in the Rain
JACQUELINE DARK
The Sound of Music
WENDY MAE BROWN
Ghost The Musical
BEST MALE ACTOR IN A SUPPORTING ROLE IN A MUSICAL
DANIEL FREDERIKSEN
Matilda The Musical
JACK CHAMBERS
Singin' in the Rain
SIMON GALLAHER
Wicked
Marc Platt, David Stone, Universal Pictures, The Araca Group, Jon B. Platt, John Frost
TYLER COPPIN
Little Shop of Horrors
BEST MALE ACTOR IN A MUSICAL
ANTHONY WARLOW
Fiddler on the Roof
BRENT HILL
Little Shop of Horrors
JAMES MILLAR
Matilda The Musical
ROB MILLS
Ghost The Musical
BEST FEMALE ACTOR IN A MUSICAL
AMY LEHPAMER
The Sound of Music
ANTOINETTE HALLORAN
Sweeney Todd
Victorian Opera and New Zealand Opera
ESTHER HANNAFORD
Little Shop of Horrors
MOLLY BARWICK, DUSTY BURSILL, TIANA MIRRA, ALANNAH PARFETT, SASHA ROSE, GEORGIA TAPLIN, BELLA THOMAS AND INGRID TORELLI
Matilda The Musical
BEST MUSICAL
FIDDLER ON THE ROOF
LADIES IN BLACK
MATILDA THE MUSICAL
THE SOUND OF MUSIC
CABARET
BEST CABARET PERFORMER
ALAN CUMMING
Alan Cumming Sings Sappy Songs
Brisbane Powerhouse, NORPA, Arts Centre Melbourne and Sydney Festival with Hyam, Horne and Hall
MICHAELA BURGER AND GREG WAIN
Exposing Edith
Adelaide Festival Centre's Adelaide Cabaret Festival with I'll Wager Productions
MICHAEL GRIFFITHS
Cole
Adelaide Festival Centre's Adelaide Cabaret Festival
PHIL SCOTT
Reviewing The Situation
COMEDY
BEST COMEDY PERFORMER
DOUG ANTHONY ALLSTARS – PAUL MCDERMOTT, TIM FERGUSON, PAUL LIVINGSTON
Reunion. Rebirth
Doug Anthony Allstars
JULIA MORRIS
I Don't Want Your Honest Feedback
Live Nation
TOM BALLARD
The World Keeps Happening
Token Events
ZOË COOMBS MARR
Trigger Warning
Zoë Coombs Marr
OPERA AND CLASSICAL MUSIC
BEST DIRECTION OF AN OPERA
CAMERON MENZIES
The Grumpiest Boy in the World
DAVID MCVICAR
The Marriage of Figaro
LAURENCE DALE
Agrippina
Brisbane Baroque in association with QPAC
MICHAEL GOW
Voyage to the Moon
Musica Viva Australia
BEST FEMALE PERFORMER IN A SUPPORTING ROLE IN AN OPERA
KERI FUGE
Agrippina
SALLY-ANNE RUSSELL
Voyage to the Moon
BEST MALE PERFORMER IN A SUPPORTING ROLE IN AN OPERA
DOUGLAS MCNICOL
Don Giovanni
State Opera SA
JEREMY KLEEMAN
Voyage to the Moon
JOÃO FERNANDES
Agrippina
RUSSELL HARCOURT
Agrippina
BEST FEMALE PERFORMER IN AN OPERA
JESSICA PRATT
Lucia di Lammermoor
Victorian Opera
LATONIA MOORE
Don Carlos
Opera Australia
NICOLE CAR
Luisa Miller
Opera Australia
ULRIKE SCHNEIDER
Agrippina
BEST MALE PERFORMER IN AN OPERA
ANDREI BONDARENKO
The Marriage of Figaro
CARLO VISTOLI
Agrippina
FERRUCCIO FURLANETTO
Don Carlos
YONGHOON LEE
Turandot(Sydney Winter)
Opera Australia
BEST OPERA
AGRIPPINA
FLY AWAY PETER
Arts Centre Melbourne and Sydney Chamber Opera in association with Melbourne Festival
LUISA MILLER
THE MARRIAGE OF FIGARO
BEST CHAMBER AND/OR INSTRUMENTAL ENSEMBLE CONCERT
FRENCH BAROQUE WITH CIRCA
Australian Brandenburg Orchestra
HOME
Camerata of St John's
KIRILL GERSTEIN IN RECITAL
Sydney Symphony Orchestra
WINTERREISE
Festival d'Aix-en-Provence
BEST SYMPHONY ORCHESTRA CONCERT
ANIMA ETERNA BRUGGE BEETHOVEN'S SYMPHONIES CONDUCTED BY JOS VAN IMMERSEEL
Sydney Festival
BEETHOVEN'S MISSA SOLEMNIS
Sydney Symphony Orchestra
BRITTEN'S WAR REQUIEM
Melbourne Symphony Orchestra
SIR SIMON RATTLE CONDUCTS THE AUSTRALIAN WORLD ORCHESTRA
Australian World Orchestra
BEST INDIVIDUAL CLASSICAL MUSIC PERFORMANCE
ANDREW HAVERON
Sibelius 2
Sydney Symphony Orchestra
FLORIAN BOESCH AND MALCOLM MARTINEAU
Florian Boesch and Malcolm Martineau
Melbourne Recital Centre and Sydney Opera House
GIL SHAHAM
Tchaikovsky's Manfred
Sydney Symphony Orchestra
PIERRE-LAURENT AIMARD
Pierre-Laurent Aimard
Melbourne Recital Centre and Sydney Symphony Orchestra
RENÉE FLEMING
Renée Fleming in Recital
Sydney Opera House, QPAC and Brisbane Festival in association with Opera Queensland
CHILDRENS PRESENTATION
BEST PRESENTATION FOR CHILDREN
BAMBERT'S BOOK OF LOST STORIES
Barking Gecko Theatre Company
ODDYSEA
Performing Lines WA and Sensorium Theatre
ROALD DAHL'S REVOLTING RHYMES & DIRTY BEASTS
shake & stir theatre co, originally co-produced with La Boite Theatre Company
THE YOUNG KING
Slingsby Theatre Company
REGIONAL TOURING PRODUCTIONS
BEST REGIONAL TOURING PRODUCTION
DE NOVO
Sydney Dance Company
MOTHER
If Theatre
ROALD DAHL'S REVOLTING RHYMES & DIRTY BEASTS
shake & stir theatre co and ArTour Queensland

SUGARLAND
Australian Theatre for Young People and Performing Lines
DANCE AND PHYSICAL THEATRE
BEST BALLET OR DANCE WORK
COCKFIGHT
Performing Lines and The Farm
HABITUS
Australian Dance Theatre
SHEOAK
Bangarra Dance Theatre
SPECTRA
Dancenorth
BEST CHOREOGRAPHY IN A DANCE OR PHSYICAL THEATRE WORK
FRANCES RINGS
Sheoak
GARRY STEWART
Habitus
KYLE PAGE AND AMBER HAINES
Spectra
STEPHEN PAGE, BERNADETTE WALONG-SENE, DJAKAPURRA MUNYARRYUN
Ochres
BEST FEMALE DANCER IN A DANCE OR PHYSICAL THEATRE WORK
AMBER HAINES
Syncing Feeling
Dancenorth
JULIETTE BARTON
Lux Tenebris
Sydney Dance Company
LONII GARNONS-WILLIAMS
Habitus
YOLANDA LOWATTA
Sheoak
BEST MALE DANCER IN A DANCE OR PHYSICAL THEATRE WORK
CHENGWU GUO
The Dream
The Australian Ballet
DARYL BRANDWOOD
Natalie Weir's The Host
Expressions Dance Company and QPAC
GAVIN WEBBER
Cockfight
KIMBALL WONG
Habitus
BEST VISUAL OR PHYSICAL THEATRE PRODUCTION
IL RITORNO
Brisbane Festival and Circa
PLEXUS
Compagnie 111 – Aurélien Bory and Perth International Arts Festival
TANGI WAI… THE CRY OF WATER
Victoria Hunt, Artful Management and Performance Space
THE LAST BLAST
The Farm and Bleach* Festival
CONTEMPORARY MUSIC
BEST AUSTRALIAN CONTEMPORARY CONCERT
A STATE OF GRACE: THE MUSIC OF TIM AND JEFF BUCKLEY
Gaynor Crawford Presents, Kirsten Siddle, State of Grace Company
FLIGHT FACILITIES PERFORM LIVE WITH MELBOURNE SYMPHONY ORCHESTRA
Flight Facilities with Melbourne Symphony Orchestra, Melbourne Festival
MOFO 2016 – KATE MILLER-HEIDKE AND THE TASMANIAN SYMPHONY ORCHESTRA WITH VISUALS BY AMY GEBHARDT
MOFO 2016, Kate Miller-Heidke and the Tasmanian Symphony Orchestra with visuals by Amy Gebhardt
VANCE JOY | FIRE AND THE FLOOD TOUR APRIL 2016
Vance Joy, Frontier Touring, Unified and Village Sounds
BEST CONTEMPORARY MUSIC FESTIVAL
MOFO 2016
MONA
ST JEROME'S LANEWAY FESTIVAL 2016
Laneway Presents and Chugg Entertainment
THE 27TH ANNUAL BLUESFEST BYRON BAY
Bluesfest
WOMADELAIDE 2016 – THE WORLD'S FESTIVAL
Womadelaide Foundation
BEST INTERNATIONAL CONTEMPORARY CONCERT
BRIAN WILSON LIVE AT THE PALAIS THEATRE
Brian Wilson and Bluesfest Touring
FLORENCE AND THE MACHINE
Florence and The Machine, Laneway Presents, Chugg Entertainment in association with Sydney Opera House
ON WITH THE SHOW TOUR 2015
Fleetwood Mac and Live Nation
PRINCE 'PIANO & A MICROPHONE' TOUR 2016
Prince, Dainty Group and ICO ApS