Lucy Graham reports.
Never mind Queen Elizabeth's 60th Diamond Jubilee, this month the Melbourne Gang Show is celebrating its 60th season. They're in a festive mood and, given their track record for final curtain marriage proposals, there may be more than the usual number of actual diamonds on show this year.
"On the final night, after the show this year, like every other year, there'll be at least two or three engagements," says Melbourne Gang Show Director Robert Motton. "Every year, somewhere in the show, someone gets engaged either to someone in the show, or outside."
Melbourne Gang Show, a youth musical for a cast of 140 aged between 11-26, is written, produced, directed and performed entirely by the Scouts and Guides of the Melbourne area. An even larger support team of parents, grandparents and past-performers ensures it's an intergenerational enterprise.
While growing theatre stars has never been an aim, chances are if you work in Melbourne's theatre industry, onstage, in the wings, or on the rigs, one of your colleagues began in what is not so much a company, as a movement. Past cast members include Shane Jacobson (Kenny, Kenny's World, Charlie & Boots), Dave O'Neil (comedian/radio personality), Hal McElroy (Blue Heelers, Water Rats), Esben Storm (Round the Twist series writer) and Julie O'Reilly (Cats, Fiddler on the Roof).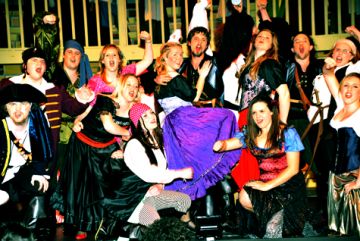 "If you want to hire a light in Melbourne, you're talking to a Gang Show person. All the lighting places in Melbourne and most sound companies, Gang Show people are either running them, own them, or are heavily involved," says Motton. "We have say $10,000 budget for lights but we get $80,000 - $90,000 of hire. We have more lighting than most professional shows, so these kids learn to run these monstrous rigs, and the same with sound."
The Gang Showbegan in London in 1932 when Ralph Reader produced a fund-raising concert at La Scala for a scout camp swimming pool. Reader, who worked closely with Lionel Bart (Oliver), used borrowed scenery and costumes. Lord Baden Powell attended, and recognised its value. The show's reputation grew, and they were the first amateur players to give a Royal Variety performance.
During World War 2 Gang Show productions were suspended. However, Ralph Reader established 25 RAF Gang Show touring units, and incredibly shows were even staged in POW camps. Gang Shows in London ceased in 1974 after 42 years, indebted to the legacy and creative energy of Ralph Reader.
Melbourne's story begins in 1951 when John Goss, who'd seen the London Gang Show, petitioned Victorian Headquarters to launch a Melbourne troupe. They were unconvinced. Undeterred, Goss, as Group Leader organised his own 9th Brunswick Scout Group in Melbourne's north, to put on a Ralph Reader show, We'll Live Forever.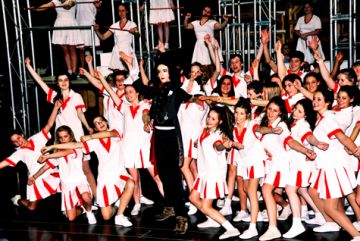 Goss's determination was the catalyst for the Melbourne Gang Show juggernaut. Soon Victorian Headquarters were on board with the concept, Levi Molineux was installed as its producer/director, and John Goss as publicist.
When the first Gang Show was staged in 1952 at Melbourne University's Union Theatre, Australia was still an 'outpost' of the British Empire. The production, in revue style, was a London show carbon copy, including political jokes, London street names and songs about a 'home' the all-male cast had never seen. It remained in this vein for twenty years.
Performers typically appeared in six or seven items, with as many costume changes. Make-up was applied with sticks of Leichner mutton fat that was powdered to set it onto faces.
But MGS's survival is a triumph, not because of what once was, but because it has adapted. Australian's scouting movement boomed in the 60s. By the late 60s end of the decade it was finding it's own unique voice. Under the direction of Ken Bayley, songs began reflecting the Australian experience. In 1968, Melbourne Gang Show shocked the international scouting world by introducing girls into the cast.
In the 70's shows got bigger, glitzier and high-tech. Directing Producer Ken Bayley utilised his international contacts and MGS performed in The Philippines in 1988, and at the invitation of the King of Thailand, in Bangkok and Chang Mai, including performance for the Thai Princess in 1992.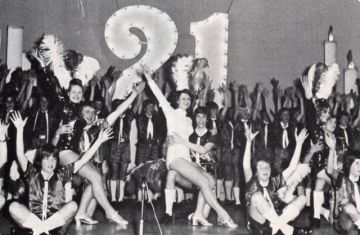 After the Thai tour Motton was appointed Directing Producer. He wanted to wrest Gang Show away from the revue formula, and introduced a two one-act musicals program. Unique amongst Gang Shows, it wasn't a change everyone supported.
Over 60 years MGS has had many homes including the Palais and National Theatres in St Kilda, Alexandra Theatre at Monash University, and one season at Melbourne's Princess Theatre. But wherever it is staged, Melbourne Gang Show has focused on providing an stage experience for kids, while promoting scouting values.
"Gang Show is essentially a community of people," says Motton. "I don't care whether you take kids hiking, or camping or whatever. You give them activities that give them a sense of belonging a