Producer Rodney Rigby and Sandra Chipchase CEO, Destination NSW today (August 21, 2012) announced seven key cast members for the Australian production of the Broadway Musical The Addams Family.
John Waters has been cast as Gomez Addams, with Chloë Dallimore as Morticia Addams. Russell Dykstra will play Uncle Fester, Teagan Wouters will be Wednesday, Ben Hudson plays Lurch and Meredith O'Reilly is Grandma Addams, while Liam Faulkner-Dimond (pictured), Anthony Garcia, Blake Hurford, Daniel Simpson and Jaxon Graham-Wilson will share the role of Pugsley Addams.
The members of the Beineke Family, Mal, Alice and Lucas, were added to the mix on October 16.
Mal Beineke, the father of Lucas will be played by well-known Australian funnyman Tony Harvey. Alice Beineke, wife of Mal and mother of Lucas will be played by the wonderful Katrina Retallick and Lucas Beineke will be played by Hi-5 favourite Tim Maddren.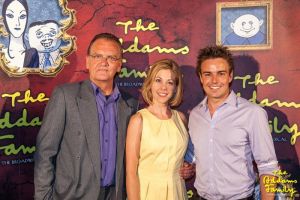 The Beineke Family are an integral part of The Addams Family musical as the story centres around every father's nightmare, Wednesday Addams, the ultimate princess of darkness, has grown up and fallen in love with a sweet, smart young man from a fully functioning 'normal' family - The Beineke Family.
The casting was completed on December 12, 2012, when Rodney Rigby announced the Ensemble members: Jakob Ambrose, Andrew Broadbent, Emma Clark, Cristina D'Agostino, Matt Heyward, Kelly Hoskin, Zoë Komazec, Peter Lowrey, Jordan Pollard, Justine Puy, Warwick Reid, Samantha Riley, Lisa Sontag, Shane Stepien and Robert Tripolino.
Yes, Wednesday Addams, the ultimate princess of darkness, has a "normal" boyfriend, and for parents Gomez and Morticia, it's a shocking development that turns the Addams house upside down when they are forced to host a dinner for the young man and his parents. The production features all the favourite characters – Uncle Fester, Grandma, Pugsley, Lurch, and the Beineke Family of Mal, Alice and Lucas.
After the casting announcement, Rodney Rigby (pictured below) told Stage Whispers that two generations will instantly connect with the musical – those who grew up with the TV show, and others, mostly in their 20s and 30s who were introduced to The Addams Family by the two movies.
After learning about The Addams Family during the lead-up to his hit production of Jersey Boys (while The Addams Family was still in development), Rigby came on board for the ride with the show as much as a year prior to its pre-Broadway premiere in Chicago.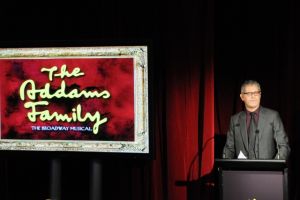 What does he personally love about The Addams Family?
"It's seeing those characters come to life in a funny script by Marshall Brickman and Rick Elice, while Andrew Lippa has written some very good tunes.
"The other good thing is that it's about family – there's a really heartfelt relationship between Gomez and his daughter, and Morticia and her children. It's warm, and it's very sweet."
Are there moments of the musicalisation which he is particularly fond of?
"The role of Wednesday is fantastic, and it's a real breakout role for Teagan, who was with Jersey Boys for us. I really hoped that she would get the role because she's the whole deal – she can dance, she's a serious actor and she really is a great singer. But, of course we auditioned everyone for this show. And Teagan nailed it.
"Wednesday is the driving force of this show. She's in her early 20s now and she's fallen in love with Lucas. She wants to bring Lucas and his family to dinner to meet her family, but she's afraid that mum will ask too many questions, and everything will turn into a mess. Gomez, as most fathers know from first hand, will do anything for his daughter, and unwittingly, by committing to hold a secret for his daughter, for the first time he's not telling the truth to his wife Morticia, and everything starts unraveling."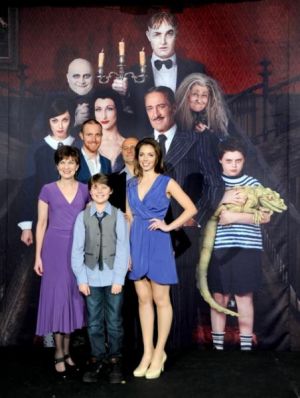 It sounds reminiscent of the classic Kaufman and Hart play, You Can't Take it with You, I suggest.
"Absolutely, and Rick and Marshall used the great plays of Kaufman and Hart as a benchmark in their writing, so it's not knock 'em down humour like Mel Brooks's comedy; it's very much that 30's style of sophisticated wit. When I say sophisticated, I don't mean a pretentious sort of wit, because it is broad at times, and it's also kind of sweet. Jersey Boys is a great example of Rick and Marshal's work, and what craftsmen they are, and the style and tempo of the book is very much in the world of the great Kaufman and Hart plays."
Like his recent previous productions of Jersey Boys and Rock of Ages, Rodney Rigby tells us that auditions for The Addams Family started out as a blank piece of paper.
"With Rock of Ages and Jersey Boys it didn't matter how powerful somebody's name was at the box office, it was all about them delivering the goods. These shows have allowed some actors in their mid 20s to 30s to really get some decent roles, and not get knocked off the pedestal because somebody else had more perceived box office power.
"We applied the same rule to Addams Family. Obviously we wanted an actor of stature to play Gomez, and an actress of stature to play Morticia. We invited John to come in and do a workshop with us, and he auditioned for the Broadway director Jerry Zaks. Jerry turned around and said, 'Guys, this guy is the real deal. I've got to come out and direct this entire show. I want to work with these actors.'
"So we've continued that process with our entire cast. We've got Russell Dykstra, who must be one of the best character actors in this country, as Uncle Fester. He came in for his workshop with his head shaven, worked with our musical director, and wanted to do it.
"It shows that if you have an open view about how you want to cast the show, you reap the rewards with really talented artists."
And what makes John and Chloë perfect for the roles of Gomez and Morticia?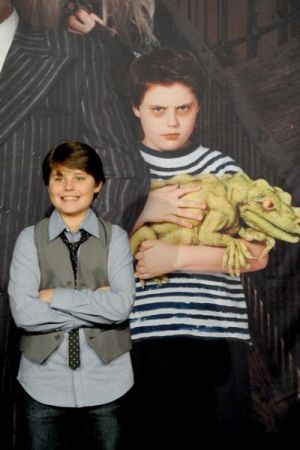 "John is a unique artist in Australia, with a range from through theatre, movies, rock and recently in three years in prime time TV. He also did The Woman in Black for us. He's got this incredible range of talent. He's also got this charismatic … I don't know what it is … that makes him appeal to women of all ages. I don't know what it is, but if he could bottle it he's be a rich man. And what we're going to see, and we've seen a bit of it through the audition process, is that he's an incredibly funny guy. As Gomez, he's a really swashbuckling leading man.
"Chloë's role in The Producers showed what an incredible actress she is. She' tall, and that's the unwritten contract of what people expectations are of a Morticia. Vocally she's right, her acting skills are right. That unique combination of talents is what those roles need."
Original Broadway Director Jerry Zaks will travel to Australia to personally direct the production, which opens at Sydney's Capitol Theatre on March 23, 2013.
Jerry Zaks, acclaimed on Broadway for his work in the theatre, has received four Tony Awards, four Drama Desks, and two Outer Critics Circle Awards, and he has directed more than 30 productions in New York. Of the Australian cast for The Addams Family. He said "We are thrilled and blessed to have such an amazing cast for the Australian premiere of The Addams Family. Led by our Gomez and Mortica, John and Chloë, this cast is going to thrill and delight. I can't wait to get down there and start working with all of them."
Rodney Rigby said "We are beyond thrilled to have found this wonderful company of actors for this ridiculously funny Broadway Musical."