The impressive line-up of national and local artists for Kate Ceberano's debut year as Artistic Director of the Adelaide Cabaret Festival, from June 8 to 23, will have plenty to delight music theatre fans, featuring international stars Lea Salonga, Ben Vereen, Eden Espinosa (pictured) and Sherie Rene Scott, along with popular local talents Debra Byrne, Kane Alexander, Sharon Millerchip and Justin Burford.
The 2012 program features 110 international artists and 194 Australian artists, 110 of those South Australian performers. Showcasing eight World premieres, seven Australian premieres and 20 Adelaide premieres, the program also features 12 international shows, many of which are exclusive to the Adelaide Cabaret Festival.
Opening on the Queen's Birthday long weekend, this year's Adelaide Cabaret Festival includes 146 performances of 49 different shows across 16 electrifying nights.
Ceberano is working with Australian artist David Bromley who has been engaged as Festival Designer, to enhance some of the performance spaces, interiors and public areas by providing an overarching aesthetic and visual texture for the Festival.
Opening this year's Adelaide Cabaret Festival in the elegant Festival Theatre is Adelaide's night of nights: the Variety Gala Performance on Friday 8 June. Guests will walk the red carpet and witness a selection of cabaret artists from this year's program. Hosted by Kate Ceberano and Mark Nadler, the Gala will provide a snapshot of some of the highlights of this year's Festival.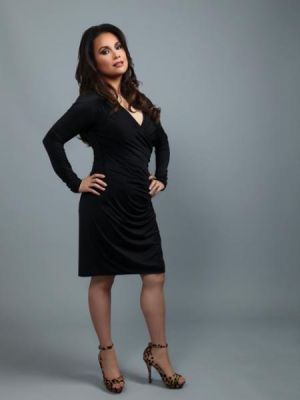 In an Australian Premiere performance, leading lady of Broadway and the West End Lea Salonga (pictured right) will perform in the Festival Theatre. The singer and actress best known for her Tony Award winning role in Miss Saigon and as the voice of Princess Jasmine from Disney's Aladdin will perform a musical tour through her career.
Other artists in the Festival Theatre include UK comedian, actor, writer, TV presenter and radio host Lenny Henry in Cradle To Rave, the story of his lifelong love affair with music,and the versatile and legendary Broadway performer Ben Vereen, in his show Steppin' Out with Ben Vereen, that combines a tribute to Broadway, Frank Sinatra and a very special homage to Sammy Davis Jr.
The Festival Theatre Stage is a unique venue, perfect for those who like their cabaret up close and personal. The Stage plays host to Australian ex-pat Nadeah, best known globally for her performances with French supergroup Nouvelle Vague, in her show Venus Gets Even.
Kane Alexander,best known for the lead roles he's performed on the musical stage and his touring days with pop Superstars Il Divo, performs All I Know.
Don Walker's show Tales from the Landsborough Highway, isan hour of song and stories from the man himself backed by his five piece band the Suave F***'s, with a guest appearance from Adelaide harmonica player David Blight.
Irish chanteuse Camille O'Sullivan performs her show Feel.
Brothers Rick and John Brewster present Brothers, Angels and Demons, a flashback journey through tales and adventures from Australian rock history and stories from the road.
The intimate Dunstan Playhouse plays host to both traditional cabaret stars and contemporary collaborations. Mary Wilson, a founding member The Supremes, struts her stuff performing Stormy Weather: The Lena Horne Project, based on the book by James Gavin.
In a Cabaret Festival World Premiere Eden Espinosa, most recognised for her portrayal of Elphaba in the Broadway production of Wicked, will step into the spotlight on the Playhouse stage.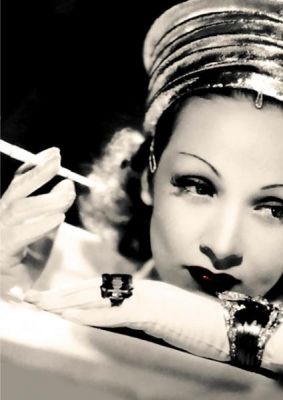 Sharon Millerchip performs another World Premiere, Marlene Pop Diva, a homage to Marlene Dietrich in pop (pictured left).
Troy Cassar-Daly takes his first foray into cabaret when he performs the World Premiere A Life's Story In Song, sharing the songs that have shaped his life as a person and a musician. Another World Premiere performance, Love-Song-Circus will fuse the vocals and compositions of Katie Noonan with three female acrobatic aerialists from Australia's contemporary circus Circa, who will be joined on stage by the Tulipwood String Quartet.
Australian singer/songwriter Tim Freedman presents an evening of grand pianos, sweet melodies along with his sardonic pointed opinions in Fireside Chat, also at the Playhouse.
In an Australian Premiere, acclaimed Broadway actress, singer and Tony Award nominee Sherie Rene Scott steps off the Broadway stage and into the Playhouse to present her eclectic music and musings.
An ensemble of Australian performers will pay homage to David Bowie in Ziggy – The Songs of David Bowie. The show is a theatrically inspired musical journey into the stardust-filled scrapbook of the man and his music, and features Jeff Duff, Steve Balbi and Brydon Stace.
Helpmann Award winning comedian, composer and performer and all-time Cabaret favourite Eddie Perfect presents his latest darkly satirical musical work Misanthropology.
Merlin Award winner and Helpmann Award nominee Cosentino - The Grand Illusionist will be performing death defying stunts and illusions.
If you've ever given a collection of songs to someone you care about, then Johanna Allen can sympathise. Join Adelaide's favourite daughter of musical theatre for her performance Mixtape: a twisted, dark and funny compilation of Johanna's favourite songs.
Some of the Australia's hottest new performers and legends will perform in the intimate Space Theatre. Debra Byrne performs Ripe, a showcase of her most memorable moments from her theatre career.
Jack Charles will present an evening of songs from his 1940s childhood through to a blues version of Oodgeroo Noonuccal's poem Son of Mine in Music from the Stage Production, JACK CHARLES V THE CROWN.
Melbourne indie soul singer Paris Wells performs Projected exclusively with her live band. Also from Melbourne are The Suitcase Royale who willpresent the Adelaide Premiere of The Ballad of Backbone Joe.
Festival Designer David Bromley will collaborate with his longtime friend and singer-songwriter Brian Cadd in A Brush With Keys, creating a new artwork live on stage, while Brian entertains and inspires on piano.
Tex Perkins will showcase songs from his new album along with his band The Dark Horses. Australian songstress Clare Bowditch, is seeking happiness in her show Tells A True Story Or Two.
For those who like their cabaret wild, loud and dirty, there's the four man punk-soul-gutter-blues tour de force, The Snowdroppers. From Quebec, gypsy jazz trio The Lost Fingers will make their Australian Premiere performances exclusive to Adelaide. The trio perform witty and jazzed-up renditions of nostalgic 80s hits.
The Artspace is a hub for cutting edge cabaret and includes a variety of contemporary artists alongside the traditional. New York based AustralianKim Smith will perform Weimar inspired Misfit, an Australian Premiere where he charts a dark and whimsical path through a ruined musical landscape of disfigured pop and peculiar period treasures.
Tipping her top hat to cabaret in an Adelaide Premiere, fresh from the New York cabaret scene – Australian expat Emma Dean. Her one woman show Strippedfeatures her Top 15 indie US radio hit Sincerely Fearful.
South Australian company Various People Inc present the World Premiere of The Velvet Gentleman: the odd story of Erik Satie, which promises to transport show-goers to twentieth century Paris and the curious world of eccentric composer and cabaret pianist Erik Satie.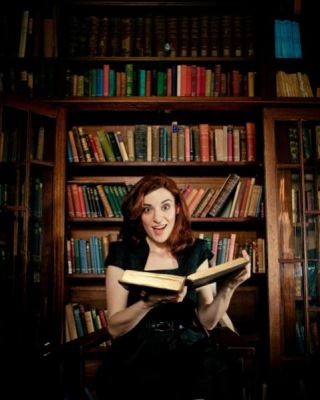 Fresh from the 2011 Sydney Fringe is LadyNerd – Keira Daley's funny, fact-packed cabaret tribute to some of history's greatest minds (pictured left).
One-woman orchestra Zoe Keating uses a cello and a foot-controlled laptop to record layer upon layer of cello.
Singer/songwriter Angela Harding, winner of the 2011 Australian Cabaret Showcase, weaves together original tunes with some well known favourites in her show Just Like You…Only Different!
Tommy Bradson takes audiences back to the early 80s to follow his 'groupie mother' in the shadows of rock 'n roll. In the world Premiere The Men My Mother Loved, Bradson looks to the rocker front men as the father he never had, singing gems from Chisel, INXS, Nick Cave and Australian Crawl.
In addition to being home to diverse entertainment in this year's Festival, The Banquet Room will also host the late night club named Backstage. Designed by David Bromley, Backstage will be an eclectic mix of Cabaret Festival offerings,with regular appearances by a variety of Cabaret Festival artists, dancers and DJs.
In a World Premiere performance, former End Of Fashion front-man and star of Rock of Ages, Justin Burford takes on the legacy of rock legend Kurt Cobain in Kurt.
Swing Time With The Andrew Sisters will relive all the memorable hits of WWII from one of the most successful female vocal groups in popular music.
Musical comedy trio Tripod's new show Men of Substance showcases their journey from a scorching charismageddon to craggy fugitives – all in three-part harmony.
Mark Nadleris back, this time exploring the depths of the German Expatriate experience in I'm a Stranger Here Myself. In addition, the he will reprise his hit Broadway Hootenanny – with surprise special guest appearances.
In Dirty Pretty Songs Virginia Gay takes cheerful pop tunes and gives them a depraved edge, part cabaret and part exposé.
At Her Majesty's Theatre, Bernadette Robinson plays multiple roles including Judy Garland and Edith Piaf in Songs for Nobodies by Joanna Murray-Smith.
High School students made their debut appearance at Adelaide Cabaret Festival in 2010 under the nurturing guidance of 2009 to 2011 Artistic Director David Campbell. This year a new class of 30 cabaret students from 15 secondary schools from across the state will share their stories through music in Class of Cabaret 2012.