The 2013 Adelaide Festival runs from March 1 to 17. The program, announced on October 30, 2012, includes a wide range of international and Australian theatre and dance productions.
Theatre
Adelaide Festival returns to international theatre commissioning with Nosferatu, a psychological vampire thriller from Polish director Grzegorz Jarzyna and his Warsaw based theatre company TR Warszawa.
Bram Stoker's blood-sucking hero has become an icon of pop culture. As is his calling – his purpose – acclaimed director Grzegorz Jarzyna's Nosferatu forces us to confront our deepest anxieties, visiting us only because we have called upon him; thirsting for our souls as we thirst for them to be taken. (Image - above - Stefan Okolowicz)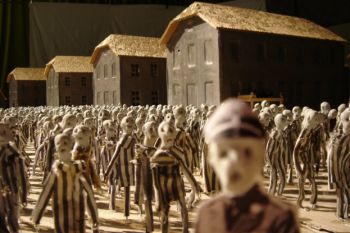 Dutch theatre makers Hotel Modern present Kamp - a moving and original work depicting the greatest mass murder in history using thousands of eight centimetre tall puppets amid a scale model based on Auschwitz-Birkenau. (Image - right - Herman Helle)
Belgian company Ontroerend Goed perform a trilogy of shows exploring the line between the audience and the actor. With audiences as small as one, A Game of You and Internal are Australian premieres; The Smile Off Your Face, last seen in Adelaide in 2008, completes the trilogy.
Co-commissioned by Adelaide Festival, the world premiere of Thursday is a co-production between Adelaide's Brink Productions and the UK's English Touring Theatre, taking reference from Adelaide's Gill Hicks, who lost her legs in the 2005 London bombings.
Two productions promise evenings of immersive theatre and live music.
Brooklyn based BBB present their riotous "song play" Beowulf – A Thousand Years of Baggage. In this half lecture, half raucous mead-hall romp, BBB (Banana Bag & Bodice) defends the epic ninth century poem Beowulf through hilarious storytelling and rowdy debate. As battles rage in the aisles (and at the bar) the audience is plunged into a unique theatre experience fuelled by an explosive seven-piece band. Weillian cabaret, '40s jazz harmony, punk and electronica whip all who brave the award-winning chaos into a fierce, cacophonous swirl.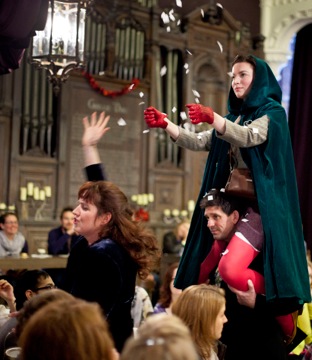 The National Theatre of Scotland presents The Strange Undoing of Prudencia Hart. Pull up a bar stool and whet your whistle for an evening of anarchic theatre, live music and rambunctious goings-on. Prudencia, an uptight academic, sets off to attend a conference in the Scottish Borders, little knowing who or what awaits her in the fresh fallen snow. Her dream-like journey of self-discovery unfolds amid the audience in a riotous romp of rhyming couplets, devilish encounters and wild karaoke.
(Image left - The Strange Undoing of Prudencia Hart - Photographer: Drew Farrell)
Australia's puppetry masters Erth present Murder. Inspired by Nick Cave & The Bad Seeds' Murder Ballads, Erth meditate on the violence staining our world and delve into our culture's obsession with murder. Bringing to life the band's shadowy characters through puppetry, digital imagery, old carny tricks and a razor-sharp, mind-blowing performance, this is a wickedly clever and savagely funny show. Lust for life as a sinister, yet compelling, figure conjures a dark world of love, sex and death.
Barry Otto leads the State Theatre Company of South Australia's new adaptation of The Kreutzer Sonata. A tale of paranoia, jealousy and revenge, Tolstoy's novella provides rich pickings for a bravura one-man show. After marrying, Pozdnyshev experiences both passionate love and agonising conflict. What follows is a story of sexual jealousy, murder - and Beethoven.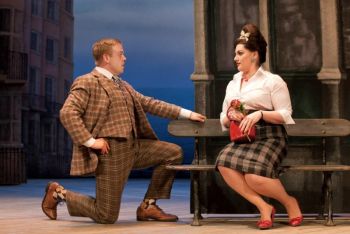 The smash-hit production One Man, Two Guvnors (UK), Richard Bean&rs