With Barnum currently playing its limited season, Coral Drouyn looks at how Circus affects our lives and theatre - from Big Tops to stages here in Australia, and around the world.
"And away went the lions and the tigers so wild
And away went my beautiful clown;
And away went my very last day as a child
The day that the circus left town."
Written by Harold Spina and Carlyn Leigh.
The inimitable Eartha Kitt sang those words in 1955, and they remain evocative today. Is there anyone on the planet who hasn't been to a circus? Years ago, children (and some adults) dreamed of running away to join the circus, long before even more glamorous options (like being a pop star) raised their heads. The circus had a mystique that wasn't replicated anywhere else, and the phrase "The smell of the greasepaint, the roar of the crowd" was coined to signify the very special entertainment that elevated spangles and sawdust to every child's wish-list.
Yet, remarkably, children were not part of the audience for the first circus, Phillip Astley's horse-riding spectacular in 1768. It was an adult form of entertainment that gradually grew to include wild animals and speciality acts from Variety theatres, an innovative move by a man who was only 25 years old when he conceived it, foreshadowing the greatest showman of them all, P.T Barnum – who ( coincidentally) was 25 when he was bitten by the circus bug. For audiences, the chance to see wild animals interacting with humans up close and personal was nothing short of a miracle.
Though we think of the tent as being an integral part of our circus experience, most circuses had a permanent venue in major cities, and regional towns were left to wonder what all the fuss was about. This only increased the mystique. All of that changed when "The Big Top" started life in 1825, with enormous tents never seen before in public. Touring circuses became the norm for the next 150 years. Sometimes the entire circus had its own railway train; more often a huge convoy of trucks and caravans would roll into town, the crowds turning out to watch the procession of wild animals, while the performers, in their costumes, walked alongside, waving to the wide-eyed children, and spruiking tickets to their parents. The tent, the circus ring, the seating, was all portable and took a full twenty-four hours to erect.
The sawdust was a way of controlling any "accidents" the horses and other animals might leave in the circus ring, though, as kids, would we really have cared about a bit of lion poo as the clown was making us laugh?
The crossovers between circus and other forms of entertainment became more frequent and less obvious as the years rolled on.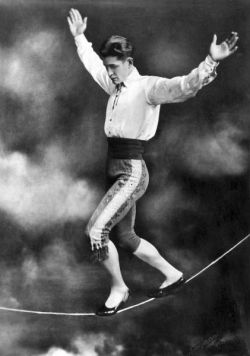 One of the most famous international circus acts of the first half of last century was an Indigenous Australian family, The Flying Colleanos. Pioneers in trapeze work, the family, whose name was actually Sullivan, managed to pass as exotic Spaniards at a time when an Indigenous heritage was, sadly, seen as a disadvantage. From a family of ten children, brought up around sideshows, six or more formed part of the act. Con Colleano became the most famous, but brother Maurice was a noted clown and comedian. Con was (and still is) the world's most famous tightrope walker, being the first to complete a foot to foot somersault on the high wire. Though Con would work the Tivoli Circuit as a solo act, it was inevitable that Ringling Bros and Barnum and Bailey circus would hear of him and that by 1924 The Colleanos were the undisputed stars of 'The Greatest Show on Earth', earning a staggering $1,000 a week, and even taking a break to appear at the London Palladium for the Royal Family.
It was inevitable that the life of Phineas T Barnum would make it to the Musical Theatre stage, even if the Colleanos weren't part of it, and when Barnum the musical opened on Broadway in 1980, it was a hit and ran for two years. British ex pop star Jim Dale played the role on Broadway, while Michael Crawford stunned West End audiences with his agility. In Australia the great Reg Livermore brought his own special twist to Barnum in 1982, and the newly opened production stars Todd McKenney, who (perhaps as homage to Con Colleano), walks the tight wire between the two women in his life.
This new production has been updated to have more depth and to smooth some of the corniness from the original book. Director Tyran Parke explains how he examined the mystique of Barnum's life.
"Barnum is telling his life through a Circus act. So you get to the theatre and Barnum is telling you what happened in his life as a Circus Troupe and they act it out. The clearest suggestion of that is that he walks a tightrope from his wife to his lover not knowing who he should be with. That is a great metaphor and we wanted to make sure that all of the circus work had a metaphor to it – all of it had something that connected to Barnum's story and a way of telling it through Circus," Parke says.
"Once we did that, we thought, who is the ringmaster in all this? Who is that person? The piece is about someone who is so in love with pursuing the applause at the expense of the relationship with his wife. It will be great to physicalise that. What if that metaphor is that circus thing that people chase?" Parke knew that it was something he had to explore.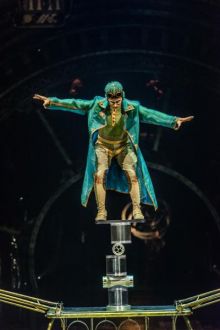 He decided that Barnum's weakness for gratification, whether through women or the Circus, could be tied together. This led to him re-imagining the Ringmaster as a woman, the brilliant Kirby Burgess, who also plays all bar two of the male roles. It's as if the circus itself is a third female temptation in his life, and wife Charity (the ever-charming Rachael Beck) has not one, but two rivals to fight, rivals with greater attraction than she has.
"We haven't updated it. It is still set in the time period that it was set in. But, it gives us a lot of tension in the piece. That this thing he is chasing is a person on stage who can be a bit devilish," Parke says.
So why has Circus survived for so long, I wonder?
Tyran answers immediately. "I reckon it is because of spectacle, a bit like magic. It has much more artistry to it. It used to be special tricks and hand up your sleeve moments. I can remember going to see Cirque du Soleil a few years ago, and just marvelling what athletes they need to be, dedicating their lives to doing these things. I think you can't help but find something impressive about that."
Parke acknowledges Cirque du Soleil, and it's fair to say that without their incredible productions, circus as an art form might not have survived the Animal Rights movement, which saw virtually all animal acts disappear from touring circuses. No-one could have foreseen that a group of street performers, including stilt walkers, jugglers and acrobats, busking for spare change in a small town near Quebec in Canada, in the early 1980s, would go on to become the greatest circus of all time, and perhaps also the greatest entertainment success story of all time, and all without a single animal in sight.
Cirque du Soleil re-defined the very meaning of circus, and the constant quest for excellence always leaves audiences salivating for their next production. With more than forty huge productions behind them, and five more in the development stages, Cirque is about to land on our shores once more with Kurios – Cabinet of Curiosities. In Kurios we meet a mysterious inventor with a world of curiosities to unravel. Defying the laws of time and space, he re-invents the world around him, literally turning it upside down. It promises to be another Cirque triumph.
But if Cirque is a sophisticated hallucinatory trip into the unknown, the traditional circus format which made us gasp with delight at The Great Moscow Circus all those years ago is still alive and well and about to tour Australia in the form of ZIRK! - bringing all those elements that kids of all ages have loved for two hundred years.
Zirk! is The Great Moscow Circus without the animals, but with all its acts honed to new performance levels that arguably make it the greatest traditional touring circus in the world.
Producer Andrew Guild has been a circus fanatic since childhood and worked with the legendary Michael Edgley in bringing the Russian circus to Australia when both men were still in their early twenties.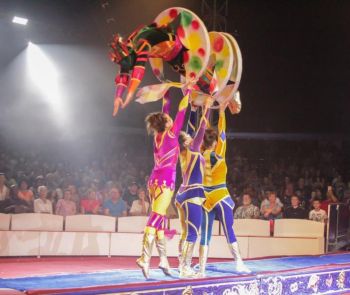 "I wanted to keep the tradition of circus being something special for the entire family," he tells me. "Yes, technology changes, our entertainment habits are different, but at the heart of it all is the thrill of sitting wide-eyed at the ringside, oldies and kids alike, dropping the popcorn into our laps, with our mouths wide-open in excitement."
Guild has tried to retire twice, but the pull of the circus, and his other love, Russian classical ballet, keep him from enjoying a rest.
"I get bored very quickly" he tells me, "so a life of leisure is not for me. And I truly want to keep the idea of traditional circus alive. The Russians have been doing that now for more than 140 years. It's fast paced, family friendly and includes some of the most electrifying acts you will see under the Big Top Chapiteau. For children it is a show they will never forget - even more so for adults!"
Instead of a mere double wheel spinning in the air, there will be a double double wheel, four acrobats delicately balanced in four spinning wheels. There is the traditional Globe of Death, but with a twist, and Australia will get to enjoy Russian master clown Dmitry Shindov.
In his eight month search to source the very best acts in their field, Andrew has also signed talent from Cuba, Germany and the USA, all top artists in their field.
"You're never too young for a great traditional circus," he says, "and you're never too old either."
Circus is here to stay, and we mustn't ignore all the many wonderful circuses that grace our towns for just a few weeks each year to keep the magic alive. Hats off to Stardust Circus, Circus Oz, Lennon's, Silver's Magic Circus, The Flying Fruit Fly Circus, Ashton's, Sole Brothers, Circa and all the other wonderful performers who spend their lives reassuring us that All The World's a Circus.
Barnum plays at Melbourne's Comedy Theatre until June 8, 2019.
ZIRK! - Russia's Big Top Circus Spectacular plays at Majura Park Showgrounds, Canberra from 14 June 2019, then The Showring, the Entertainment Quarter, Moore Park, from 5 July, with dates in other capital cities to be announced.
KURIOS – Cabinet of Curiosities commences its tour at Entertainment Quarter, Moore Park, Sydneyon 2 October 2019, then plays at Northshore Hamilton, Brisbane from 10 January 2020, and Flemington Racecourse, Melbourne from12 March, with Adelaide and Perth to follow.
Images (from top): Barnum Australian Production - Kirby Burgess, Todd McKenney and Susie Mathers - Photographer: Jim Lee; Con Colleano; KURIOS Photographer: Martin Girard / shootstudio.ca Costumes: Philippe Guillotel © 2014 Cirque du Soleil; ZIRK!.