In August, Brisbane audiences are being treated to some of the finest German Opera, Music and Ballet from the nation's second largest city, Hamburg. Australian conductor Simone Young is wielding the baton for a concert performance of Wagner's Das Reingold with the Hamburg State Opera and Philharmonic Orchestra. Peter Pinne caught up with Simone Young on the eve of her return.
Peter Pinne: The Hamburg Seasonis an exciting time for Queensland and opera in Australia. How did it come about?
Simone Young: The Chief Executive of QPAC, John Kotzas, is passionate about bringing the world's best artists to Brisbane. His vision through the international series has also been to create opportunities for companies like ours to connect with Brisbane companies and artists. Through my discussions with him, and my good friend Leo Schofield and producer Ian McRae, we decided to tour all three renowned Hamburg companies for the first season in the QPAC International Series.
PP: What made you select this program of events?
SY:The Ring has been one of the core projects that I have developed in Hamburg – our recordings of these 4 operas have been praised very highly in the critical press. An amazing number of Australian Wagner-lovers visited Hamburg to see our Ring cycle, so it made sense to bring one of the Ring operas – Rheingold – here.
PP: What is it about Wagner's music that attracts you?
SY: There is something always thrilling about the huge dimensions of a Wagner opera. It is passion on a grand scale, an enormous architectural structure clothed in glorious melody.
PP:When did you discover your passion for Wagner?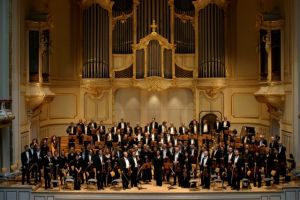 SY:In my twenties. Stuart Challender encouraged my interest and it quickly turned into something of an obsession. When I worked with Daniel Barenboim in Bayreuth I was able to deepen my knowledge of the scores, the traditions, the history of these works.
PP: Why did you choose Das Rheingold and not one of the other titles in the cycle to be performed in concert?
SY: Humour is not often something one connects with Wagner, but Das Rheingold is in fact a rather witty opera. It's compact – 2 ½ hours straight through – and runs the gamut of brilliance (Rhine Maidens), wit and schadenfreude (Loge), noble visions (Wotan), brutality (the giants), visionary warning (Erda) and the beginning of megalomania – Wotan and the procession into Valhalla. A great way to start! It is also an "ensemble" opera – which means that I can showcase the talents of the singers who make up the ensemble of the Hamburg State Opera.
PP:The cost of mounting a season such as The Hamburg Season is enormous, especially when it is only being seen in one state and not touring Australia. How has the season been funded?
SY:The Hamburg Season will be the first season in QPAC's new International Series. This series was launched in September 2011 by the Queensland Premier and is supported through a significant four year partnership with Events Queensland. I understand in financial terms, the partnership is one of the most significant programming partnerships in QPAC's history. The Hamburg Season has also been supported by a number of corporate sponsors.
PP: How many people – cast and musicians – make up the company that is coming from Hamburg?
SY:Don't be surprised to hear a lot of German being spoken around the tourist areas during those weeks in August. An orchestra of around 120, thirteen soloists, and some supporting staff – quite an entourage!
PP: How many local performers will be added?
SY: To deliver the powerful chorus in the Mahler Symphony No. 2 Resurrection performance on 24 August we will appoint 3 local choir professionals who will in turn select and lead up to 130 local choral performers. We will also be securing up to seven young male ballet artists for support roles in the Hamburg Ballet's A Midsummer Night's Dream.
PP: Why did you choose Mahler's Resurrection as the work to be done with the Hamburg Philharmonic? Does it hold a special significance for you?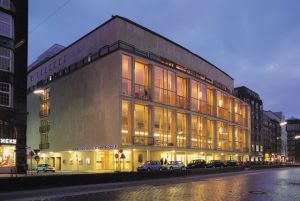 SY: Mahler was chief conductor of this orchestra at the time he conceived the idea for his 2nd Symphony. It is a work which is intimately connected with the history of the city and orchestra, and as such, seemed the perfect choice. It is also one of the most moving symphonic and choral works of the repertoire. We have just released a live recording of this symphony as well.
PP: You have an outstanding international career yet you still find time to return to Australia and work here. What role does Australia play in your cultural life?
SY: I could not imagine Australia ceasing to play a role in my creative life. The light, the water, the humour and the self-irony – these are all Australian characteristics that are close to my heart and that feed my artistic interpretations.
PP: Do you believe a 'cultural cringe' still exists in Australia? Is it necessary for artists and musicians to gain experience internationally in 2012?
SY:Curiously, this is not a question that singers or musicians of other nationalities ask. I believe that it is very possible to gain a fine musical education in Australia and to work at an extremely high level. I do think, however, that musicians and singers who want to be the best that they can possibly be must be exposed to the best in the world – and that means travelling.
PP: What or who were your early musical influences?
SY: I was greatly fortunate to be guided by a number of fine and dedicated teachers. At the piano I developed a great love for the French impressionists and for Beethoven. Later, on joining The Australian Opera in '83 as a very young pianist, I worked together with Stuart Challender, Richard Bonynge, Carlo Felice Cillario and Charles Mackerras – they were all hugely positive influences and together were masters of the entire operatic repertoire.
PP: Following your outstanding success and prestigious awards as a conductor having conquered the opera and musical stages of Europe, the U.S. and Australia, what comes next?
SY: Hopefully, a rest! I do intend to build more quiet times into my schedule in the future. I find myself at a personal and professional crossroads – I have been fortunate to achieve so much already. I plan to take time to deepen my knowledge of the enormous repertoire that I have accumulated, to continue to travel, learn new languages and develop and nourish my mind in order to give more meaning to the work that I am so privileged to do.
Originally published in the July / August 2012 edition of Stage Whispers.
THE HAMBURG SEASON
The great port of Hamburg is the second largest city in Germany, the seventh largest city in the European Union and one of the most affluent in Europe.
In addition to being a mercantile powerhouse, Hamburg has an enviable cultural life with some forty theatres, sixty museums and over one hundred music clubs.
It is also home to a great symphony orchestra, a celebrated opera house and a world renowned ballet company, all three of which will make their first appearance in Australia for an exclusive Brisbane season in August 2012.
Australian conductor Simone Young is both Musical Director of the Hamburg Philharmonic Orchestra and General Manager of the Hamburg State Opera. Young will lead the former in a performance of Mahler's mighty Symphony No. 2, Resurrection, with a Queensland chorus and international soloists. A renowned interpreter of the operas of Richard Wagner, Simone Young will also conduct two concert performances by the Hamburg State Opera of Das Rheingold, the first work in his epic Ring Cycle.
The magnificent Hamburg Ballet, led by its Artistic Director and Principal Choreographer John Neumeier will present the Australia premiere of two of his finest works – Nijinski, an homage to the legendary Russian dancer, and his witty elegant ballet version of A Midsummer Night's Dream.
The Hamburg Season represents the first offer in Queensland Perfoming Arts Centre's International Series, presented in partnership with Events Queensland. Over the next four years QPAC plan to bring some of the world's leading performing arts companies to Brisbane in an exclusive annual season.
Performances:
Das Rheingold Concert Hall, 23 & 25 August 2012
Mahler Symphony No. 2 Concert Hall, 24 August 2012
Nijinsky Playhouse, 26-28 August 2012
A Midsummer Night's Dream Playhouse, 30 August – 5 September 2012
Images: Simone Young (photographer Klaus Lefebvre), Simone Young with the Hamburg Philharmonic Orchestra and Opera House, Hamburg.