Australian company Global Creatures is opening King Kong on Broadway, Moulin Rouge The Musical in Boston, Strictly Ballroom The Musical in the West End, and Walking with Dinosaurs around the world, all in the same year it successfully premiered Muriel's Wedding The Musical. CEO Carmen Pavlovic reflects on the journey with David Spicer.
"I remember a few years ago thinking this is all too hard," said a relieved looking Carmen Pavlovic in her Sydney office.
"I went to Melbourne to meet my business partner Gerry Ryan and told him, I feel like we have made a horrible mistake and I am fine if you feel like that."
One difficulty after another was piling up. The company could not get venues. Capital costs were spiralling. One creative team after another was toiling away at making King Kong into a piece of theatre that worked – without getting it right.
Gerry told her, "Oh Carmen I just want to tell you nine words my mother said to me - Don't Give Up. Don't Give Up. Don't Give Up."
The company's most ambitious project, King Kong, opens on Broadway in November. It premiered at the Regent Theatre in Melbourne in 2013. Audiences were dazzled by the largest puppet ever created for the stage, described as "a highly sophisticated animatronic/marionette hybrid controlled by the integration of hydraulics, automation and the manual manipulation from a team of puppeteer/aerialists."
Less seamless was the book and music.
"I found no matter what we did through the workshop process and re-writes, that it felt like this creature was plonked in the middle of someone else's show."
The company was offered a theatre on Broadway in 2014 but they did not take it "because we were not ready."
Mindful of the financial and artistic disaster that befell the Spiderman musical, Global Creatures went back to the drawing boards. Finally came the Eureka moment.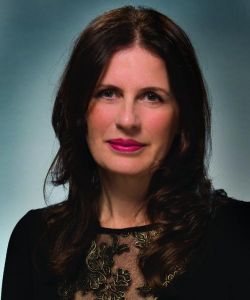 "I realised the great success of Kong was that he was animated by puppets and his physical vocabulary wasn't anywhere else in the show.
"It now relies less on book scene, then lets stop and sing a whole song. Instead, we physicalise the whole story telling language. Then we finally felt we were onto something.
"We have a company of King's Men that pull the physical vocabularly right through the story telling."
An example is the scene in King Kong which takes place on a boat.
"Drew McOnie, who is the director/choreographer, found a way of building the boat before everyone's eyes. The sailors carry cargo together to create certain shapes that tell us we are on a boat. People with ropes tether the boat and cast it off into the harbour."
Likewise the dynamic of New York in the 1930's, when many iconic skyscrapers were being built, is also part of the fabric of the production.
Carmen becomes more coy when I pry about what the research and development has cost.
It has been going on for five years, with Kong sitting in a shed somewhere on a property owned by Global Creatures' investor Gerry Ryan.
Now worth an estimated $500 million dollars, Ryan is the founder of the Jayco caravan company, which he established 41 years ago with a ten thousand dollar loan.
"Yes it is expensive R and D, but not nearly as expensive as taking a show that is not ready to Broadway," said Carmen.
A return on investment also takes a long time. King Kong even needed abit of maintenance ahead of his journey to New York.
Already in New York is Australian composer Eddy Perfect. He has composed songs for the Broadway edition. She describes the soundscape of the work as cinematic in scale – "a journey through time and space."
Baz Luhrmann's Strictly Ballroom the Musical has also gone through a transformation ahead of its West End debut in April.
The musical opened to mixed reviews in Sydney in 2014, was reworked for Melbourne in 2015 and was again updated for its premiere in Canada and the West End, with Baz Luhrmann supervising rather than directing the work.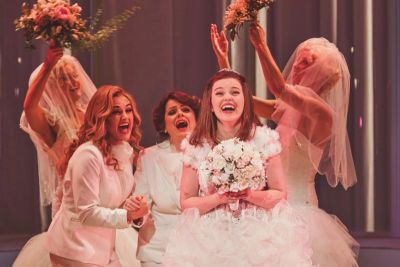 Carmen said the challenge has been "how do you take the tone and the wit of the film and transpose that to the stage without feeling pantomime like.
"So we have ramped up the story telling device of dance. The idea that props are dancing into place, scenery is danced into place. You see people getting into costume on stage. The whole thing is moving.
"We have created this new character of the band leader, who is on stage, narrates us though the evening and sings most of the music.
"The music very much becomes a comment on the scene playing in front of it, rather than the kind of traditional device of principals stopping and breaking into song."
Carmen is hopeful of a long run in the West End.
"There is a great affinity between the UK and Australia. We understand each other's humour and Ballroom Dancing is beloved in both countries.
"The theme is still relevant 25 years later (after the film was released.) Standing up to artistic oppression. Speak up, be y
ourself, dance your own steps and there is more than one way to cha cha cha…
"It has even got a dictator with a bad suntan and a bad wig, which is very much in zeitgeist."
In Australia, large community theatres are also staging the musical (based on the Australian production) for the first time.
Baz Luhrmann's other movie destined for the musical stage is Moulin Rouge. The musical has its pre Broadway opening in Boston in July.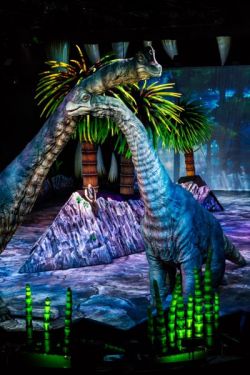 The challenge once again is to translate the movie into a theatrical experience.
"The very things that make his films theatrical are not the easiest to replicate on stage. That whip can camera, close ups, opening shots of the Moulin Rouge, panning through the streets of Paris - you can't achieve those things on stage."
So how will the creatives transition it to the stage?
"Moulin Rouge (the musical) immerses the audience in something very visceral, lush and sophisticated. It has sophisticated designs, rich costumes and eclectic music that comes together in an operatic way.
"The music, set, and costumes come together so that the audience has the sense that the piece is on the move rather than one scene after another," she said.
Clearing the rights for Moulin Rouge was immensely complicated as permission was required from from Fox Studios, the Moulin Rouge in Paris and a very large number of music publishers.
Patience is something you need by the truckload in this business.
King Kong is ten years in the making, Moulin Rouge nine years in the making but by contrast, the development of Muriel's Wedding the Musical was brisk .
Global Creatures first approached PJ Hogan about adapting his film Muriel's Wedding for the stage only six and a half years ago. Then it had to get permission from ABBA.
After 18 months of rejections by ABBA's management, Ms Pavlovic flew to Stockholm to meet the band's songwriters, Benny Andersson and BjörnUlvaeus, and a deal was struck.
The musical opened in Sydney in January and was an immediate success. The hard nosed Sydney critics, who roasted Strictly Ballroom, were in raptures.
"Muriel's Wedding feels like the complete package: a beloved film seamlessly updated; a central character who retains all the ambiguities that made you root for her in the first place; a conspicuously inventive score peppered with classic pop hits, and a mainstage debut that will be talked about for years," wrote Jason Blake in the Sydney Morning Herald.
Tickets are now on sale for the return season in Sydney mid next year ahead of a national tour.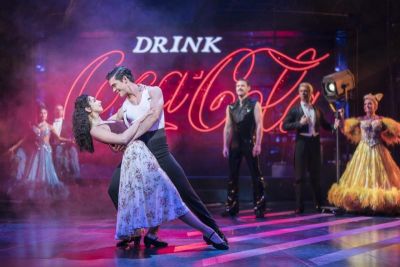 Global Creatures has now invested 200 million dollars in productions. Its Walking with Dinosaurs franchise has been a large financial success - helping to finance the development costs of its other projects.
The animatronic masterpieces of Tyrannosaurus Rex, Brachiosaurus, Plateosaurus and Stegosaurus have been seen by over nine million people in 250 cities around the world.
If King Kong is a hit then goodness, Gerry Ryan might even end up being able to completely retire from building caravans. Carmen Pavlovic is keen to develop Global licencing opportunities for her brands.
But more than financial success, it is the challenge of re-working shows which she finds "energising".
"I love the fact that our productions are not locked in on opening night. You can come back after a premiere to see how those elements of music, sound and lighting knitted together with the interaction of an audience. That is the thrilling part."
A Big Year In Theatre
27 January, 2018
Muriel's Wedding The Musical finishes its sell-out season in Sydney
24 April, 2018
Strictly Ballroom The Musical opened in the West End
21 July, 2018
Moulin Rouge has its pre-Broadway engagement in Boston
20 July, 2018
Walking With Dinosaurs worldwide tour commences in the UK
8 November, 2018
King Kong opens on Broadway
July 2019
Muriel's Wedding returns to Sydney.
Images: King Kong (photographer: James Morgan); Carmel Pavlovic; Muriel's Wedding (photographer: Lisa Tomasetti); Walking With Dinosaurs and Strictly Ballroom - West End production (photographer: Johan-Persson)