Live theatre is being seen by more people than ever in the cinema. Actor/Producer Grant Dodwell is leading the way through his company Australian National Theatre Live. Remote country towns and big city art house cinemas are introducing new audiences to the stage. David Spicer reports.
Grant Dodwell is best known to audiences (above a certain age) as the beloved character of Dr Simon Bowen in the TV soap A Country Practice. The clean-cut Doctor had a nice red sports car, a pet wombat called Fatso and a crush on the local vet played by Penny Cook. He rode the TV wave in the early 1980's, winning three Logies and gracing the cover of TV Week.
"When my hair gets long people do a double take. I get ardent fans (aged above 30) who were allowed to stay up in pyjamas to watch the show," he said.
After A Country Practice he resumed his highly successful theatre career, including a national tour of Noises Off, and appeared with Hugh Jackman in Sunset Boulevard. But soon the theatre roles and TV cameos were not regular enough to support his family. So "out of necessity" Grant Dodwell turned to making corporate theatre and videos.
"It was still acting, but not on the mainstage. I was still acting with actors that I'd shared the stage with at the Sydney Theatre Company but I was just putting on a different hat," he said.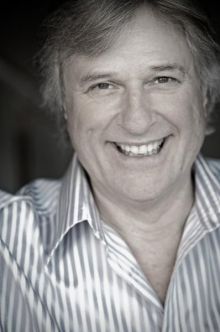 One of his clients is the Australian Defence Force, which still gives him an annual gig playing five different characters in a role-playing exercise.
His expertise in corporate theatre and videos soon made a few light bulbs go off.
It began when he made a film of a live performance of the play Codgers with a grant from a Seniors organisation.
Around the same time that Britain's National Theatre Live was being established, he thought "we've got the technology, lets capture live theatre" in Australia.
With a number of partners, he established Australian National Theatre Live. Now the company has an impressive list of filmed plays under its belt.
By the end of year the company will have completed filming eight Australian plays from a variety of companies, featuring playwrights David Williamson, Louis Nowra and Katherine Thompson. Its most popular film so far has been the Sydney Theatre Company's Wharf Review.
Stars of the revue have attended some of the sessions in regional centres.
"Most people say, I thought I was going to see a film, but I felt like I was at the theatre. When the Wharf Review screens, everyone applauds and hoots after each song.
"When you see a film musical like La La Land no-one applauds after a song; when you screen a captured live performance they do it.
"When the actors come out at the end, the cinema audience applauds."
Grant believes that part of the reason for this is that the audience reaction is also filmed.
"They have a sensation of being in a theatre. They see the audience as we mix in some of the audience laughs."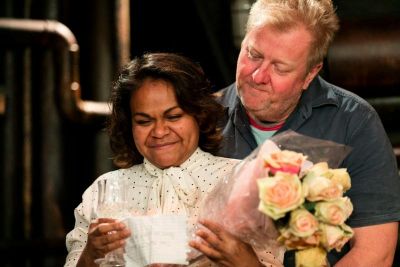 The films have high production values.
"We use six drama camera operators and two fixed cameras. We film one production with an audience and don't stop."
Radio microphones are weaved into the actors' hair and make-up. In a cinema, the audience enjoys surround sound.
Grant believes that filmed live theatre is creating new audiences for the performing arts and does not cannibalise theatre sales.
"For the drama Dapto Chaser we went to towns which the live performance could not get to.
"We recently toured a production of Rumpelstiltskin (Windmill Theatre Company and State Theatre South Australia) with Country Arts SA to towns with no theatre and no cinema."
In the town of Tintinara (population 350) they had 100 primary school students watch the film in a "pop up cinema" in a community hall and 95 percent of them had never seen live theatre before.
Grant loves quoting a statistic from the UK's National Theatre Live, that many "people who have never been to the theatre see a live captured film production and 25% who have never seen theatre will later go and see live theatre production."
However, he says, "we don't just see ourselves as saviours of poor art starved regional areas."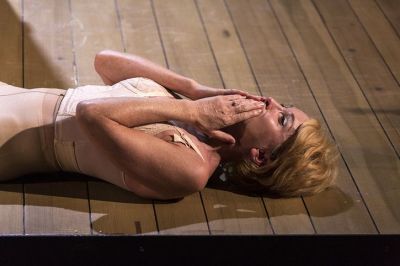 Larger populated regional and suburban art house cinemas are booking the films.
"Internationally it is a billion-dollar industry. We have had inquiries from Dubai, which has a 22 cinema complex and wants alternative content.
"Audiences are dropping mainstream cinema. Why see a mediocre film from America when the markets are switching to high quality drama on streaming services?"
Turning Australian National Theatre Live into a profitable venture, though, is a long term project. Pre-production for each film often costs above $100,000.
"It has taken National Theatre Live seven or eight years to go into profit and they had 21 million pounds thrown at them."
The local venture receives no Government funding. Grant is also passionate about touring indigenous plays to remote areas.
"Hopefully we'll get aboriginal actors to tour with their plays."
Images: This Much is True, Grant Dodwell, Steve Rogers & Ursula Yovich in Diving for Pearls (Photographer: Brett Boardman) and Natasha Herbert in Away (Photographer: Pia Johnson).
SCREENINGS COMING UP
Michael Gow's AWAY a Malthouse Theatre Company & Sydney Theatre Company production
Louis Nowra's latest Play THIS MUCH IS TRUE A RedLine Production at The Old Fitz.
Katherine Thompson's iconic Australian play DIVING FOR PEARLS - a Griffin Theatre Company Production.
The Wharf Review