Australian National Theatre Live is releasinhg a film version of Michael Gow's play AWAY.
It stars Heather Mitchell, Marco Chiappi, Julia Davis, Wadih Dona, Glenn Hazeldine, Natasha Herbert, Liam Nunan and Naomi Rukavina.
Australian National Theatre Livefilmed this Sydney Theatre CompanyandMalthouse Theatre production with 8 x 4K HD cameras during one "live" performance with a packed audience.
The play, about 3 families heading for a Christmas holiday set in the late 60's, is a local classic loved by theatre lovers and students who have studied the play's themes of social change, integration and the personal tragedies of war. Director Matthew Lutton's adaptation received rave reviews when it was staged in Sydney and Melbourne last year with critics applauding its bold theatrical gestures.
The play is the 6th Australian play to be filmed for the cinema screen by an enterprising local production company whose goal is to preserve as much as possible our theatrical heritage and to make theatre accessible to more Australians everywhere and at reasonable price.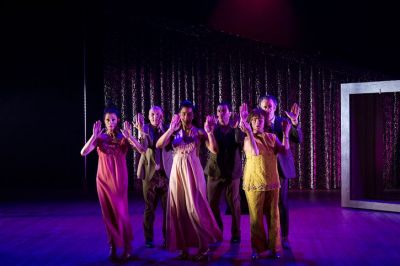 In a (partnership) deal with the Independent Cinema Association, AWAY will be screened on over 120 screens across Australia in a project aimed at bringing the best of metropolitan Australian theatre to audience everywhere across the continent.
About Australian National Theatre – Live
ANTLive is a completely new development in the fine-arts world in Australia, employing digital innovations in the recording, distribution and exhibition industry enabling it to produce, share, screen and promote theatre to all Australians no matter how remote.
The Dendy Season screening Sydney / Brisbane / Canberra is Sat 17th @ 1pm Sun 18th @1pm & Wed 21st @ 10am.
National regional cinemas: http://www.antlive.com.au/screenings/
Click here to see the trailer.
Photographer: Pia Johnson.