Peter Kemp has been with Stage Whispers since the dawn of our magazine, attending up to eight productions a week. He reflects on the best and worst of 20 years of theatre.
Twenty years ago I was a theatre columnist for a local newspaper when Jeff Jones called me to ask if I'd be interested in writing for a new theatre magazine. My reply was yes, let's get cracking, and I gave him all my contacts to help set it up.
I was the first previewer and reviewer. Most people thought I was Stage Whispers.
Even today, from February to November, I am still out two to three nights and cannot get to all who request coverage across Melbourne. My record is eight shows in seven days.
There have been some memorable moments, both with brilliant productions and some not so brilliant. One of the best productions I have seen was Eltham Little Theatre's production of The Shoe Horn Sonata. Set in 1945, it is about English and Australian girls who were freed from a Japanese Prisoner of War Camp. Fifty years later, the filming of a television documentary reunites them to remember the past. The cast, Genevieve Ryan and Pat Alcock, gave one of the best and most moving performances seen on a Victorian stage and that includes the professional theatre.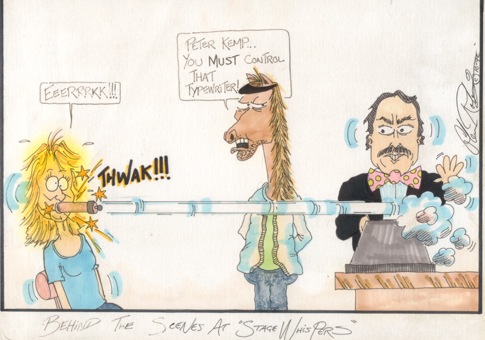 On the other extreme, one local company decided to do the World Premiere of a new musical called The Plague. Looking at the show, no musical theatre would touch it. The company had to perform it for 25 days. Opening night saw half the audience walk out. I had a chat to the editor and said I could not really write my review because the company did have to give 25 performances. He asked to see my review. As many readers know, I always try to be positive; having been a performer, I know what a struggle it is for a company to produce a show.
My review went like this, "So and so company produced The Plague. The set was good." Needless to say, this review was not published.
Another memorable disaster was in Melbourne's eastern suburbs. A company was producing Guys & Dolls when the side set fell over half way across the stage, fortunately without striking anyone.
There can be a risk for performers if gear is not checked. During a production of Les Miserables, a company had a bridge rise rapidly just as Javert jumps. The night I was there, as the bridge went up the rope broke and it crashed down behind the actor. It missed him narrowly, but it could have been very serious.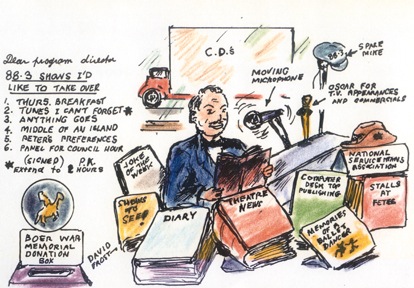 As a reviewer I also take into account the experience of the cast.
One company produced Kiss Me, Kate. The main cast was of quite a good standard, but the dancing girls looked like a Saturday afternoon ballet class dancing for Mum and Dad. The contrast was so great, I was in difficulty to know how to write it. So I had a word to the director. I was right… it was the Saturday afternoon ballet school that he had decided to provide with some stage experience. After all, amateur theatre is where one gets a start. I wrote my story accordingly.
Another instance is when an actor has good stage presentation but a poor voice or a wonderful voice but no stage projection. In these cases I have a word with the director to check the performers' experience and write my review accordingly.
Many of the local companies have standards equal to, or in some cases better than, the professionals. One example was the musical Chess. I was invited to the opening night of the professional production and it was terrible. The show lasted about a week. Later CLOC in Melbourne staged the same show. The male star of the professional production came to see it and I heard him say, "this is how we should have done it."
Over the years I have spoken with many amateur performers and asked why they didn't take acting up professionally. As acting is such a precarious career, most said they preferred to keep their day job and just do it as a hobby.
There are exceptions. One day a friend and I were having lunch outside Melbourne's Malthouse Theatre when an actor asked if he could share our table. Chatting away and introducing ourselves, I said that I did a lot of amateur theatre reviews. His reply was, "Don't knock amateur theatre. I started in amateur theatre with the Frankston Theatre Group." The actor was Max Gillies.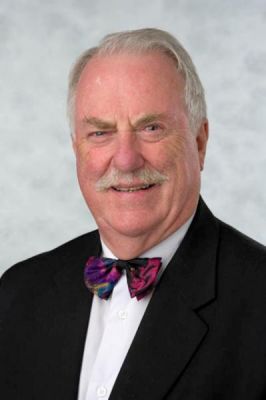 Peter Kemp on Peter Kemp.
Just a little on my personal background which I hope makes me an understanding critic.
I gained my first taste of performing arts while a member of the Scout movement. Our scoutmaster, a member of the Gilbert and Sullivan Society, organised us into annual fundraising concerts.
In later years I did turn professional and was amazed how these concerts helped me in the basics of stagecraft.
My break into show business took place in 1958 when I started as a Spanish dancer with the Spanish ballet company of Carimina, located in St Kilda. I was later awarded a scholarship with the Ballet Guild of Victoria, leading to part time work, concerts and tours.
The highlight was appearing on stage in 1963 in Giselle at The Palais Theatre, St Kilda, which was at the time Melbourne's biggest. I could never forget that feeling when I walked on stage alone and looked up at 3000 people.
I enjoyed dancing for many reasons, including the fitness and, also, it was where I met my wife Tanya.
Not so enjoyable was wearing jock straps. As Robert Helpmann noted, some parts of the body don't swing in time to the music.
I retired from dancing due to a knee injury in the mid 1960's. I jumped up during a knee spin in a Spanish Dance and wore the cartilage out. Subsequently I worked as a Stage Mechanist for the Palais Theatre St. Kilda in its prime. I have also produced, stage managed shows and sold tickets.
These days I can often be seen as an extra on television and film. This helps keep my hand in and the little bit of money doesn't hurt either.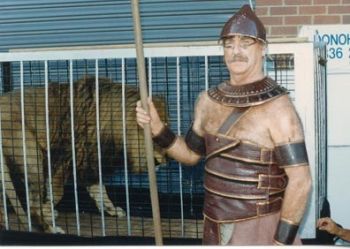 So in my twenty years with Stage Whispers I have learnt a lot, and made some good friends. Fortunately my wife is a theatre lover and is almost as well known as myself. She enjoys theatre but is a harder crtic than me.
I also publish my own online magazine at pktheatre.com, I am Australian correspondent for an international online theatre magazine www.theatreworldinternet.com and every Thursday morning I co-host a two hour performing arts community radio show on theatre on Southern 88.3 FM at 9am.
So that is my twenty years with Stage Whispers, a magazine that has gone from strength to strength. I am glad to have played a part in bringing this wonderful magazine to where it is today.
Images: while these are mostly self-explanatory, the bottom image is of Peter as a member of the Pharoah's private army in Aida.
Originally published in the March / April 20111 print edition of Stage Whispers.
To keep up with the latest news and reviews, like us on Facebook, or follow us on Twitter.