When Lesley Reed asked female artists in this year's Adelaide Cabaret Festival about the challenges of the industry, the response was heartfelt. They work in a field dominated by men, with intense competition for job opportunities that have to be juggled with family commitments. Some of our leading ladies reveal how they cope.
"I always loved fish for the colors and birds for the plumage. In the same way, I loved those women of Cabaret. They were birds of paradise," said French fashion and shoe designer Christian Louboutin.
But what's behind the feathers and glitter? How do female cabaret artists meld relentless performance commitments with the everyday demands typical for every woman? How hard is it for female performers to get started in the business? Are there secrets for success, does the industry respect women and does being a woman in musical theatre come with unique issues?
I asked these questions of some of the women in this year's Adelaide Cabaret Festival, including musical comedy artist Gillian Cosgriff, who is reaching cosmic heights with her show To the Moon and Back.
"Even the fact that you're asking is a step forward," Gillian said. "Women are under-represented, but so are people of diverse ethnic and socio-economic backgrounds, disabled people, queer and trans people, along with other minorities.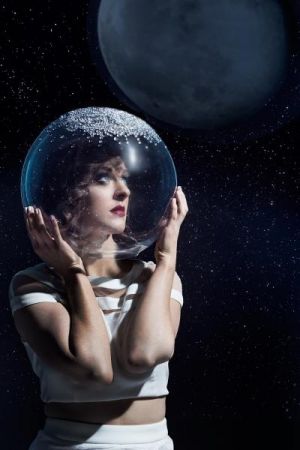 "The real problem for me is we don't see much changing at the top of this profession. Women account for the majority of theatre audiences, yet most major theatre companies don't achieve gender parity for playwrights, directors, or artistic directors."
Gillian's comments on this were later echoed by other artists interviewed.
"Things are improving for female performers," she said, "but there's still a long way to go. The number of times I catch myself looking at a festival lineup and thinking, 'Wow! That's heaps of women! That must be at least half!' Then I count them and realise it's barely a third. It's a good indicator that we're still not used to seeing gender parity in the arts."
Gillian revealed a defining moment that gave her confidence in being a woman in her industry.
"I loved seeing Bryony Kimmings' show Sex Idiot at Adelaide Fringe a few years ago," she said. "I remember walking out of the tent thinking, 'You can do that? I never even thought of that!' It blew my mind. Seeing this woman speak candidly and openly about sex, but also about relationships, blending together so many different facets of performance was incredible. It made me feel so empowered and so excited to make my own work."
Christie Whelan-Browne is presenting the World Premiere of Vigil at this year's Adelaide Cabaret Festival. She had a story to tell about attitudes to women in her profession.
"Generally speaking, I have always been respected," she said, "but there was one occasion where this wasn't the case and it haunted me for a long time after the job; really scarred me. From that time, I learned about standing up for myself, setting clear boundaries and being strong in my convictions about what is okay and what isn't. In general, the people I have worked with love and adore women and celebrate them and I am very grateful for that."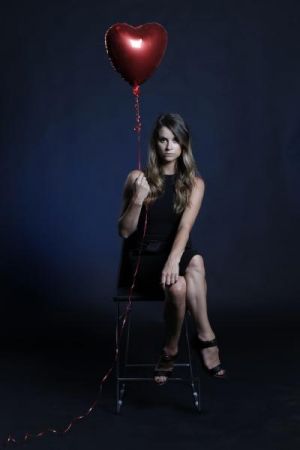 On getting started in the industry, she said, "My dream role was always Elle Woods in Legally Blonde, and when I didn't get the role I was absolutely devastated. It took me a while to realise that I was on a different path, taking me in a different direction and I learned to trust where the road was leading me, not necessarily where I thought it should go."
Amanda Harrison, performing at the Cabaret Festival in the three-woman show Cyrens, agrees the musical theatre industry is a tough gig.
"This country provides limited opportunities for artists, and in my experience, as well as many of my colleagues, we take risks and leave for the UK or the USA to pursue gigs in the bigger industries in those countries," she said.
"I am finding, in my early 40's, that the opportunities to be cast in mainstream theatre are few and far between - that's why I'm so excited to be a part of a show that has come about because of personal relationships that I have built over the years.
"I do have a problem with the term 'Diva' being bandied about with negativity when women in principal positions stand up for something they believe in," she said. "I have appropriated the term for myself in some instances, hoping to turn the negative into a positive. It is a good thing to consider oneself as a 'Mother, Wife and Diva', in that career achievements and being a forthright person are as much a part of what makes me 'me' as the others terms are."
One of Amanda's fellow artists in Cyrens, Chelsea Renton-Gibb, loves the freedom of Cabaret.
"I've never really thought about any restrictions I've faced being related to my gender," she said, "but more that it's type casting, my look, or simply them having another in mind. I can't speak for comedy, but it does seem far more male driven. When it comes to Cabaret, it seems to be simply a free and exciting form, where anyone is free to create and express no matter the gender, or who, why or what."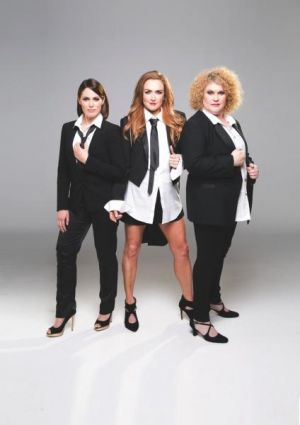 Another in the Cyrens trio, Melissa Langton, said, "The main difficulty as a woman is the sheer volume of fabulous and talented women we have competing for a relatively small number of opportunities. Once you do get that break, sustaining it over the years is an art in itself. And once you add in childbirth and motherhood to the formula the whole experience can be very challenging."
Speaking of children, Elise McCann has escaped the pressure of her work somewhat, by tapping into the child within her. She's playing to kids of all ages in this year's Cabaret Festival, with her show Dahlesque.
She said, "I think it is hard for any performer. There is not a definite path or steps to take to guarantee success. Women are still paid less than their male counterparts. The issue of look and aging is really the most prevalent thing I have faced in terms of expectations and being a woman in this industry."
British actor Bill Nighy once said about life, "The things you really want to relive are things like bedtime with your daughter, when she becomes incredibly entertaining 'cause she doesn't want to go to sleep…they just want to put it off, so they do a cabaret for you. You sit there thinking, please don't let this end.''
Little girls grow up and some become real cabaret artists. When the glorious 'birds of cabaret' begin performing in the Adelaide Cabaret Festival on June 9, audiences won't want it to end either.
Images (from top): Elise McCann in Dahlesque (Photo: Harvey House Productions, Graphic Design by Mils Achi & Jeff Van De Zandt), Gillian Cosgriff in To the Moon and Back, Christie Whelan-Browne in Vigil (Photo: Jeff Busby) and Amanda Harrison, Chelsea Renton-Gibb and Melissa Langton in CyRens (Photographer James Penlides).
The Adelaide Cabaret Festival 2017 runs from June 9 to 24.