Belvoir and Kim Carpenter's Theatre of Image production The Book of Everything opened at the New Victory Theater in New York over the weekend of a standing ovation and rave reviews from New York critics.
'It's not quite right to say that "The Book of Everything" is one of the best children's shows in town. It's one of the best shows, period.' The New York Post
'"The Book of Everything" should be required viewing for every kid who wants to grow up to be happy and every adult who wants to rid the world of injustice.' Backstage.com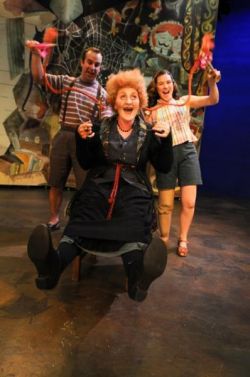 The Book of Everything follows in the footsteps of Dairy of a Madman for Belvoir with its New York season.
The Book of Everything centres on nine-year old Thomas, a little boy who dreams big. Directed by Neil Armfield, this magical tale follows the story of a child who sees things others cannot imagine, and whose spirit and curiosity wins over those around him.
"The Book of Everything has enormous spirit and celebrates the ability children have to let their imaginations roam," said Armfield. "It's a funny, generous show that will grab your heart and challenge your mind, no matter how old you are."
Thomas is writing a book. His father says all important books are about God. Even so, Thomas writes down all the interesting things he sees that other people seem to ignore - tropical fish in the canal, a deluge of frogs, the Son of God popping in for a chat – and calls it The Book of Everything.
The Book of Everything features a colourful cast of characters, including sunny Auntie Pie, the vicious Bumbiter, a beautiful girl with a leather leg, the startling Mrs Van Amersfoort, and Jesus.
The New York season of The Book of Everything runs until 29 April, 2012.
Images: (top) Matthew Whittet & (lower) John Leary, Julie Forsyth and Yael Stone. Photographer: Heidrun Lohr