Brisbane audiences will be treated to a taste of a Parisian style revue this July when Cabaret De Paris plays at Brisbane's QPAC for three shows only. This spectacular event combines old-fashioned showgirl glamour with variety style entertainment. Audiences can expect to see skilful adagio dancers, aerial pole performers and of course the world-famous French cancan. The show dials up the mystery with illusionists and quick-change artists and is sure to give you a laugh with renowned comedy circus performers also in the mix.
Stage Whispers' Kiesten McCauley spoke with former Moulin Rouge star and Cabaret De Paris dancer Morgan Kenny about what's involved in a show of this calibre.
"It's an amazing show," Morgan enthuses, "There's nothing else really like it in Australia. It's bringing a touch of that French Cabaret with a modern twist. You've got Marissa Burgess who sings through the entire production in English and French."
Marissa has gained legendary status for being the longest-serving principal performer in the Moulin Rouge's 120-year history. The Australian born and trained performer has a string of accolades to her name and was also the subject of a US documentary. She is one of many performers in the cast with outstanding credentials.
"You've got a number of showgirls on stage who have worked in Paris either at Moulin Rouge or Lido."
Morgan falls in the former category, having worked for some time as a dancer at Moulin Rouge, which is renowned for its exacting standards for the performers. We asked what kind of impact working on a show like this has on the body of a dancer.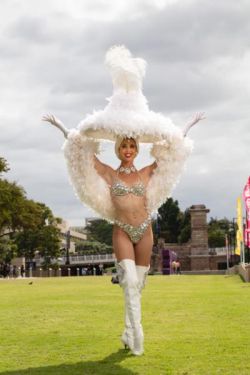 Morgan muses, "By the end of the night I am pretty sore. Doing this kind of a show full time like I used to do in Moulin Rouge in Paris, your body gets used to it but if you're not dancing this way for a while, you can generally smash the show out, but the next day I tell you my back is so sore from wearing those heels and those headdresses!"
While they may look as light as a feather, showgirl headdresses are often very heavy and tight fitting.
"When you've been wearing costumes like that for a such a long time your body adjusts itself and how you need to hold and carry yourself to support the costume," Morgan reveals, "It's all about placement. The headdress may be a little bit heavy and a little bit tight, but you want it to be a little bit uncomfortable, so you know that the head piece or the costume isn't going anywhere."
The Carabet De Paris cast of 18 will be decked out in over a over a quarter of a million dollars' worth of lavish costumes crafted in traditional Parisian style. Audiences can expect to see more feathers, sequins, rhinestones and jewels than ever before, even though some costumes barely cover anything at all.
"The costumes are beautiful," says Morgan, "They're lavish, they're gorgeous, the cancan dresses have so many frills on them, the feathers in the opening sequence are beautiful and very large, and also in the final performance again the sequins and rhinestones that are on the costumes and the feathers are very large and lavish. They've gone all out, and it shows on stage… you can tell the costumes are of amazing quality."
It's been five years since Morgan returned home to the Sunshine Coast after her time working at Moulin Rouge. So how does she prepare herself for the physical demands of a show like Cabaret De Paris?
"I've been in the fitness industry ever since… when I came home, I got into fitness and became a personal trainer and also a barre instructor.
"So that's been keeping me fit, keeping my muscles strong, keeping my balance and my posture and core all switched on. I've also been doing dance classes as well so that keeps my fitness up in terms of dance style."
It's been a little while since Cabaret De Paris has been performed, but Morgan tells us it doesn't take too much to refamiliarise herself with the choreography.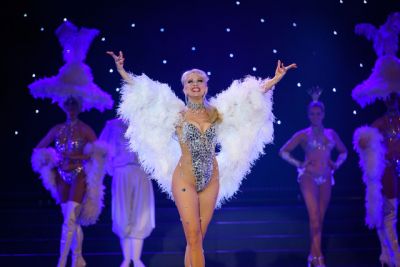 "I first did this show on the Gold Coast many years ago now," she recalls, "They had an audition in Queensland to get a local cast. Once auditions were completed, we rehearsed for two weeks.
"We rehearsed five days a week for many, many, hours before we put it on stage and in costume. It wasn't a very long time (initially) but the show has been running for such a long time now that we can generally rehearse the day before and we're ready to put it on stage again the next night.
"It's all in the muscle memory which makes our job a little bit easier when we don't have to fret over the main bulk of choreography, it's just tidying things up, going over positions and going over those little details."
While the dancers rehearse, the production team takes about 48 hours to bump in the crates of costuming and sets. It's a big production to prepare, but it all runs like a well-oiled machine behind the scenes and on stage. That's not to say the show isn't without its challenges.
Morgan says, "I guess the most challenging part is the cancan we have to do. It's just such a physically demanding routine.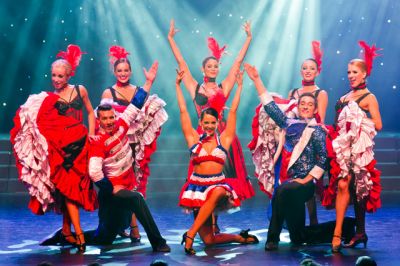 "It starts out as a modern dance piece and then it breaks out into the cancan after that. It's our longest routine on stage and you don't stop the whole time and of course we do the beautiful cancan scream and shaking our skirts around.
"I think for me personally the most challenging part is just performing that routine, but at the same time it's my favourite routine. You have this adrenaline before you go on stage. You're so pumped up you just get out there and push through and just have the best time doing it," she laughs, "But you can't really breathe when you come off stage after that one."
Morgan and her fellow performers represent the crème de la crème of showgirls and Parisian style revue entertainment. Cabaret De Paris has already played to sell-out crowds across Australia and internationally and it's in Brisbane for three shows only at QPAC's Playhouse on July 5 and 6, with the Saturday matinee show being a 'covered' performance. Tickets are available through qtix.com.au or 136 246.
"I just love this show so much, it's just so much fun," Morgan says, "Everyone should come along, it's a fabulous night out."
Outdoor photo of Morgan Kelly by Russell Shakespeare.