Forget Harry and Meghan, we think the cutest North American/Commonwealth wedding this year was the one between Ryan Bondy and Hilary Cole. Stage Whispers is thrilled to reveal how our magazine helped fire Cupid's arrow for the star of The Book of Mormon and the Kinky Boots / Muriel's Wedding bridesmaid. David Spicer reports.
Newlyweds Ryan Bondy and Hilary Cole were giggling on the phone recalling how they met. Hilary was in the ensemble of Kinky Boots in Melbourne, sitting in a dressing room, when a copy of Stage Whispers magazine was passed around.
On the cover was Ryan Bondy, the well chiselled Canadian born Elder Price from The Book of Mormon, which was still in rehearsal.
"The girl sitting next to me said, 'the Elder Price fella is pretty hot, you should have a look at that.' So I did some Instagram stalking and I said, 'he is alright'. Then I called up a buddy of mine who was in Mormon and it was like, 'Hey, set me up with him'. But he said Ryan was already seeing someone, so all my hopes and dreams were crushed," she said.
Her friend said he would see what he could do.
"I wasn't really seeing someone. I was kind of dating around," recalls Ryan. "This friend said, 'I think I have somebody for you,' and I said, 'Oh really what is her name?' But he wouldn't tell me."
Ryan did some Facebook stalking and was hoping it was his friend's friend Hilary, who he noticed was "a stunning brunette with dark eyes".
"I busted him and he said yes. We went back and forth trying to meet."
"I was doing two shows on a Saturday, I was sweaty and gross," recalls Hilary. "My friend said, 'Come and have drinks after the show – we will hang out. By the way I am taking you to meet Ryan.' I thought, 'Oh shit!' My friend was dressed up as a storm trooper, as he had seen a Star Wars movie, so I got escorted into this bar to meet Ryan by a storm trooper."
Before the two laid eyes on each other they exchanged text messages, where they discovered they both loved the same brand of whisky.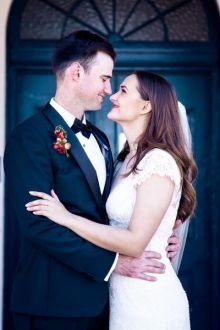 "We were with a group of friends when we first met. I thought, 'She is pretty awesome.' We got right to talking and holding hands under the table," Ryan said.
"I know people like to laugh at that. But we did hold hands quite intensely under the table. We didn't even kiss. It was very nice and very sweet."
Ryan and Hilary have been inseparable ever since. She is greatly relieved that they met before she saw him on stage as Elder Price.
"I didn't want to have the pretence of knowing his stage persona. It was such a fun surprise to see the musical.
"I was like a little girl with a crush. When he walked on stage with that big smile, I thought, 'Whoops here we go'."
During their courtship, fellow cast members in Kinky Boots 'trolled' her with copies of Stage Whispers with Ryan on the cover. They kept planting it on stage to try to make her laugh.
Ryan, now aged 32, has had five years of work from The Book of Mormon. He was born and raised in Kitchener Ontario, a small town near Toronto.
"I started on tour in Chicago in September 2013, then became a standby Elder Price for two years before I took over eight times a week. Then they asked me to open the show in Australia."
So was Ryan on a mission to find love?
"Yes, when I booked the contract multiple people back home said, you are going to find someone and marry her. I said that is ridiculous. I am going to be there for a year. I am not going to meet someone. That sounds hectic.
"My mission plan was to have fun and enjoy a year in Australia. Three weeks in I met Hilary."
"I ruined everything," jokes Hilary.
Now Ryan has extended his contract to perform in the musical in Sydney.
Less than a year after they met, Ryan decided to propose and so he had to ask permission.
"Every single member of my family separately," laughs Hilary. "My dad, mum, brother and sister."
Ryan said it was the right thing to do, as he was from a different country and didn't want to be this guy who steals their daughter.
"My dad burst into tears. My Mum said if you hurt her, I will kill you," Hilary added.
Ryan proposed at a Go Kart track.
"We had talked about marriage and wanting to be together. I knew if I planned a special dinner on our night out, on the only day she was visiting me in Melbourne, she would know. I needed to surprise her," Ryan explained.
"I trailed behind Hilary around the track with a GoPro on my helmet. The track owners allowed me to kneel in the middle of the track as Hilary came around the corner."
"I had no idea what was going on. I was so focussed on getting a good lap time I did not see these people setting up cameras," said Hilary. "I thought, why is he taking a photo in the middle of the track? I was about to have a good lap time. He turns off my engine. He pushes my go kart forward. I was filmed struggling to rip off my helmet.
"When I said yes, ten bogans at the track, who stayed behind to watch, started yelling 'way to go, she said yes.' It was so funny."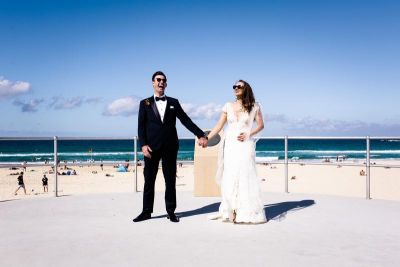 Their first 'low key' wedding for Australian friends and family took place on the 23rd of April at The Blue Room above the Bondi Beach Surf Lifesaving Club.
"Hilary did most of the organising. I was in charge of the playlist and arranging for a tent cover for inclement weather," Ryan said.
They picked flowers on the day, in a ceremony that they say had a "homely vibe" to it. Great weather resulted in wonderful pictures on Bondi Beach.
Two days later they flew to Canada, where it was snowing, for a second wedding.
"Hilary's family flew all the way to Canada to celebrate with my family, including 100 aunts and uncles, in Kitchener," Ryan said.
"After our wedding in Australia we flew to Melbourne to go to a Melbourne Demons footy game. After the Canadian wedding I took Hilary and 30 of my friends to a Toronto Blue Jays baseball game."
They also sang a duet because Hilary wanted her new in-laws to know she could hold a tune.
Post wedding they are planning to make their way to Broadway.
"Hilary is insanely talented. I want to extend my chomps there to see what sort of momentum I have from Mormon."
Both being in the musical theatre has pros and cons.
"We don't have to explain the extremely physical and mental cost of musical theatre," Hilary said.
"We have the knowledge to support each other," Ryan added. "When to say something and how to deal with performance anxiety."
There is no competition between the two because they are never going for the same role, but rather they push each other in a constructive way.
"The only negative thing is the instability this lifestyle brings," reflects Hilary. "You don't get to say here is where we are building our home, as any second you could get a gig. We did this for the 10 months in different states; we are really good about long distance relatonships, but it sucks."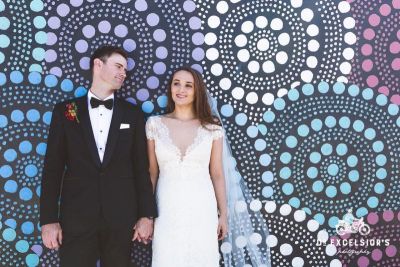 Hilary is now weighing up whether to do another season of Muriel's Wedding the Musical in 2019. She was the understudy to Maggie McKenna during the Sydney premiere and played a bridesmaid.
"I did the original workshop and a lot of test runs. I have got photos of me being silly in a costume," explains Hilary. "I was very happy how different and unique my Muriel was to Maggie's portrayal. I was in awe watching her every night and also got to sink my teeth into it."
Ryan is enjoying seeing one full house after another at the Book of Mormon in Sydney.
"They knew from Broadway performances, where they recorded a high volume of Australian passports, that it would be popular here. It is amazing that it sold out in Melbourne for a year."
Naturally Hilary is a great supporter of the policy of bringing out overseas stars to kick off Australian seasons.
"I was always OK with it. You wouldn't quibble if the Commonwealth Bank brought a person over who has worked for a few years in a business to launch a new brand. It meant that a kick ass show happened here, a bunch of my friends got employed and I fell in love."
Originally published in the July / August 2018 edition of Stage Whispers.