Music theatre star Caroline O'Connor is relishing her new role in The Rise and Fall of Little Voice at Sydney's Darlinghurst Theatre. She told David Spicer why she loves the play so much and how she'll enjoy performing in the intimate space of the Eternity Playhouse.
Caroline: I saw the play in the West End. It was Jane Horrocks who originated the role. It was thrilling. I had a wonderful seat in the stalls. I enjoyed all of the emotions and wonderful impersonations that Jane Horrocks did.
DS: What do you like about the play?
Caroline: I am not playing Little Voice but I can relate to that character so, so much. In my own life I was Little Voice, playing the records in my parents' big lounge room and trying to impersonate all these people. The weird thing is that I have played people like Edith Piaf and Ethel Merman and Judy Garland. So I can relate to this play. The wonderful challenge for me is that I am playing the mother – Mari – who is really not interested in (singing). The records are Little Voice's passions. Mari is a very crazy, drunken, sex crazed and vulnerable woman. So I get to play this maniac which is a huge role – but it's a huge challenge that will not come easy for me.
DS: And no singing for you?
Caroline: Maybe perhaps one little drunken Tom Jones song at one point. But I am not going to spoil it. I am telling people I am not singing.
DS: Tell us a little more about the play.
Caroline: Little Voice is the daughter. She is probably in her twenties. Her father died quite young. Little Voice is so sweet and vulnerable and (her mother) is a maniac and a firecracker. They have to inhabit this house together in the north of England. They have nothing. All she has is her music and Mari is out on the hunt for a man. She finds it in a character called Ray Say who is hanging around a working men's club. He works on the tracks and wants to be a (talent) agent. He hears Little Voice singing and he attaches himself more and more to Mari, so that he can get closer to Little Voice to get her to be one of his artists.
DS: What is your impression of The Eternity Playhouse?
Caroline: I went to see it the other day. I have never been inside. I loved it because it was so intimate. Also it is so beautiful. The renovations are magnificent. It is worth going in just for those windows. What I love is that the audience is literally going to be right next to me. And some of these scenes are quite visceral and very moving. The audience is going to be in on the action and the emotion.
DS: What difference does a small theatre make?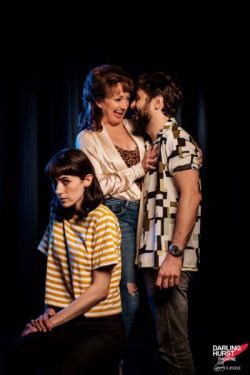 Caroline: I like to try and move people. That has always been my goal. In the bigger theatres it is much harder work, particularly if it is a play. With a musical and the bigger spectacle you can get away with more of that. I also love a musical in a smaller theatre too. That is why I love to perform on Broadway and the West End because the theatres are smaller. It is a more intimate experience. The bigger theatres in Australia make it harder. But venues like this – is perfect place to see a play.
DS: What have been your highlights since you finished playing in Anastacia on Broadway last year?
Caroline: After that I went directly to London to do The Rink, a Kander and Ebb musical, there. I came back and have been on a crazy whirlwind. Funny Girl at the Opera House, The Boy from Oz with the Production Company, Candide at the Opera House. Then my own show at the Sydney Recital Hall. In a couple of months I crammed in all this work. That was my intention – after I finished Anastacia. All of a sudden I got these lovely offers. So it was time for me to go home.
DS: Is that is why you politely declined a second year on Anastacia?
Caroline: I have done three shows on Broadway. Christmas Story the musical, Chicago and Anastacia, so I have had that amazing experience. I love it. I want to be challenged with other opportunities. Also have some down time and have a year off. My husband said you've got to be kidding you are a work-a-holic. I asked for six months off but it still hasn't worked out that way. After this I am doing the tour of La Scala to Broadway with Teddy Tahu-Rhodes, David Hobson, Emma Matthews (et al). And after that I am doing Kiss of the Spiderwoman with the Melbourne Theatre Company. We start rehearsals in October so there will be no break for me.
The Rise and Fall of Little Voiceis on stage until February 24, 2019
https://www.darlinghursttheatre.com/
Details about La Scala to Broadway.
Kiss of the Spider Woman at the Melbourne Theatre Company.
Images feature Caroline O'Connor, together with Geraldine Hakewill and Joseph del Re. Photographer: Robert Catto.