Comedian and writer Celia Pacquola, currently appearing in the Melbourne International Comedy Festival, speaks to Tammy Shmerling.
Celia Pacquola is buzzing. When we meet she has just finished her first performance of comedy show Delayed for the Melbourne International Comedy Festival. Energy and nerves are high as she ponders audience responses.
"People would love for me to f*** up", she says candidly. Her last two comedy shows, Am I Strange (2009) and Flying Solo (2010) were season sell outs, so it's understandable Pacquola feels up against some enormous expectations.
Our meeting is constantly interrupted by fans congratulating the 27-year-old. Pacquola accepts the compliments with her usual warm and bubbly nature. Marieka Hardy, too, approaches and praises her friend (Hardy is the writer of ABC1's dark comedy Laid, in which Pacquola co-stars with Alison Bell and boyfriend Toby Truslove).
Pacquola is used to admiration: she is the recipient of The Age Critics Award recipient for"Best Australian Show", and winner of Melbourne Fringe Festival's "Best Comedy Solo Show" (both for Am I Strange in 2009, a show about being cheated on by a man she trusted). She has received rave reviews both in Australia and in the UK (where she has lived for the past two years), and boasts radio and television appearances.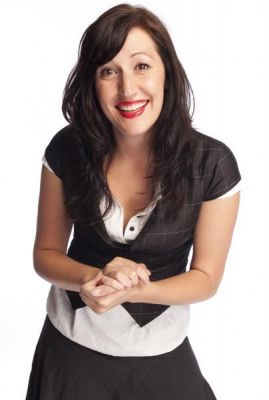 Pacquola's resume is impressive, and suggests a deep affinity for comedy. Surprising, as her early dreams consisted of being an actor. Perhaps this is why there are so many performance-based jokes in Delayed; gags and anecdotes that rely on her well-developed acting skills.
"I've become a lot more perform-y… [In the past] I didn't want to look weird".
She never looks weird; she's far too likeable for that. She reminds me of her comedy inspiration, Tina Fey: a woman who balances sketch, stand up and sitcom - Pacquola's aspiration for the future.
"I would love to write a sitcom," she says coolly. A writer first, Pacquola admits that her comedy strength is storytelling. "They're my favourite bits in the show. Describing what happened to me." Like the Eifffel Tower story, where she and Truslove get engaged out of necessity.
This is one of many hilarious moments in the show, for Pacquola pushes the quips every few seconds. She classifies her style as 'wordy': "My safety net is that the joke is so funny that no matter how badly I deliver it, it'll be funny."
In determining the effectiveness of a joke, Pacquola will do trials. Her rule: "Three tries and it's out." Though this depends too, as audience response varies. She recalls a deadpan audience member once who approached her at the end of a show and said genuinely, "Great show, loved it."
Pacquola may not be able to control audience response, but she can control content. She won't discuss "personal family stuff" – except in the case of her mother leaving her father, as revealed in Flying Solo. "I won't discuss stuff that's not mine to talk about," like politics or religion. This adds to her likeability. She possesses vulnerability and strength; heart and muscle. Moments of truth are balanced with moments of hilarity. She's never mean, demeaning and rarely swears.
Pacquola works hard at her craft. She rejects a reviewer's claim that she's, "Adam Hills with ovaries" (chortle.co.uk). Pacquola doesn't see herself as an ambassador for women in comedy. Asked whether she believes it's easier for men to break into the industry, she answers, "I don't know because I've never been a man in comedy. A person should just be funny."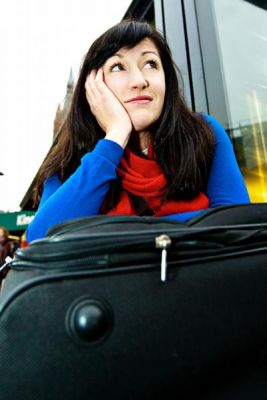 'Person' being the operative word. Before a show Pacquola can be found milling about with the audience, meeting the people she's about to spend the next 55 minutes with. "I get too nervous," she concedes. "[In the Portico Room] there's no backstage and this way the audience can see that you're an actual person" (the Portico Room in the Melbourne Town Hall is Pacquola's allocated performance space during the Melbourne International Comedy Festival). Indeed dressed in her usual jeans, t-shirt and cardigan, Pacquola looks like an actual person. But then she'll smile warmly, make an insightful comment, and you understand why the UK comedy world embraced her.
However she maintains close ties with the Australian comedy scene. As well as Delayed, she's appearing in a second festival show, Tie Her to the Tracks! The live silent film, set in 1917, co-stars Andrew McClelland, Asher Treleaven, Adam McKenzie and Sammy J.
For both shows (and for past performances), Pacquola practices humbleness. "If someone has a bad review we all come together, as support. Never –ever – diss someone's bad night, because next night you'll definitely have to cancel because there aren't enough sold tickets."
The fickleness of the business hasn't yet hit this comedian. She hits and surpasses each expectation thrown at her, all the while maintaining her positivity and, pardon the pun, sense of humour.
Pacquola can be seen in Delayed in the Portico Rom until April 22, and Tie Her to the Tracks until April 8 in the Regent Room (both in the Melbourne Town Hall), as part of the 2012 Melbourne International Comedy Festival.