Producer Bonnie Lythgoe is bringing the best of British pantomime traditions to Melbourne and Sydney again this winter with a production of Sleeping Beauty - A Knight Avenger's Tale. She revealed her recipe for success to David Spicer.
It was oh so silly, but oh so funny. The entire audience and cast of Peter Pan would routinely dissolve into uncontrollable laughter last year when a veteran British panto actor recited a bastardised version of 'The 12 Days of Christmas'. Five toilet rolls and a bra that was meant to hold three. A necklace of toilet tolls was flung out into the audience and flung back. Then out came the water pistols.
Producer Bonnie Lythgoe doesn't do pantomime by half. Dazzling costumes, stunning sets and magic tricks are being shipped out from the UK for her latest season, which she models on the lavish productions you might see in the West End or a regional British theatre.
"I think the key is finding a very good story line, have some great actors and have a few celebrities, take them out of their comfort zone and put them into a panto. Then you have to push and push that this panto is all about fun," she said.
80,000 families have enjoyed her productions, which have graced Sydney's opulent State Theatre and Melbourne's Comedy Theatre over the last five years
"Adults laugh because they get the (naughty) jokes. Kids laugh because their parents are laughing even though they haven't got a clue why their parents are laughing. It is clean fun. I sit back in the lighting area and watch the audience enjoy it."
The key to comedy and also pantomime is timing. December is the season in the UK but Bonnie says that won't work down under.
"Australians love their summers - they are all at the beach and not going to the theatre. I thought the only time is winter."
The timing of Sleeping Beauty was excellent for Embla Bishop (pictured right). The recent WAAPA graduate was last into the audition room, but scored the lead role, helped by years of experience watching pantomimes.
Born in England, attending a regional pantomime with her cousins was an annual treat.
"I remember the bright and broad colours, almost like a children's picture book with three 3D images and big bits of cardboard," she said.
"When I heard Bonnie was doing Sleeping Beauty it was my dream to be in it. When I was growing up I loved the character of Aurora in the original Disney cartoon."
She mentions that Walt Disney struggled to make the movie as he wanted Aurora to be different from Cinderella and Snow White.
"She is a lot sassier than Cinderella or Snow White. Aurora is a stronger and earthier Princess that will be fun to play with."
Most of Embla's work is in the first act, when her character is awake. Based on her experience as a child she said a priority is "breaking the fourth wall to have a conversation with the audience, particularly the children in the first row. You get them active whilst making innuendos to the parents."
The second act is much easier.
"She falls asleep, I get woken up with a kiss then take a bow." (Sounds like nice work if you can it.)
Playing the evil fairy who casts the spell over Aurora is music theatre veteran Rhonda Burchmore.
Burchmore told News Limited she was relishing the chance to play a "glamorous but evil" character and had found inspiration in Angelina Jolie's performance in the 2014 film Maleficent.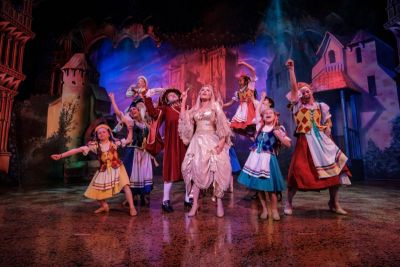 "I think Angelina did such a magnificent job with her portrayal of Maleficent. I thought, I can take a bit of that on board and a bit of Rhonda, and channel my evil queen," Burchmore said.
You can tell that the Producer Bonnie Lythgoe has lots of fun putting the pantomimes together.
"I do go and see proper theatre," she told me cheekily.
Speaking from England, she had just attended "a very dark" production of Pinocchio, staged by the National Theatre, where there were no children in the audience.
Rest assured there will not be anything dark in her Australian pantomimes, where accessibility is the key.
What she is most proud of are her "relaxed performances". They are scheduled for 11am and are open for anyone who has trouble sitting still or keeping quiet for a long time.
For families with special needs children it is often their first outing to the theatre.
"I was three years old when I went to the theatre for the first time. When you are very small it is hard to sit through two hours of theatre. But I did and loved it."
And can we expect an encore performance of 'The 12 Days of Christmas'? "Yes I would be killed if we left it out."
Sleeping Beauty - A Knight Avenger's Tale is plays at the Comedy Theatre, Melbourne, from June 29 to July 8 and State Theatre, Sydney, from July 13 to 22.
Productipn photos: Robert Catto