Circus Oz open their new show From the Ground Up in Melbourne on June 20. Coral Drouyn spoke to founder Tim Coldwell and Circus Oz troupe newcomers, Ghenoa Gela and Dale Woodbridge.
Most of us, at some time, have wanted to run away and join the circus – I know I did (especially when my daughters were teenagers). And if we couldn't find a circus, we invented our own. For most of us that meant using our imaginations but, fortunately for us, some people just don't know where to stop.
For Tim Coldwell, founding member of Circus Oz, studying engineering at Flinders University in Adelaide in the early '70s was never going to tame his spirit or satisfy his career path. Frustrated with the restrictions of his degree, and having no real idea of what he wanted to do, he and some friends took to the streets as performers, teaching themselves circus skills. It was a way of having fun, blowing off steam and learning something in the process. "I taught myself to high wire walk" Tim tells me, "And then I got interested in how we could develop some stunts that nobody else did. Before I knew it, the engineering side kicked in and proved to be useful after all."
"New Circus" (as they called themselves) might have stayed as street performers if Tim had not got hold of some vintage trucks that needed restoring. All of a sudden the idea of throwing everything into the back of a truck and taking to the road became a reality – and so the circus ran away from home and went on tour. Nothing was really planned, but everything seemed pre-destined.
By 1978, after soaking up experience in the big-tops of traditional circuses, Tim had moved to Melbourne, and Circus Oz was born. It was like nothing we had ever seen, and when Tim revealed his upside down roof walk, it was clear we were in for an innovative ride. Thirty four years later the street performers have evolved to play in 26 countries, even on Broadway, to critical acclaim without ever losing their sense of Aussie larrikinism or their joy in performing and pushing the limits. With a total disregard for what is politically correct, and for the extravagant costume budgets of other shows, Circus Oz does what it's always done best – it entertains.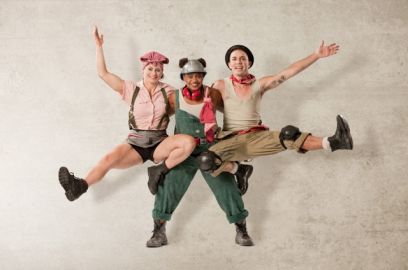 One thing has changed though; "These days kids don't run away to join the circus" says Tim, "So we have to go out and find new members."
Two new young members who were "found" by Circus Oz scouts start their circus experience when the new production "From The Ground Up" opens in Melbourne on June 20th, once again under the skilful guidance of Artistic Director Mike Finch. Indigenous performer Dale Woodbridge only graduated last year as a dancer from Brisbane's Aboriginal Centre for the Performing Arts. The fact that he was a state representative in gymnastics must have made the headhunters drool. The irrepressible Ghenoa Gela is of Torres Strait Islander heritage, born in Rockhampton but having performed internationally as a dancer. Neither one had ever seen Circus Oz. Ghenoa had never even heard of them, until she was approached by scout Josh.
Certainly running away to join the circus wasn't on their agenda. Ghenoa hoped to be a policeman before dance came on the scene. But circus? Never! For one thing, she was terrified of clowns. So what is she doing in the new show? She's a clown of course.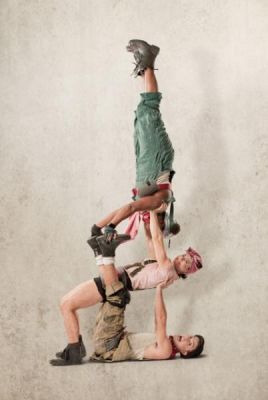 Circus Oz doesn't just stretch the audience's expectations, it stretches the performers' as well. Dale's dancing and gymnastics have led to him becoming – wait for it – a trapeze artist. Dale loves it; "It's like they say…'yeah yeah, we know you can do that….now let's see if you can do THIS'. Sometimes you don't think you can, but you get such support from everyone that you make it. We really are a team. Everyone gets heard." Ghenoa chimes in. "It's true. I knew being here would help with my dancing, but if anyone had told me I'd be a clown I would have said "yeah… right" and forgotten it. It wasn't on my radar."
Both come from large families. Ghenoa is one of five kids – though she says that's a small family by Islander standards. Dale has seven sisters and his Mum rings him everyday to make sure he's not homesick. " I don't have the heart to say the calls are making me homesick," he chuckles "But really, we're working so hard and it's new and exciting, there's not that much time to be lonely."
You can sense their excitement that the opening is less than two weeks away, and they're totally committed to loving every moment of it.
Circus Oz breaks all the rules. It thumbs its nose at all convention and appears to embrace anarchy, yet it's deeply committed to social justice and charitable work. It looks haphazard and improvised, yet it's tightly structured and always in pursuit of excellence. Its "Wow" factor comes not from expensive costumes and high concepts, but from its sense of joy and adventure. It breaks daring new ground while respecting its own old traditions. And it aims for the stars but keeps its feet very firmly on earth. It's travelled the world but never loses its Australian larrikin identity. It is unique; everything we want but nothing we expect. If you have visitors from overseas, the Opera House and the MCG are nice places to visit. But the most fun they'll have is visiting our living monument in their Big Top.
That's the real Australian spirit, and a circus worth running away to.
Tour Details:
Circus Oz Big Top, Birrarung Marr, Melbourne, June 20 – July 15, 2012; Dandenong (Vic), Aug 16 & 17; Warragul (Vic), Aug 22; Frankston (Vic), Aug 25; Griffith (NSW), Sep 1; Wagga Wagga (NSW), Sept 5; Wollongong (NSW), Sep 12 – 16; Parramatta (NSW) Sep 27 – 29; Canberra (ACT), Oct 3 – 7; Dubbo (NSW), Oct 12; Tamworth (NSW), Oct 17; Penrith (NSW), Oct 25 – 27; Orange (NSW), Dec 1.
Images: middle (l - r) Ruby Rowat, Ghenoa Gela and Dale Woodbridge & lower (bottom to top) Dale Woodbridge, Ruby Rowat and Ghenoa Gela. Photographer: Rob Blackburn.