The weather was undecided, the hard-hatted media had to negotiate building site puddles, but the Circus OZ troupe didn't miss a beat when they posed for the cameras in Melbourne yesterday ahead of World Circus Day on Saturday 20th of April.
And Circus Oz has several reasons to skite. The company, that has become something of an Australian institution, is back from its US Tour that included five weeks of standing ovations in New York. In the company's 35th year, Cranked Up will open in its hometown of Melbourne in June, before moving into a brand new home in Johnston Street Collingwood.
'Cranked Up hurls the 2012 show, From the Ground Up, to new heights – it is a production that has been honed, road-hardened, made tight, and allowed to play hilariously fast and loose.'
Moreover, the show pivots on themes surrounding a construction site, a subject currently close to their collective heart.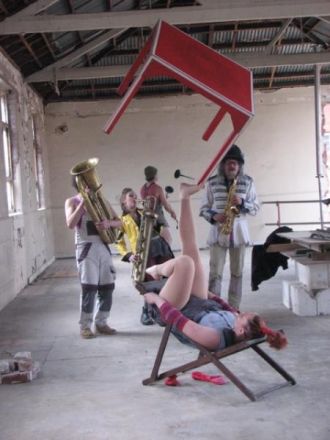 Circus Oz began in 1978 in Melbourne with a dream to create a new kind of circus that honoured the skills and tricks of traditional circus but recognised its contemporary audience by adding rock'n'roll, popular theatre, and satire.
'Above all they didn't want to take themselves too seriously. They sewed and wielded together their own circus tent, got together a collection of old trucks and caravans and went on the road.'
To this day the Circus Oz brand is 'funny, irreverent and spectacular'.
It might not be much to look at now, but when it opens at the front end of 2014 the Collingwood facility will house rehearsal spaces, facilities for administration, costume and set design. It will seem a long way from those handmade, heartfelt beginnings, but I for one hope the brand of irreverent humour, social comment, astonishing theatrical skill and physical comedy continue on.
The Melbourne tent season – Circus Oz 2013: Cranked Up plays from 19 June – 14 July 2013.
Lucy Graham
Images: Mason West on sway pole & Hazel Bock foot-juggling a table. Photographer: Lucy Graham.
More images on our Facebook page.