Coral Drouyn explores the Australian Ballet's trip down the Rabbit Hole in Lewis Carroll's Alice's Adventures in Wonderland, prior to the Brisbane season
While The Australian Ballet has spent many years building a stellar reputation around the world, it's fair to say that, outside of Sydney and Melbourne, ballet lovers haven't had the exposure they might like to our national company. The company regularly represents Australia on the world stage and has performed to critical acclaim in 87 cities worldwide including New York, Shanghai, Tokyo, London and Paris.
Caring for tradition yet daring to be different, The Australian Ballet performs beloved classical ballets and commissions new work annually. The Australian Ballet presents upwards of 250 shows and 1,700 education and audience engagement events each year. With eighty dancers on board, and a constant stream of new talent coming through the ballet school, it has widened its repertoire in recent years with new works to appeal to audiences who aren't wedded to the classical works, though they still rank highly with audiences.
Queensland has its own fine ballet company, but there's something about the Sunshine state, its colours and light and sense of fun, that makes it perfect for one of the National company's newest works.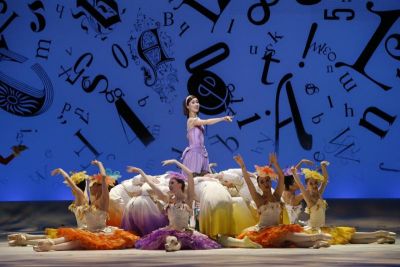 Bursting with brilliant colours and curious characters, The Australian Ballet's award-winning, sell-out hit of 2017, Alice's Adventures in Wonderland©, returns to the stage this year. Making its Brisbane debut at Queensland Performing Arts Centre from 25 February – 2 March, before an encore season at Arts Centre Melbourne from 8 – 22 June, this ground-breaking production will take audiences on an unforgettable journey into Wonderland. We'll have a chance to enjoy Ako Kondo, a delightful dance, alternate in the role of Alice, and even to enjoy a return visit to the stage from Steven Heathcote, for so long part of the very heart of the company. It's also rumoured that the company's Artistic Director, David McAllister will make an appearance, heavily disguised, in some performances.
A giant of contemporary ballet choreography, Christopher Wheeldon created Alice's Adventures in Wonderland© for The Royal Ballet in 2011, and the production has enraptured audiences around the world. Wheeldon's ballet is full of all the wit and charm of the original story by Lewis Carroll, as it follows Alice down the rabbit hole and into a topsy-turvy world where nothing is quite as it seems. You might think it's a ballet for children, but you would be wrong. This endearing, quirky, and often dazzling, offering is for all ages, and who amongst us hasn't been held in thrall by Lewis Carroll's tale, no matter what our age.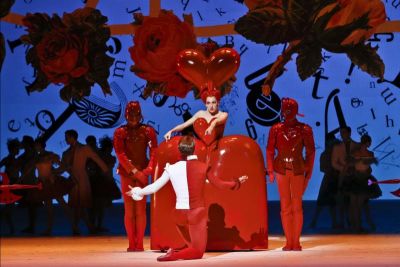 Vibrant sets and costumes by the Tony Award-winning designer Bob Crowley draw inspiration from Victorian-era toy theatres, vaudeville and needlepoint samplers. His vision of Wonderland includes dancing playing cards, an eerily disembodied Cheshire Cat manipulated by puppeteers, and a slinky Caterpillar with 16 feet in bejewelled pointe shoes. Crowley's dazzling designs are realised through puppetry, optical illusion, immersive digital projections and intricately detailed costumes complete with wild wigs and masks.
Joby Talbot's cinematic score combines the familiar strains of 19th-century ballet melodies with theatrical flourishes like ticking clocks and the purring of the Cheshire Cat, and weaves around the action onstage as if springing from the mind of Alice herself. The Australian Ballet's production of Alice's Adventures in Wonderland© won the Helpmann Award for Best Ballet in 2018, and was nominated in five other categories, including Best Choreography, Best Scenic Design and Best Male and Female Dancer.
With its delightful twists and turns, inventive visual design and vibrant original score, Alice's Adventures in Wonderland© is not to be missed.
So don't be late for this very important date.
Photographer: Jeff Busby