Hay fever blights some noses in a garden, but the enormous nose of the hero becomes the only blight on the landscape in the beautiful garden settings of Adelaide's Blue Sky Theatre/Open Gardens SA co-production of Cyrano de Bergerac. The nose hilariously complicates the unfortunate hero's luck in love. Lesley Reed reports on this delightfully romantic summer event. With its various stunning garden venues, it's a must for both theatre and garden enthusiasts.
Blue Sky Theatre is well known in Adelaide for its outdoor productions, not only because they are invariably fine shows in terms of theatre quality, but also because the settings are gorgeous and often quite historic, such as the gardens of Collingrove Homestead, Carrick Hill and Stangate House. They are some of the settings for the company's upcoming travelling production of Cyrano de Bergerac, presented in conjunction with Open Gardens SA.
This romantic comedy will enchant audiences as Cyrano, a soldier and poet who is hampered by a very, very large nose, becomes involved in various love triangles against the background of war. Will heroine Roxane choose the brainless but visually attractive Christian, Cyrano's rival, or instead be won by our hero's eloquent panache?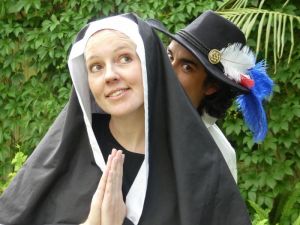 Written by Edmond Rostand in 1897 and set in seventeenth century France, Cyrano de Bergerac has been translated and performed many times and also made into the motion picture 'Roxane', starring Steve Martin. The Glyn Maxwell adaptation has been performed outdoors in the United Kingdom, but this is its first staging in Australia.
Director Dave Simms can't wait. "Romance, war, poetry, sword fighting, and a little baking — what more could you want from a theatrical experience?" he said."This year we wanted to give our audience something a little different; a story that's not only funny, but also action-packed and deeply moving in places. I hope our interpretation will leave them devoted to the characters, doubled over with laughter, and possibly in tears.
"It's one of French theatre's greatest plays and the most famous by its author, Edmond Rostand. Loosely inspired by the life and work of 17th century libertine and writer Savinien Cyrano de Bergerac, the original, very long, production in 1897 was a triumph, hailed by twenty minutes of uninterrupted applause on opening night." No pressure for Simms and cast to excel then!
"The play introduced the word 'panache' and was written as a passionate plea for a France that Rostand felt was losing its soul, its romance and its creativity," Simms said. "Panache is not only represented by Cyrano's ability to joke in the face of danger, but also by the white plume in his hat. Rostand said, 'The plume is not greatness but the modesty of heroism and something fluttering, excessive — and a bit curly'.
"Glyn Maxwell's up-to-date version brings a common touch to the tale with accessible language that stands out as much as Cyrano's 'conk'."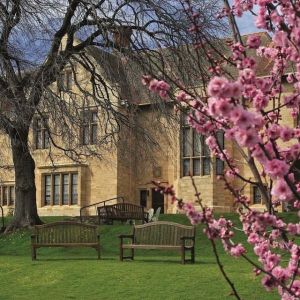 Simms has a fine cast for the production, including James Edwards as Cyrano, together with Robert Bell, Joshua Coldwell, Lee Cook, Miriam Keane, Lindy LeCornu, Ashley Penny, Nicole Rutty, Angela Short, Joanne St Clair and Leighton Vogt.
Open Gardens SA chair Rob Andrewartha is thrilled to be working with Blue Sky Theatre again for a third successful season. "These shows are such a popular part of our program to promote the joy of South Australian gardens that they sell out every year," he said. "I advise garden and theatre lovers to book early."
From what I hear, shows are nearing capacity, so don't have your nose put out of joint by missing out. What could be better than enjoying a romantic comedy on a summer's evening in an iconic garden setting?
WHERE and WHEN:
11-13 January - Brook Road private garden in Victor Harbor.
19-20 January - Colingrove Homstead, Angaston.
25-27 January - Carrick Hill, Springfield.
1-2 February - Stangate House, Aldgate.
TIME: All shows at 6.30pm. Bar and picnics available.
BOOKINGS: www.blueskytheatre.com.au and www.opengardensa.org.au
TICKETS: Adults $35