The Terror of the Top Note: Up Close with the elegant Boy from Maitland, David Harris.
David Harris is about to play the role of Emmett in Legally Blonde. He also recently released his second album. On a brief stopover in Sydney, between legs of the Asian tour of Wicked, in which he was playing Fiyero, David Harris reflected on his career and the terror of the top note with Neil Litchfield.
I started in musical theatre by chance. I didn't get into WAAPA or NIDA, but I was doing some club spots when I sent off my video to a few agents. Only one agent called me. He said, 'I'm not going to take you on, but I noticed some Peter Allen songs on your video. They're workshopping a new musical about Peter Allen's life. I can put you in touch with them if you like.'
I was this fresh young kid from the Hunter Valley, and I hadn't lived in Sydney before. I got an audition for this Boy From Oz workshop. Suddenly I was at Her Majesty's Theatre, and working with Gale Edwards and all these people I'd seen on stage. I was getting drafts. Every day there was a new coloured piece of paper; workshop this, workshop that.
What was that experience like for you?
I remember being totally nervous going into the room. Every day there was a new dance routine, or 'forget what you did yesterday, we're going to learn a new song.' So I really don't remember anything other than flying by the seat of my pants, but also, at the same time, having everyone sitting around in a circle discussing the show; about what we actually thought. I just sat and listened to everyone, because I thought 'I'm too fresh to give an opinion,' but it was those things, of being in on the ground level.
Years later I realised that process hardly ever happens any more, and to have that as my very first entry into professional music theatre, in a musical that then went on to have great success, you look back and say, I should have savoured that much more.
Did you have a sense at the time that The Boy From Oz would be something special?
I'd been singing Peter Allen stuff for years, so I loved the material. I didn't know anything about the business side of showbiz, but I knew we were involved in something special.
I remember Gary Scale telling me backstage one day, 'David, this is your first show, but know that this experience will probably never happen again. You're in something very special here.'
I've still got the workshop scripts, and all the different coloured pages and looking back on it, and going ohhh, it was done in chronological order, then it was done in flashbacks, and there were some fictional characters thrown in, so the storyline, and how they were going to tell the story, changed. Was it going to be all in flashback? Was it all going to be speak out to the audience? Was there going to be a young Peter and an older Peter? Were there going to be fictional characters? Were there going to be non-Peter Allen songs in there? At one stage Liza sang 'The Trolley Song'. To read back on that, and know where the songs originally fitted, then things were thrown out and something else was fitted in.
I auditioned for the actual show, but I was awful. I flunked out. So I went on a cruise ship contract. I knew I was on the B List for The Boy From Oz, if someone turned it down. To whoever that was, thank you very much. I was offered my ensemble plot. I had to pay to get out of my ship contract – I think it was about $7,000, which back then was a lot of money. The rest is history. It lasted two years, which I consider my training years.
Are there special moments from The Boy From Oz that stand out for you?
I remember stepping onto the Princess Theatre stage for the first time, because when I was growing mum and I took a bus trip down to see Phantom at the Princess Theatre, and I remember being the only one still in the auditorium after that. I didn't want to jump back on the bus and go all the way back to Maitland. I didn't want that experience to end. Then when The Boy From Oz was bumping into the Princess Theatre, in my first steps onto that stage, I thought, I sat in those chairs wishing desperately that I would have the chance to get on this stage. And I was on the stage, in my first show, doing Peter Allen songs. That was special.
I'll never forget closing night Sydney. Todd's mum had 300 friends in, and they all had Australian flags, and there was just a sea of Australian flags as we were singing I Still Call Australia Home, and then there were Australian flags draped over the balcony. I still get tingles now. It was just magic – singing the song, seeing all these flags, everyone singing along, and the flag draped across the balcony. I will probably never have an experience like that again.
When did your career take its first big leap?
I was cast in my first principal role in The Full Monty. Everyone knows the fate of that show, but it was such a beautiful show to be involved in for the limited time.
It was just such a bundle of emotions in this short period. It had a beautiful, gentle storyline, it was fun to do, it was fun to hear the audience reactions and take them on that journey. It wasn't just a strip show; it was about these characters who had very different backgrounds and stories to tell.
After that small leap, what was the next big career step?
Miss Saigon. When I first moved down to Sydney from the Hunter Valley, I got a job ushering at the Capitol Theatre when it was on originally. I watched the show umpteen dozen times, and thought I would love to play that role (Chris – the young romantic GI) and be in that show.
The opportunity came some 12 years or so later, and to land that role was a big, big, big leap for me.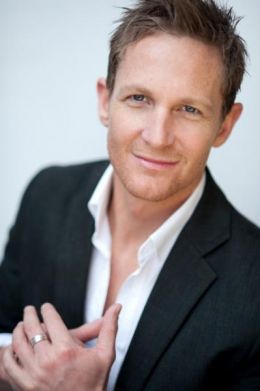 Then doing the role, I conquered, and sometimes I didn't conquer; I got trapped I suppose, and sunk into a bit of a hole doing it. It's a beast of a show; a dark, gritty, anxious show. I was a ball of anxiety the whole 15 months. After that I needed time out from the industry. I didn't love singing or performing any more.
Part of my first album was falling in love with singing again because I was burnt. I didn't enjoy going out on stage some nights, because I was petrified. When that orchestra started, because I didn't know what's going to come out vocally. That's so scary, but at the same time, it will be probably the biggest learning curve I've had.
The director wanted it as gritty and real as possible, which is great if you're doing it once or twice, but if you're backing it up eight times a week your voice conks out. Singing that material was the top of my range, and I knew that going in, but becoming very anxious about it didn't help at all, and the first place it goes to is the voice.
I'd go out on stage thinking those 2000 people know exactly how Why, God Why should be sung, and if I didn't sing it that way I failed.
I was a year into my contract when the resident director at the time, Gary Young, took me into his office – it was before a matinee. I said, 'I don't know what's going to come out today, I'm really scared.' And he said, 'Well do your B show.' I went, 'What B show.' He said, 'You can't possibly hope to do an A show, every show, eight times a week.'
You release that pressure, and as soon as that happened, and I allowed myself to think, well, if I come off that note earlier, or I cheat to get through today, then so be it, and not to bash, bash, bash yourself if don't do it.
That was a big turning point – that I could have a B show, and the audience knew no different. They still cried, they still cheered at the end, they were still moved, but I took the pressure off myself. So that was a big thing to discover.
So your B show is more like an A minus?
It's funny, I told Gemma Rix in Wicked, when she said, 'My voice is a little strange today.' 'Oh come on, you're already a 9 out of 10 before you step out on stage.' That kind of belief, not in an arrogant way, but just to believe, 'Now, you're already a 9, just get out there and do a 9 and stop trying to have to be a 10 all the time. It's unsustainable on a big contract.
Yes, I'd like to think of it as an A minus.
I'll always be known as a perfectionist. It always had to be right, and if it wasn't I'd berate myself. I had to release that big time – it's just not healthy.
After Miss Saigon you'd fallen out of love with singing and performing. Has that experience changed what you will now take on as a performer?
Yeah, and that's why for two or so years after Miss Saigon I chose shows that were fun – Guttenberg, Little Women, Love Bites and Breast Wishes – things that made me have fun during a show, rather than dark energy. I wanted to get back to being silly David backstage and having fun with the cast. I also recorded my first album in that period.
How did that first album help you fall in love with singing again?
It was just literally being around a piano again, with Max Lambert, and singing and telling those stories. It wasn't about the big band sound, it wasn't about bells and whistles; it was simply about piano and voice. Being in a recording studio was a new experience for me, and Max was very good at spotting this perfectionist thing. I would go, 'Oh, that bit's wrong.' And he would say, 'no we're leaving it in. You don't want to be too perfect. It becomes soul-less then.' Those imperfections are the uniqueness. I learnt that from Max. I listen to it, and I still hear them and it's a love / hate relationship because I know they're in there and I like them, but at the same time, they're imperfections.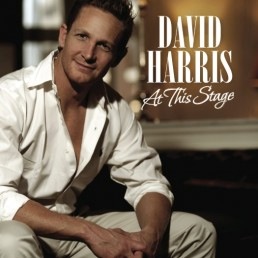 Tell me about your second album.
I wanted something contrasting to the first, so I had a conscious thing in mind about going to Asia with Wicked, and wanted to do a musical theatre based album, and also to have a bigger sound, both vocally and instrumentally.
I used to sing a lot of those songs driving down the F3 freeway to go to RSL clubs for my talent quests. These songs have been part of my life for many years.
Do you have a favourite ?
I love the version of The Impossible Dream we did, and I loved collaborating with the girls. I've loved working with my co-stars – when Laurie did the Miss Saigon tune on the first album, and Gemma, Lucy and Kelly on the second one. I love interacting with someone, whether you're on stage or in the studio. I like that energy, feeding off each other.
Hasn't The Impossible Dream become the ultimate musical theatre cliché, thanks to every man and his dog performing it?
I love the arrangement. It builds. It feels like it just escalates and escalates. It's a ride to sing on that too, and it just builds and builds, so it's energetic and spiritual, and it just lifts as you sing it. I haven't done it live yet, because I haven't been in the country, but I can't wait to do that song live in front of an audience if an event comes up, and really test it out.
So on to Wicked - you didn't come into the show at the start.
I nearly did. I was down to the final auditions originally and just missed it, which, in hindsight, is perfect, because it would have started rehearsals three weeks after Miss Saigon closed, and I was in no way wanting to jump right into another big show.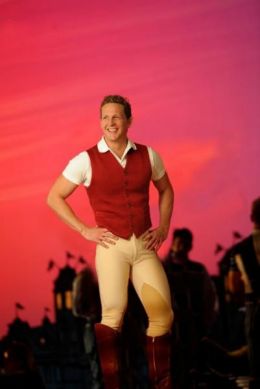 It's a show I always wanted to do. I saw it in New York when it was in previews. I saw the billboard as we were coming into JFK airport. We got the final tickets for that night and I was totally swept away by it. I swore, whenever this musical comes to Australia, I want to be involved. It's one of those career boxes I've been able to tick.
David Harris pictured left as Fiyero. Photographer: Branco Gaica
How was it stepping into the show?
About 12 or 14 people joined when I did, so there was a huge rehearsal period. All the newbies started, then the returning ensemble members came in, then the principals, so it was like a tiered rehearsal process.
What was it like when you finally got on stage?
There was no opening night (due to the flood delay in Brisbane affecting QPAC); the first audience was our opening night, which was great, because they were fully supportive. John Frost came out before the show and said, 'you're our opening night audience, finally we're up.' And because Queensland, needed entertainment; they were craving for it by that time, the Brisbane season was a great experience, and the audiences lapped it up – especially that first audience.
What has it been like travelling with the show in Singapore?
Singapore was great to experience but is culturally different. Five months was a bit of a slog. They were very quiet a lot of the time, till the end of the show, which is contrary to Australia. And in Korea it will be very different again, because it's subtitled, and if they are going to react, they'll be a beat or two later.
We've also noticed that in the kiss at the end of As Long as You're Mine, the duet that Elphaba and Fiyero sing, in Australia we'd always get a bit of a wolf whistle or a cheer when we finally kissed. Sometimes we didn't get applause at the end of the show or anything in Singapore. It's just that in Singapore they don't do public displays of affection.
And being together as a company on tour?
When you're on tour as a company, you become a big family. We have our own Wicked Asia group on Facebook, private to the group, so we were always in the loop – it's like this little noticeboard community. And someone would say, I discovered this great bar last night, so we'd all traipse to this new bar the next night. Or we'd all go here, or we'd all meet at the Hawkers Market. It becomes a little community, and it's great that you have those mates to go and do something with – there's always some one who'll say, what are you doing tonight?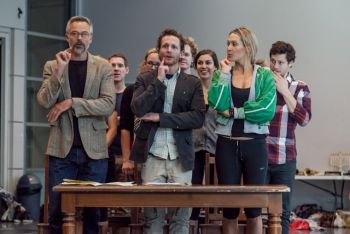 Looking forward to Legally Blonde, and working with Lucy Durack again. It's become a bit of a Wicked alma mater too.
It has, hasn't it, and Rob Mills and I have done two little one-off gigs, where we sang together. I'm looking forward to working with him. He's a very down-to-earth guy.
So the chemistry is right?
That's the good thing. There are no walls to be broken down, or, 'how do we tiptoe around this?' Those walls are down already in a sense, because we know each other. So it makes the creative process a lot quicker, easier and free-er.
So are there little shorthand things, where a look says it all?
Certainly between Lucy and I. Rob and I haven't worked all that much together yet, but I'm sure that will quickly develop.
What first attracted you to Legally Blonde?
It's a classic story, and there's a familiarity to it. The songs are high energy, high camp, but then, the characters are believable, and that the audience cares for those characters and their plights. So fun as it is, and as up and energized, it's got to come from a place of truth, so people are moved and care – otherwise it's just a bit of fluff.
I know everyone's invested for it not to be a bit of fluff and floss and candy. Then there are some beautiful scenes and beautiful songs and some fun stuff.
I'm looking forward to having that journey of being stupid, silly and fun. My character is very much straight-laced, but he can break out in a little moment. He's probably a little bit more David Harris than Fiyero is. I was that nerdy, geeky schoolboy; the school captain, and the one who was studying hard in the library. Not that I did anything with it; I went to Uni for three days and then quit. So I relate more to this character, Emmett, than Fiyero.
Are there moments which you can already say, I'm looking forward to that?
Yes, There's a bit where he goes in to Take It Like Man, where she takes him shopping, so I daresay Lucy and I will have fun in that, and also the tail end of the show, where basically he sings that he loves her – that delicate moment. I'm looking forward to being a total opposite of all the fun stuff, to just hopefully nailing the audience in their guts there.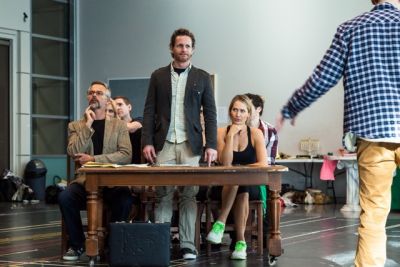 What is it that you love about working with Lucy?
She's just got a beautiful energy. She's very focused on work, doing quality stuff, and delivering every performance. After working with her now a number of times, it's about delivering quality stuff every show, but also not in an ambitious, cut-throat way. It's just delivering that quality work, but once she's off stage it's just chat-chat-chat – there's no diva-ness or anything else – it's just delivering quality stuff and having fun along the way. That's what's going to make Legally Blonde a ton of fun. We can muck around off stage, get along like a house on fire, then go out and do good work on stage.
Did you do musical theatre in school?
I got roped into the school musical by my English / Drama teacher. No-one else was silly enough to do it, so I said OK, I'll do it. I got ribbed a lot. My school was about the football team, so when people say 'wow, school were the best days of your life, I don't look at it that way.
The first school musical I did was Man of Steel (aka Superman). I was so skinny, and I had this lycra costume, which was just draping off me. My drama teacher gave it to me for a 21st Birthday present. When I returned to Newcastle for a concert at the Civic Theatre I came out in that same lycra costume and did the song as Superman.
It was very cathartic to go back to my home town, and to be wearing the same Superman costume, decades later. My first experience in that costume was a harrowing one in front of a school assembly audience, and it's now in a show of which I chose to make it part.
The song I sang in it was:
I can't stand to fly,
I'm not that naïve
I'm just out to find,
The better part of me,
I'm more than a bird,
I'm more than a plane …
Then in the show I talk about growing up, and school, and how all I thought about was flying away from that school audience, and being somewhere else.
I think it's different now, with all the XFactors and the Idols; being on TV is cool now, and it's celebrated to do that, whereas when I was growing up you just didn't do that. It was daggy.
But it's great that I've stuck out something that I love doing, and that I trusted that instinct of what I wanted to do, and I could go back to my home town and say, 'I stuck it out, this is who I am, this is the life I've chosen, and I love doing it.'
Originally published in the July / August 2012 edition of Stage Whispers
Top image and bottom two were taken during rehearsals for Legally Blonde, with David centre between Cameron Daddo and Erika Heynatz. Photographer: Matt Watson.