He's done what no other Australian has before - composed songs for two musicals on Broadway at the same time. What's more, those musicals - Beetlejuice and King Kong - are in theatres literally a stone's throw away from each other. David Spicer has the story.
Eddie Perfect is having the time of his life.
"I have never been in such a glorious creative position," he tells me on the phone, on a dinner break from a rehearsal of Beetlejuice at the Winter Garden Theatre, Broadway. The last time we spoke Eddie was sitting in a gutter on a cigarette break, outside the ABC studio in Sydney. How the world has changed.
"I've been working on Beetlejuice for four years now. It is right up my alley. It is funny. It is dark. It is absurd. It walks a funny and dangerous line. It has a lot of heart and guts and soul to it.
"We are doing 15-hour days. I start rehearsals with the orchestra in the morning. We come to the theatre in the middle of the day, then we tech until midnight. Seven days a week."
How did it happen that an unknown Australian composer/writer with a few local credits was commissioned to write the lyrics and music to a Broadway musical adaptation of a Hollywood film, backed by a movie studio? Well … he decided to have a crack!
"My wife said buy a ticket to New York and stick around. I didn't know anybody in New York, then Tim Minchin introduced me to his theatre writing agent. I gave him a copy of Shane Warne The Musical. He liked it even though he didn't know anything about cricket."
But how would he get a big New York writer to work with him?
"I heard about Beetlejuice and asked my agent if I could pitch for it. It had heavy duty Broadway producers who didn't know my stuff – which was Australian.
"So I said, what if I wrote two songs for them for free? It wouldn't cost them anything."
The offer was accepted.
"I looked at the script and wrote a song for (the characters of) Lydia and Beetlejuice. The first songs you write for a musical are the hardest, when all the decisions are made. What do these characters sound like vocally and what is the sonic world of that?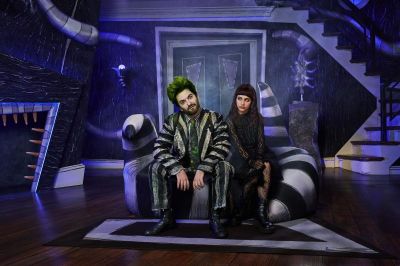 "The Beetlejuice song drove me crazy writing it. It is now the opening number. He cycles through ten different styles of music, like a demented split personality version of Genie and Aladdin. It goes from banjo folk, to swing to dance hall to ska. It is kind of like bonkers.
"Then I wrote a song for Lydia – called 'Dead Mom'. It is much more like an indie rock tune.
"I didn't hear anything for a couple of months, then I got a phone call from my agent saying you got the gig!
"I was like, this was insane. I honestly thought I would have to do something Off Broadway, then maybe drag myself into town. So it was incredible. This is my chance to present my style of composing and lyric writing on Broadway. I have worked harder on this piece than anything in my life.
"I made a promise no matter what time America wanted to do the phone call in a group conference call, I would be there. I would get up at 4AM and skateboard down to my local park in the dark and sit at the picnic table so that I could talk without waking the kids up.
"I would do meetings as the sun came up or in the middle of the night. I flew back and forth continuously over four years. It was hard being away from my wife and kids, so now I have moved here."
Eddie says getting his teeth intoBeetlejuice is much more satisfying than his previous two projects. He composed songs for the latest edition of Baz Luhrmann's Strictly Ballroom The Musical.
"It wasn't really my score. Baz Luhrmann would say, 'Hey we need a song', then I would write the song, send off a demo, take notes then I would re-write, and it would go into the show. That was put together with at least five or six writers plus pre-existing music from the film. I was writing it at arm's length.
"That wasn't as satisfying. Music theatre is a collaborative artform. It requires a book writer, composer and lyricist."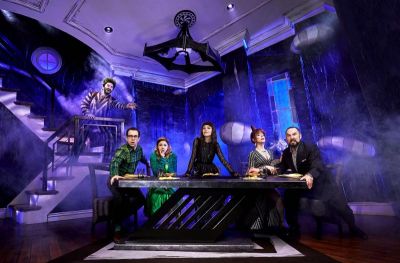 Likewise, he was a small cog in King Kong, which is produced by the Australian company Global Creatures.
"Right from the very beginning our director/choreographer didn't want to create a traditional musical. He wanted to create a hybrid between dance, puppetry, physical theatre and song. There are huge passages where it is just like live action, music and puppetry. Beetlejuice has a score of 24 musical numbers. King Kong has maybe eight songs in it."
King Kong did not receive positive reviews from many critics, but Eddie says mainstream audiences are loving it.
"There is an element of – who the f…. are these people, coming in with their giant thing, putting on a musical which doesn't conform to our ideas?
"It feels like an unusual show. I don't know if there is any way of putting a giant gorilla on stage and have it not to be unusual.
"Audiences are less worried about where things sit in the genre. They come along and take it at face value. Audiences are loving it."
On Broadway every week the exact box office grosses for all musicals and plays are published. During the colder months King Kong has been hanging on by his finger nails with lower ticket prices. The musical with (rumoured) high running costs, has been selling a respectable 10,000 tickets a week.
That is half the business of Wicked and a third of the business of Hamilton. However, its sales are similar to My Fair Lady and Kinky Boots and bookings are open until August.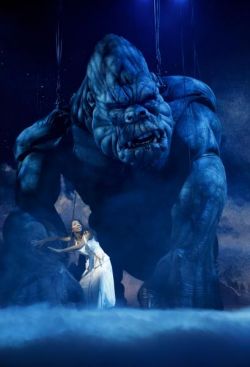 Eddie can easily keep an eye on both musicals.
"If I walked out the front of the Winter Garden and I threw a rock, I could probably hit the marquee (above the Broadway Theatre where King Kong is on).
"I don't think you could have two theatres closer together. That is pretty weird."
What Eddie relishes most about his time working on Beetlejuice is the resources that are available to him.
"When I put on Shane Warne the Musical, I did everything myself. That is all the musical arrangements, I wrote all the charts, hired the band, ran the band rehearsals, I wrote the book, the score and the lyrics."
He forgets to mention that he also played the lead.
"I was working with (director) Neil Armfield but in terms of the creation of the show it was just me."
Eddie drools about the resources and creative team he has in New York, where there is a whole lot more money and a much more extensive development period.
"We did an out of town tryout in Washington DC, which you never get to do in Australia. You get to do a world class premiere season of your own show, take it away to fix things, re-workshop it and do it all again for Broadway.
"I have a musical director who has written underscore. I have a dance arranger. I have a team of copyists and an 18-piece orchestra."
This allows him to devote all his energies to crafting the musical. Eddie says he loves the "completely absurd and darkly funny" qualities of the original film, released in 1988. He expects fans to relish the spectacular illusions, magic and pyrotechnics that are being replicated on stage.
However, he admits the movie did not have an emotional core to sustain a two-act musical.
So what is the new emotional core he has been crafting away at? The central theme, he says, is the difficulty in dealing with grief alone, "feeling isolated and not having a sense of home. Lydia is stuck in grief and can't move out of it. She is obsessed with the macabre and the nonphysical world. She happens to meet the previous owners of the house and there she meets Beetlejuice."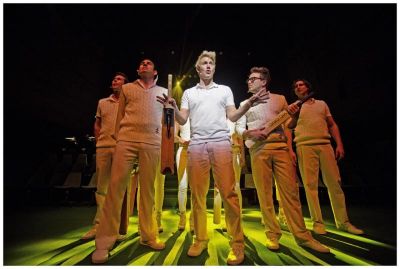 The ghosts give Lydia the sense of family and home she has been missing.
Eddie refuses to label the musical style of the production as like Hamilton or Dear Evan Hansen, which one reviewer of the out of town try-out alluded to.
"I think I would not be here in New York if my Dad hadn't put on a cassette of the 1984 production of Sweeney Todd in the family Kombi Van. I have never stopped listening to cast recordings."
He describes Beetlejuice as a fusion of different music.
"I come from Melbourne, which has one of the best live music scenes. I have been playing live music for a long time."
His influences range from South African folk to Greek music, to soul, jazz and hip hop.
"We have a song (in Beetlejuice) that goes from reggae to rock and another that is half tango half salsa.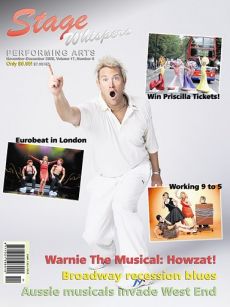 "What I have going for me, and going against me, is that I write in a different way to other writers. I haven't grown up inside a bubble of one particular style of theatre music."
Eddie's distinctly Australian accent is undiluted by the experience of working in New York – but he admits that a few American vowels are "suspiciously" beginning to leak into his children's dialect.
He's fighting back. In Beetlejuice he has snuck in one bit of Aussie lingo.
"Beetlejuice says, 'right now you couldn't frighten a fly or scare a seagull off a fry.' Everyone goes why would a seagull eat a fry? A seagull on a chip is the most Australian thing ever. That lyric is staying!"
Beetlejuice The Musical opened at the Winter Garden Theatre on April 27. David Spicer represents the rights to Eddie Perfect'sShane Warne The Musical and his playThe Beast.
Images: Eddie Perfect - Photo by Julian Kingma; Beetlejuice - Alex Brightman (Beetlejuice) and Sophia Anne Caruso (Lydia) & (l to r) Alex Brightman, Rob McClure, Kerry Butler, Sophia Anne Caruso, Leslie Kritzer and Adam Danheisser - Photos by Matthew Murphy; Christiani Pitts as Ann Darrow and King Kong – Photographer: Joan Marcus; Eddie Perfect in Shane Warne The Musical - Photographer: Meredith O'Shea; and Stage Whispers - November 2008.