Sydney's Ensemble Theatre has announced its 2017 season of 10 plays, including World Premieres of plays by David Williamson, Kate Mulvany, Kit Brookman and John Misto, as well as a cabaret special event.
"I am very proud that our 2017 season continues to present the best of new and classic plays, from laugh-out-loud comedy to riveting drama. Ensemble Theatre has always been a place to share stories and my aim is to continue this tradition while matching those stories with the best creative talent from our vibrant theatre scene. In addition to our theatre program, we are also bringing cabaret and comedy to our intimate space. Ensemble Theatre has always had a special place in our theatre world. It is a privilege to share this 2017 season with you. I hope you enjoy it as much as we enjoy bringing these plays to life," says Mark Kilmurry, Artistic Director, Ensemble Theatre
PLAY 1: WORLD PREMIERE: ODD MAN OUT BY DAVID WILLIAMSON
FROM 19 JANUARY 2017
DIRECTOR: MARK KILMURRY
CAST INCLUDES: JUSTIN STEWART COTTA, RACHEL GORDON, LISA GORMLEY, MATT MINTO
It starts like a fairy-tale romance: Ryan tells Alice she has a beautiful smile, and suddenly he is asking her out. Alice has never met anyone like Ryan before: he's charming, forthright and painfully truthful. David Williamson's brand new comedy is about love, tolerance and acceptance.
Pictured above Lisa Gormley and Justin Stewart Cotta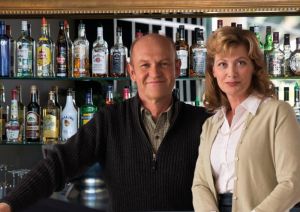 PLAY 2: TWO BY JIM CARTWRIGHT
FROM 24 MARCH 2017
DIRECTOR: MARK KILMURRY
CAST: BRIAN MEEGAN, KATE RAISON
Jim Cartwright's comedy TWO introduces fourteen colourful characters, all played by Brian Meegan and Kate Raison. Set in the local pub, you'll meet all the regulars, a misfit crowd of eccentric and hilarious individuals. By turns funny, heart-warming and poignant, TWO promises to be a lively night at the local in the company of two accomplished and versatile actors.
Pictured right Brian Meegan and Kate Raison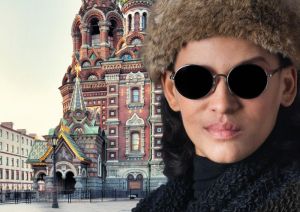 PLAY 3: WORLD PREMIERE: THE RASPUTIN AFFAIR BY KATE MULVANY
FROM 1 APRIL 2017
DIRECTOR: JOHN SHEEDY
CAST INCLUDES: TOM BUDGE, HAMISH MICHAEL, ZINDZI OKENYO, SEAN O'SHEA
St Petersburg. Winter. 1917. A group of like-minded individuals gather with a plate of pink poisoned cupcakes and a shared aim: to rid the world of one of history's most despised characters - the mad monk Rasputin.
Pictured right Zindzi Okenyo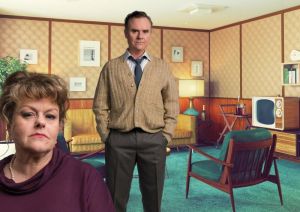 PLAY 4: WHO'S AFRAID OF VIRGINIA WOOLF BY EDWARD ALBEE
FROM 11 MAY 2017
DIRECTOR: IAIN SINCLAIR
CAST: DARREN GILSHENAN, GERALDINE HAKEWILL, GENEVIEVE LEMON, BRANDON McCLELLAND
George and Martha have invited their new colleagues over for drinks. It's a seemingly innocent occasion, but there's a hidden agenda at play. As the booze flows, the night gets darker and so does the conversation, until the drama spirals towards its explosive and cathartic conclusion.
Image right Genevieve Lemon and Darren Gilshenan
PLAY 5: NEVILLE'S ISLAND BY TIM FIRTH
FROM 29 JUNE 2017
DIRECTOR: MARK KILMURRY
CAST INCLUDES: ANDREW HANSEN, DAVID LYNCH, CRAIG REUCASSEL, CHRIS TAYLOR
Four city-dwelling business men set out on a team-building weekend only to become trapped on an island in the wilds of Tasmania. As day turns to cold, cold night, the men discover hidden vulnerabilities and unexpected strengths as they battle the elements and each other. Tim Firth's comedy is a look at men trying to make the best of a bad situation while they remain, unfortunately... men.
Pictured right Chris Taylor, Craig Reucassel, David Lynch and Andrew Hansen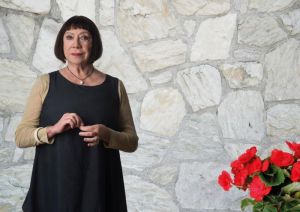 WINNER OF THE ENSEMBLE THEATRE NEW WRITING COMMISSION 2016
PLAY 6: THE PLANT BY KIT BROOKMAN
FROM 28 JULY 2017
CAST INCLUDES SANDY GORE
Daniel is in the midst of a baby boom – all his friends are disappearing into the haze of parenthood, a world where talk of teething, controlled crying and infant bodily functions abounds. In a headstrong act of rebellion, he takes drastic steps and adopts Claire, a begonia. Buoyed by his friends' and family's unreserved acceptance of his 'baby', Daniel's attachment to Claire soon develops beyond a joke. Kit Brookman's quirky play explores the highs and lows of modern parenting, with a keen and intelligent wit.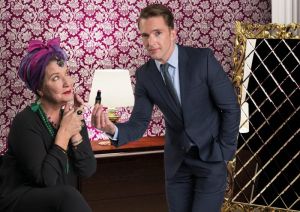 PLAY 7: WORLD PREMIERE: LIP SERVICE BY JOHN MISTO
FROM 17 AUGUST 2017
DIRECTOR: NICOLE BUFFONI
CAST INCLUDES: TIM DRAXL and AMANDA MUGGLETON
Helena Rubenstein's towering makeup empire is under constant threat. Staving off cunning attacks from her rivals Elizabeth Arden and Revlon, she holds fast to the principles that got her to the top: thrift, ruthlessness and a take-no-prisoners steely resolve. But when she finds an unlikely confidante in personal assistant Patrick, it dawns on her perhaps she isn't such a hardened business woman after all. In John Misto's new play, Rubenstein's career is charted from humble beginnings in country Victoria to the intoxicating international heights of success. Amanda Muggleton returns to the Ensemble stage as one of the most terrifying yet oddly endearing icons of the makeup industry.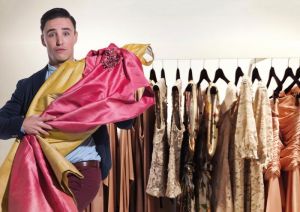 PLAY 8: BUYER AND CELLAR BY JONATHAN TOLINS
FROM 6 OCTOBER 2017
DIRECTOR: SUSANNA DOWLING
CAST: BEN GERRARD
Barbra Streisand has a shopping mall in the basement of her mansion so she can shop to her heart's content, without leaving the comfortable security of her home. That is a true story. The tale of Alex getting a job there and the unlikely friendship that blossoms between the pair may be fiction, but it's not impossible. It should be a dream job, working for one of Hollywood's most revered stars. But as Alex settles into his new role, he finds himself torn between the mesmerising glamour of his eccentric employer, and the toll his brush with Babs takes on his personal relationships.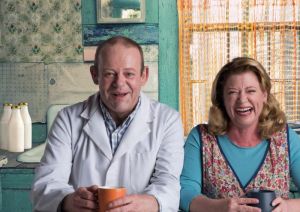 PLAY 9: THE KITCHEN SINK BY TOM WELLS
FROM 14 OCTOBER 2017
DIRECTOR: SHANE BOSHER
CAST INCLUDES: HUW HIGGINSON, HANNAH WATERMAN
It's been a while since Martin's milk round has earned money. His truck - and a lot of his customers, for that matter - have seen better days. His practical, dinner-lady wife Kath wants him to give up the business, but Martin can't quite bring himself to move on – to what? The Kitchen Sink is a touching comedy from one of the UK's finest young writers, about finding the courage to face change, and the enduring strength of family bonds.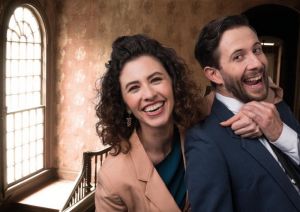 PLAY 10: TAKING STEPS BY ALAN AYCKBOURN
FROM 23 NOVEMBER 2017
DIRECTOR: MARK KILMURRY
CAST INCLUDES: MIRANDA DAUGHTRY, PETER KOWITZ, DREW LIVINGSTON, SIMON LONDON, CHRISTA NICOLA
Taking Stepstakes place in three rooms on one chaotic night in a creaky Victorian mansion, ripe for re-development. The British comic master Alan Ayckbourn shakes up a delicious cocktail of mismatched lovers, dirty dancing, bad hair and real estate, in an ingenious play that entertains on so many levels.
Pictured right Christa Nicola and Simon London
CABARET SPECIAL EVENT:
TREVOR ASHLEY IN BARBRA AND ME! with Bev Kennedy
4 Performances only from Sept 17
Since he saw her movie debut in Funny Girl when he was a young kid, Trevor Ashley has been obsessed with La Streisand. As a triple-threat actor-singer-director, her own behaviour has often been just as threatening, and she is known to many as the ultimate perfectionist diva. Through hilarious true stories from both his and her lives, find out how a boy from Bexley ended up getting drunk with Barbra's sister in a New York bar.