The Fabulous Singlettes are performing their spectacular Christmas Show at the Memo Music Hall, St Kilda, Melbourne on of December 21-22, 2018. Noami Eyers, a founding member of the group, spoke to Flora Georgiou.
Flora Georgiou: Naomi, you founded the group back in 1986 - what were the trigger points that lead you to start your own group?
Noami Eyers: I was going on tour with a rock band around country NSW in January 1986, filling in for a friend. I had been given a book about the Girl Groups for Christmas and spent that whole tour in the back seat of the horn player's Holden travelling from gig to gig with my head buried in that book. It was a fascinating story about music I had not really heard before and the girls who performed it - often young, often exploited. The description of the songs and the sound captured my interest and when I finally got back to Sydney I found someone who had the most incredible collection of girl group records and worked my way through them. These were some of the best pop songs ever written.
The other thing that grabbed my attention was the look of the groups. First, they were young women that dressed like middle aged women - and often glamorous, and secondly, they were all dressed the same - no matter what their size. This had the potential to be quite fun.
I had also been a big fan of Bette Midler in the 80s. I loved her and her humour and how entertaining her revue style show was. I loved her backing group, the Staggering Harlettes, and wondered what their show would be like if they were ever to perform without her. I guess this is how the Fabulous Singlettes were conceived - great songs, fun colourful costumes and the irreverent style of humour and entertainment of Bette's that I loved.
Flora Georgiou: Tell us about your earlier years before The Singlettes.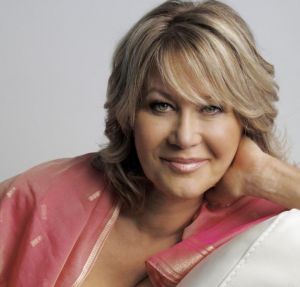 Noami Eyers: I grew up in Adelaide and have been singing as long as I remember, just for the joy of it. I sang in bands, in the studios in Adelaide and then eventually moved to Sydney where I worked as a session vocalist as well as singing in bands at places like the Basement. I also appeared regularly on many of the TV shows of the day like Midday Show, Mike Walsh Show, Starsearch, etc., both as a soloist and backing vocalist.
Flora Georgiou: What is about the 50-60s era that has inspired you…. hence propelled you into a successful musical career?
Noami Eyers: I was really more of an R'n'B & soul singer before the Fabulous Singlettes and heavily influenced by singers like Aretha Franklin, Chaka Khan and Donny Hathaway. The girl groups came before these singers, and as I listened to their recordings, I could hear the soul roots of my inspirations in them. I loved the rawness of many of those early recordings and discovered some great singers like Martha Reeves, Brenda Reid from the Exciters, Irma Thomas, Arlene Smith - the lead singer from The Chantels, and Darlene Love, to name but a few.
Flora Georgiou: You have had a globetrotting career with the group. Tell us about your highlights.
Noami Eyers: It really has been a wonderful ride with many highlights. The early days of Kinselas in Sydney, our first trip to Edinburg Festival in 1986 where we were named as 'Pick of The Fringe', our own show at the Piccadilly Theatre in the West End, a Royal Variety, a BBC special and getting to work with that incredible production team as well as Geoff Posner. Playing in Berlin has always been a highlight, at the Tipi, which is such a wonderful cabaret venue. We have been going there regularly since 1997 and we will be there again this coming April. Other highlights were supporting Dame Shirley Bassey at Wembley and Tom Jones and Royal Albert Hall, and the final season of Live at the Palladium in London.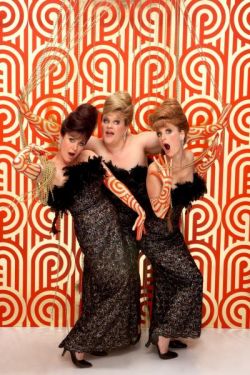 Some odd memories come back as well, like playing on a BBC special in Belfast on St Patrick Day's eve with Van Morrison. There was a bomb threat and we were taken off the air. Van was playing with his band at the time of the scare. Refusing to be intimidated by the threat, they played on as we all partied. I'm glad I was there for that one. In Madrid we did a variety TV show on the bill with Shirley McLaine and Jimmy Somerville (remember him?). Jimmy & I were completely star struck as I remember.
Flora Georgiou: You have worked with some of the best people in show business. How have those experiences impacted on your career?
Noami Eyers: I have been lucky enough to work with some amazing musicians and performers. I made a decision very early on in my career to work with people whom I thought were 'better than me' and more skilled so I could learn from them.
I've also been around long enough to see that many of the performers I have loved and admired are the ones who are above all are human; they wear their celebrity status loosely and don't believe their own press. I have had some candid and human conversations with so called 'big stars' waiting in green rooms to go on, in the wings, in makeup… Humility can often be elusive in our business, invisible and undervalued. Believe it or not, these experiences probably have had the biggest impact on me.
Dates: Friday 21 December and Saturday 22 December
Time: Doors Open 7:00pm, Showtime 8 - 10pm (with intermission)
Tickets:
Friday 21 December: https://www.memomusichall.com.au/memo-gig/the-fabulous-singlettes-chrismtas-show/
Saturday 22 Dec: https://www.memomusichall.com.au/memo-gig/the-fabulous-singlettes-chrismtas-show-2/
Venue: MEMO Music Hall, 88 Acland Street St Kilda