Circus/Cabaret is the way to go, as Coral Drouyn has discovered.
Once, not so very long ago, theatre restaurants were the choice for people who wanted their entertainment accompanied by food and a bottle of something naughty, but times inevitably change. Now circus/cabaret is fulfilling that brief and offering something naughty on stage and off.
In the same week that Strut & Fret (see our July / August print issue) premieres its new show at the Gold Coast's Home Of The Arts, The Spiegeltent, everybody's favourite, returns to the Gold Coast with the infamous cabaret entitled…you've got it…Infamous.
Infamous has earned a reputation for being daring a risqué entertainment for adults. Let's face it – "a little bit naughty" these days describes Bananas in Pajamas. Infamous is very naughty, that's why it is strictly over 18's, and it may not be for your grandmother – although, if she's like me, she'll love it.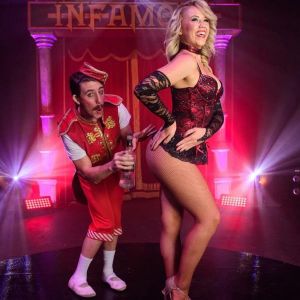 The acts come from all over the world, with an accent on a beautiful line-up of dancers, raucous comedy and brilliant acrobatic and aerialist acts. The venue is licensed, and this kind of show always goes better with a beer or some bubbles, and food is available. You can have a supper platter or even just a bag of popcorn to make the night more festive. It's great to know the theatre restaurant concept is still alive, albeit in a different form. And, in a world where we no longer believe it's okay to keep animals captive, this formula is keeping some of the basics of circus alive and well for a generation of young adults…though I must admit I still pine for an elephant or two…yes I know that's not P.C.
Infamous kicked off this tour with the Sydney Royal Easter Show and now it's the Gold Coast's turn. The Spiegeltent is already up and Infamous opens on Friday July 13, 2018, and runs all the way through to 12th August. Thank goodness the school holidays are over and done with and the adults can now have some fun.
The Spiegeltent is at the Broadwater Parklands