On the eve of her return to the Melbourne stage for Fat Swan, with an imminent return season of Death of a Salesman to follow in Sydney, Genevieve Lemon is interviewed by Stage Whispers' Coral Drouyn.
When Fat Swan – a wonderfully rude adult panto which sends up Natalie Portman's Academy Award winning role – opens for a return season at the Arts Centre on Sept 25th, Genevieve Lemon will NOT be playing the title role. Not that she couldn't; Gen is an actress who can turn her hand to anything and do it brilliantly. But Fat Swan is Trevor Ashley's baby, and he devours it with outrageous cannibalistic fervour. "We first worked together in Priscilla. I adore him, and his comedy is getting sharper as he goes along. Clever boy. What's not to love?" Genevieve tells me. She does caution that the show is "SHOCKINGLY rude but sick-makingly funny." She will play the Fat Swan's mum, and the mind boggles at the mayhem that could be created. I can't wait.
Genevieve Lemon has been an integral part of our theatrical landscape for three decades now, but when I first encountered her, her only credits were the stage play "Steaming" (in which she first got her gear off without self consciousness and struck a blow for all of us with less than perfect size 8 bodies), and a role in the TV soap The Young Doctors. As script producer for the iconic TV drama Prisoner I had created a character called Marlene "Rabbit" Warren :- a good-natured, slightly dumpy girl who didn't think things through. We were having trouble casting until Genevieve turned up, with just the right mix of comedy and pathos; innocence and attitude. She was a revelation and I so enjoyed writing for her. When "Marlene" in her Mum's 60s wedding dress, married "Matt" (Peter Bensley) in the prison, Grundy's received 30,000 requests for the wedding vows. The rest is history. Next to Lizzie Birdsworth, Marlene became one of the most affectionately remembered characters of the series, and that's all due to Genevieve. There's a warmth and vulnerability in her work that makes a TV audience want to have her as a family member. She stays with you long after the show is over, largely because so many of us need that exuberance for life to remind us to smile.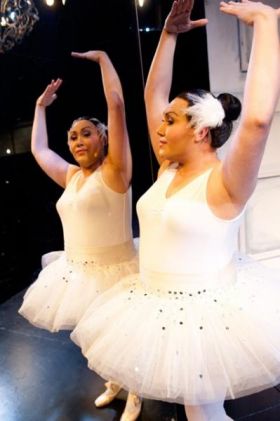 "It's the most fun I ever had at work," Gen recalls. "I'm still getting recognised for it almost 30 years later. I loved it, and I'm a bit sad that the new series (Wentworth – now in production) seems to be heavily weighted in favor of the younger actors - the old Prisoner was very middle-aged, very real women of all shapes and sizes...I really think that's why people loved it so.
I had to ask, with all the success she's had on stage and the big screen, if she would consider doing another TV series. "Oh yes, but I'd love to play someone really nasty, or at least of normal intelligence. In TV, I always tend to be cast as the dumb one, or the gossip, or whatever is needed for comic relief. I'd love to play someone quite dark. In Top Of the Lake (the new Jane Campion BBC TV series due out next year), I play someone incredibly wealthy, so that was a welcome change."
Prisoner may have provided a big break, but it was Genevieve's talent that made her unstoppable. Highlights have included the title role in Jane Campion's film Sweetie, a performance that brought her international acclaim; two more Jane Campion films (The Piano and Holy Smoke), and then Billy's Holiday and Soft Fruit. There are also all the TV roles stretching more that twenty-five years. Gen is the consummate character actress at any age.
And then there's Billy Elliott, the Musical. To follow in the Sandra Wilkinson footsteps of Julie Walters (the film) and Haydn Gwynne (the West End production) would be daunting to most people, yet Genevieve made the role uniquely her own and picked up every Australian Musical Theatre Award in the process. She also played the role in London and, if there was any "Coals to Newcastle" scepticism about importing her for the role, it was quickly dispelled on opening night. The audiences loved her, and she loved them in return.
Most people were surprised that she could sing so well. Not so those of us who saw her in the Vagina Monologues, or knew her from The Genevieve Lemon Band and the great CD Angels In The City. It's a truly wonderful voice full of warmth and emotion and Gen brings all her acting skills to interpreting lyrics. "I'm happy to say I find the voice really does improve with age. Currently I am working on two projects for next year: a Nick Enright tribute show, (ten years since his shockingly early passing on May 30 2003), and another "top-secret" project, but happily they are both very music-based." These projects are just another sign of her versatility. And versatility brings us full circle. Immediately prior to this run of Fat Swan, Gen was playing Linda Loman to Colin Friels' Willy Loman in Arthur Miller's Death of a Salesman. Friels' collapse meant a cancellation of the remainder of the season at Belvoir (Sydney) only 3 weeks ago. Friels has now recovered and straight after Fat Swan Genevieve will return to that production – from the "ridiculous" to the "sublime".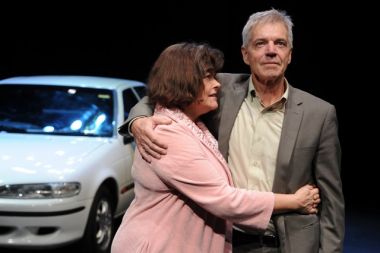 It's her ability to diversify which makes her one of our busiest actresses. "I love variety in my work, something new, different to put on the CV. Bring it on." But no matter how much she diversifies, or how much she immerses herself in a role, it's her ability to touch the audience with her warmth, to reach beyond the stage and invite us to love her, that makes her so special. "Lemon Tart" is the name of her cabaret show:- and like that dessert, you always want a second helping.
Fat Swan plays at the Fairfax Studio, Arts Centre Melbourne from September 26, 2012 for 11 performances only.
The return season of Death of a Salesman plays at Sydney's Theatre Royal from October 23, 2012.
Images: Genevieve Lemon, Trevor Ashley as Fat Swan and Genevieve Lemon and Colin Friels in Death of a Salesman. Photographer: Heidrun Lohr (Death of a Salesman image).