Geoffrey Williams talks with award-winning writer Sandra Thibodeaux about her latest work, A Smoke Social, which recently enjoyed a sell-out season in the ruins of Darwin Town Hall.
It is Thursday the 22nd of April, 1915. A small programme announces the name and purpose of a very special event – 'a Farewell Smoke Social to the Northern Territory contingent for The Front, tendered at the Town Hall Darwin'. Printed in black on fringed cream silk fabric, the programme lists the names of the enlisting men and dignitaries attending the first event of its kind. It also includes a range of toasts and responses offered to the Allied Forces on the eve of their departure, and the pianist Mr Percy Phillips and the Darwin Brass Band are to perform at the event.
Among the names listed in the programme is Samuel Henry Dick of the 25th Battalion, who had enlisted in April 1915. Samuel was killed in action in July 1918 in France. He was buried in the Crucifix Corner Cemetery, Villers-Bretonneux, France. And Private Llewellyn Selwyn Downing, also of the 25th Battalion, enlisted in April 1915. He was killed in action at Gallipoli. He is buried in Embarkation Pier Cemetery at Gallipoli. And Henry Charles Douglas of the 6th Field Co. Engineers, enlisted in August 1915. Douglas left Darwin on the SS Eastern in August 1915. He was killed in action in July 1916 in France.
As The Northern Territory Times and Gazette reported on 29 April 1915: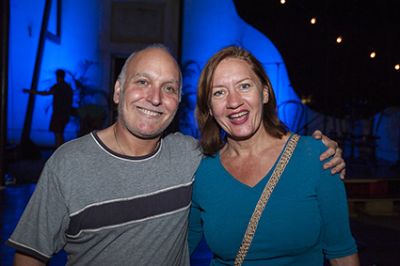 "The Town Hall was decorated for the occasion with flags of allied and neutral nations and graceful palm leaves. The Darwin Brass Band, under the leadership of Mr CM Clark, played a musical item outside the hall, afterward occupying [the stage of the hall] playing patriotic and national selections during the evening."
It is Saturday 30 June, 2018. I have flown up from Melbourne to experience the closing night of Sandra Thibodeaux's A Smoke Social, staged in the ruins of Darwin Town Hall, the very place where, on Thursday the 22nd of April, 2015, the farewell Smoke Social had been presented.
And the ghosts are aplenty.
The set within the outdoor ruins has been brilliantly designed by NIDA graduate Charles Davis, and perfectly lit by Melbourne-based lighting designer Philip Lethlean. Thibodeaux's epic poem is an engrossing evening of history, lullaby, music, vaudeville, guilt, blame, conflict and unexpected romance.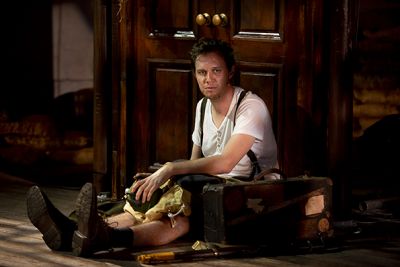 Anyone familiar with Ms Thibodeaux's work will know that she is among the most ambitious of Australian writers – whose work knows no ordinary borders or boundaries. Ms Thibodeaux, like she did with The Age of Bones (which I saw in Melbourne at La Mama's Carlton Courthouse), escorts you, heart and soul, to places where you least expect to find yourself. The facts and circumstances of her work are carefully camouflaged by masterful use of language and music, sequences of abstract absurdism, and deceptively playful politics that do not jar you with their obviousness or earnestness, but rather, the implications of which will haunt you for days afterwards. The politics are, for Ms Thibodeaux and for many in her audiences, deeply personal.
Darwin is a city of stunning contradictions. Today, the locals fight to ensure that it doesn't become the Northern Territory's version of the Sunshine Coast, while a devoted team of staff and volunteers escort visitors to the many sites around the city where, on 19 February 1942, the largest single attack ever mounted by a foreign power against Australia was wrought upon the city and as far south as Katherine, by the invading Japanese forces. It has always puzzled me that, as a child at school, I could name practically every one of King Henry VIII's ill-fated wives, but the complex history of my own country would be denied me for decades … or at least until I became a curious young school-leaving traveller.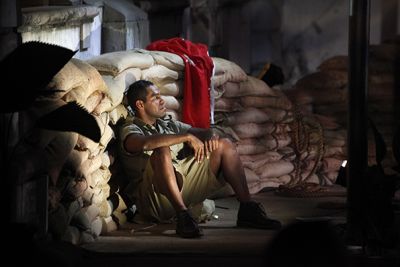 Ms Thibodeaux credits Darwin historian Mathew Stephen for the inspiration behind the context in which her play would take shape. "Mathew was having a chat with my good friend, Panos Couros. He started unravelling some fascinating tales about Darwin during WWI. One of those tales was about the 'smoke social' tradition, and I thought this would make a good starting point for a play about Darwin's involvement in WWI."
Ms Thibodeaux's research for A Smoke Social took her to Palestine, Jordan, Jerusalem and Jericho. "My plan was to follow in the footsteps of the Australian Light Horse. So, I went from Jordan across to Beersheva, up to 'Armageddon' (Megiddo, just below Nazareth), across to Jerusalem and Jericho. It was fascinating. However, I kept getting lured into the much older history – a history that features layer upon layer of conflict, right up to the current Palestine-Israel conflict that is, of course, at a critical point. What emerged was a play that is not just about WWI, but about the nature of conflict, and how it manifests within and between families and nations."
"The story of the Light Horse drew me to Palestine, and I thought there was some resonance between that place and the Northern Territory – in terms of the desert landscapes and the colonial history. While in Palestine, I learnt enough about the current Israel-Palestine conflict to become very frustrated by it and its colonial roots."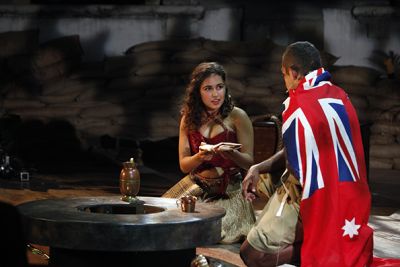 "The modern state of Israel was the brainchild of European people – an idea that started in the late 19th century. Then, we need to consider the Turkish Ottoman Empire who ruled the region for hundreds of years prior to WWI. The Arab resistance played a crucial part in ousting the Ottomans, and the British promised that these resistance forces would have independence once the war was won. That never happened, and the region was carved up between European powers. The Balfour Declaration of 1917 argued for the creation of a 'national home for the Jewish people' – that then became Israel."
"The official establishment of Israel in 1948 was followed by another form of colonialism as Israel has persistently encroached upon Palestinian land. It's now arrived at the point where, I think, Israel are hoping Palestinians will finally capitulate and become a part of Israel. What is interesting to me about this – writing a play from Darwin – is it's very similar to the last 19th century battles between First Nation and European Australians. Eventually, it comes to the point where those who have the numbers and greater military resources start advocating for assimilation, often assuming the talk of 'harmony'. And then, it's the beginning of the end – at least, on the surface of things."
Ms Thibodeaux's writing relishes its time and place (the Northern Territory), and looks north to Indonesia and the Middle East. So how does the sense of geographical enquiry and belonging shape you and your writing? "It's probably more the difficulties that come with that – as difficulties obviously carry dramatic potential. I'm interested in how people get along with each other (or don't), why and how borders change, people who transgress and disrupt borders, and the ordinary, often vulnerable, people who are impacted by dominant narratives on borders (geographical and other). Given that Darwin is right on the edge of Australia, these issues are possibly more pressing for me than for people living in southern cities. The Bombing of Darwin proved the precariousness of living at a border, as does the current US military facility that is always a disturbing fact of life in the Top End."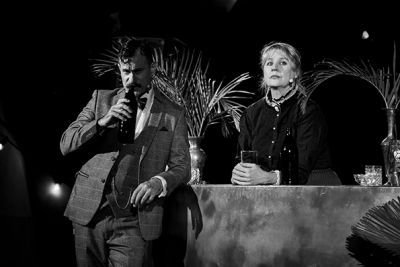 Netenala Mizrahi's score for A Smoke Social is superb. Ms Mizrahi is the principal second violinist for the Darwin Symphony Orchestra and co-founder of the Ad Hoc Ensemble. How did this perfect marriage of the spoken word and the music come about?
"Composer Netanela Mizrahi and I previously worked together on my Bombing of Darwin play, Mr Takahashi (and other falling secrets). She composed the score for that, playing it live on several instruments. It was exquisite. I particularly liked how she could work organically with the actors, with every performance being new. Similarly to Takahashi, Netanela conducted extensive historical research before composing. As luck would have it, she happens to be the 21st generation of her family born in Jerusalem, and she brought to the project a comprehensive knowledge of music from that region. She experimented with the cast and musical ensemble before and during the rehearsal process, and then finalised the score. The ensemble Netanela engaged played a range of Western and Middle Eastern instruments with impressive expertise. Additionally, most of our cast could sing exquisitely and in harmony – in fact, one of the actors is building a substantial career in contemporary music at the age of 18! Thus, we had a 'dream team' scenario. I could listen to that score a million times."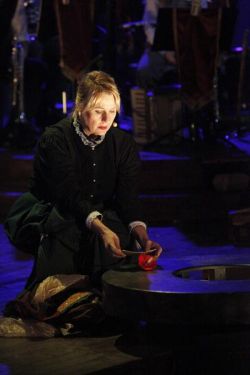 After such an extensive period of research and writing, how did you feel when you finally saw A Smoke Social come to life on stage? "It was so wonderful. Yes, part of it was seeing the pay-off from three years of work. But another part was experiencing this absolutely unique historical event – we were re-creating a 'smoke social' in the venue where these parties originally occurred. We were surrounded by their ghosts. This was a feeling that couldn't be surpassed. A sense of community was evoked. The actors (Shaka Cook, Stevie Kyriacou, Merrilee Mills, Kyle Walmsley and Yoris Wilson) were heart-breakingly amazing. Director Alex Galeazzi is, I think, an 'actors' director' who always gets not just the best, but the most nuanced performances from his cast. There were many emotional moments, and the music took us into another, psychic and spiritual space."
Images: The set designed by Charlie Davis and lit by Philip Lethlean. Director Alex Galeazzi (left) and Sandra Thibodeaux. Merrilee Mills, Shaka Cook and Stevie Kyriacou and Shaka Cook photographed by Fiona Morrison. Kyle Walmsley and Yoris Wilson and Merrilee Mills photographed by Paz Tassone.
References
Northern Territory Government, Department of Tourism and Culture. Smoke socials, meat works and rebellion: Darwin 1914 to 1919.
https://dtc.nt.gov.au/arts-and-museums/northern-territory-archives-service/stories-from-the-archives/darwin-1914-1919