Geoffrey Williams interviews the 2018 Darwin Festival's Artistic Director, Felix Preval.
I remember my first Darwin Festival as though it was yesterday. In 2017, my long-imagined winter migration north, away from marrow-chilling Melbourne winter, had become a reality. And here I was – in shorts, a short-sleeve shirt and thongs – relaxing in spectacularly illuminated parkland, sitting beneath what appeared to be a hundred paper lanterns, sipping a chilled glass of white wine with friends. In the middle of August.
The exceptional qualities of Darwin's perfect winter evenings during the Dry Season make my soul sing – and I promised myself I would do whatever it took to ensure that my migration to this marvellously welcoming, creative, historic and friendly city would become an annual event.
For Darwin Festival's Artistic Director, Felix Preval, the 'cool' of Darwin's winter nights is also a relative term. Originally from New Zealand, Felix has worked for arts festivals across Australia and New Zealand, the UK and the USA. He joined Darwin Festival after four years as Festival Producer of Melbourne Fringe Festival, and brings an abundance of knowledge from a decade of artistic practice as a director, actor and writer, and as former Creative Director of an award-winning independent New Zealand-based theatre company, Theatre Militia.
Felix joined Darwin Festival as Head of Programming in April 2016 before stepping into the role of Acting Artistic Director for the 2017 season. He was appointed Artistic Director in August 2017, and will oversee the development of the 2018–2020 Darwin Festival programs. Less than a week out from opening night, Felix shared his thoughts about the festival's unique challenges, inspirations and rewards.
Geoffrey Williams: The 2017 Darwin Festival has been reported as a record-breaking success. What were the contributing factors to the resurgence in the Festival's popularity last year?
Felix Preval: We had a really good year in 2017 and definitely brought a lot of local audiences back to the Festival, which was great. I think the program struck a chord with audiences here for a few reasons. There were some really strong local acts and a strong focus on Indigenous programming, which we know people are really looking for at Darwin Festival. We also tried to bring the fun back to the Festival. We know our audiences are coming out to feel connected and to enjoy the last of the stunning Dry Season, so giving people a reason to celebrate and a place to celebrate in is a big part of what we're trying to do. Record-breaking? Watch this space!
How do the unique qualities of the Northern Territory, Darwin and the people who live here inform your programming choices?
Darwin Festival is totally of its place – and nowhere is quite like Darwin! The thing that strikes you first is the weather. August is the tail end of the Dry Season and it's near perfection – hot days and cool nights (well, cool is a relative term, you can still wear shorts if you're visiting from Melbourne!). In response, we think a lot about programming outdoor spaces, and can take some risks that just aren't possible in other cities.
The people of Darwin have a unique character. It's a very cosmopolitan city with people from all over, but collectively Darwinians share many of the qualities that come with Frontier living – ruggedness and resilience, a cheeky irreverence that often borders on anti-authoritarianism, but also a strong sense of community and a fierce love for the Territory. We try to capture or reflect as much of that spirit as we can in our programming.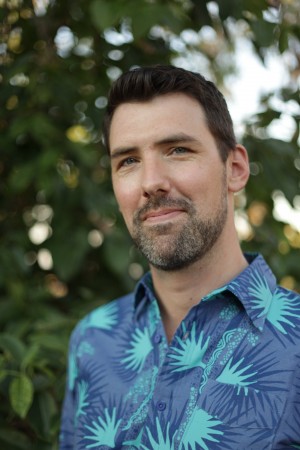 Having been a Festival Producer of Melbourne Fringe Festival, what are the major creative and programming differences between the two events?
I loved my time at Melbourne Fringe and learnt an amazing amount over the four festivals I delivered as Festival Producer. Melbourne Fringe is an open access Festival, with a curated program at its centre – but curated or not, the work made was almost entirely self-funded by artists and made at their own financial risk. It's such a pleasure to be able to actually pay artists now! Darwin Festival doesn't have a massive budget by major festival standards, but we still manage to be part of artistic commissioning locally and through the Major Festivals Initiative nationally, and we're invested in driving the development of new work from the Northern Territory in particular.
What have you learned about the creativity of Northern Territorians in the time you have been Artistic Director?
I've had some wonderful experiences in the NT that I couldn't have had anywhere else in the world – in particular the opportunity to visits some remote Aboriginal communities to meet artists and learn about the many Indigenous cultures across the north of Australia. There's such an incredible wealth of artistry and spirit here, and a lot for the rest of Australia to learn from, indeed the world!
Closer to home, I've been blown away by the creativity of Darwin. Creative sectors in the remote or regional centres are often precarious, but it also means people can make a big impact in a short space of time, and it's wonderful to see how quickly people rally around a new concept or a new artist in town, and the sense that people really want to support each other and see their peers succeed – but that success is shared, and proves each time that it's possible here too. The quality of resilience is pretty key here too, because longer term success or success on a national stage is hard won from afar.
What are the major challenges you face creating the event?
Probably the biggest logistical challenge we have is distance – we're pretty far away if you're freighting a set or a Spiegeltent from another city! We are super close to Bali though, so swings and roundabouts.
With its proximity to Asia, how do you believe the creative and cultural engagement between artists in Darwin and the NT and artists in Asia could further benefit a Festival like Darwin Festival?
Darwin Festival has a long history of presenting work from across South East Asia and East Asia – particularly Indonesia, Cambodia and China, also more recently Malaysia and Singapore. It's really important to us, as we are so close – Darwin is often referred to as the 'gateway to Asia' – but we also have really significant populations from these regions, and we want everyone in Darwin to see themselves, in some way, reflected in the Festival and know that it's also their space to enjoy. It's particularly exciting to see new comedy scenes flourishing in Malaysia, Singapore and India, and to see how keen our audiences are to engage with new talent from the region. I guess everybody loves to laugh, but it's great to have more diversity in comedy.
In challenging and uncertain times, what do you believe is the most important experiences the Darwin Festival brings to audiences and the Festival's participating artists?
I do believe it's about creating spaces for communities to come together and to celebrate together. We're really focused on presenting work by Aboriginal and Torres Strait Islander artists, and we know that audiences across our communities are looking for meeting places, particularly around culture and the arts. Many of my favourite Darwin Festival moments have been watching local Indigenous bands play, with packed audiences – black, white, everyone – dancing for joy. Music in particular has the power to open the heart, and I don't think you walk out of those experiences unmoved or unchanged, unless you have no soul! It doesn't necessarily solve anything directly, but if it makes people more empathetic, and feel more connected, then maybe it's a step further to a better Australia.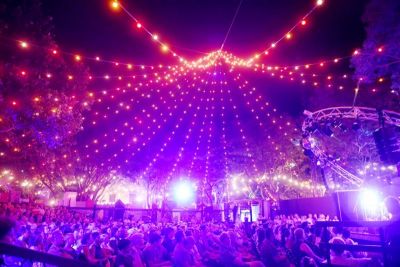 What do you find most rewarding about your role as Artistic Director?
I love my job! It's hard to say what's most rewarding about it. I work with amazing people, present amazing artists and do it all for a city I love. It's a privilege to be the Artistic Director of a Festival that makes such a big impact on a city, and a city that has such deep connections with its community and where people feel a real ownership of the Festival. People certainly feel free to tell you what they really think here! It's rewarding in different ways every day.
What achievements are you proudest of?
Stats are great – it's nice to count ticket sales and know that people are getting excited for another great Festival. But I'm really excited about some of the smaller projects, the new collaborations the Festival is helping to foster between artists and some of the longer term sector engagement work we're doing – all of which is about trying to make being an artist in the Territory more viable.
What are your hopes for this year's Festival?
That people have the GREATEST time of their lives! Seriously though, I hope that everyone who comes to the Festival leaves with a memory that they cherish – hours later, days later, and hopefully months – if not years – down the line. I have memories that stay with me from arts experiences, and they can be the little candle-flames of warmth on otherwise cold (or sweltering) days that keep you going and remind you that life is beautiful.
Images: Darwin Festival Artistic Director, Felix Preval. Courtesy Darwin Festival; Darwin Festival 2017 photographed by Elise Derwin.
Darwin Festival
Thursday 9–Sunday 26 August 2018
https://www.darwinfestival.org.au
Geoffrey Williams will be covering this year's Darwin Festival for Stage Whispers.
Geoffrey's earlier coverage of the Darwin Festival includes this feature about the history of the Darwin Festival.
https://www.darwinfestival.org.au Geoffrey Williams will be covering this year's Darwin Festival for Stage Whispers. Geoffrey's earlier coverage of the Darwin Festival includes this feature about the history of the Darwin Festival. http://www.stagewhispers.com.au/news/festival-born">http://www.stagewhispers.com.au/news/festival-born