After premiering in Sydney in 2008, then travelling to the New York Music Festival, Magnormos presents the Melbourne premiere of Australian musical The Hatpin on May 16, at Theatre Works, St Kilda.
Set in Redfern in 1892, The Hatpin is the true story of single mother Amber Murray, who in a desperate attempt to give her beloved baby a better life, finds herself embroiled in one of the most haunting and entrancing criminal trials in Australian history.
Like many young women in her situation, Amber Murray advertised her baby in a trading column of the Herald. Professional baby-minders, Charles and Agatha Makin answered the advertisement, offering to take baby Horace into their full time care for a small weekly fee. What Amber was hoping would be a short-term fix proved a long-term heartache.
The Hatpin follows Amber Murray's journey as she seeks a better life and the chance to be reunited with her child, but in tragic circumstances her yearnings were never realised. The ensuing court case of Amber Murray vs. The Makins was influential in bringing about welfare payments for single-mothers and the establishment of the 1902 Australian Child Protection Act.
First produced in Sydney in 2008 starring Caroline O'Connor, Peter Cousens and Barry Crocker, The Hatpin was subsequently performed at the New York Musical Theatre Festival later that same year.
Writer James Millar spoke to Neil Litchfield about the creative journey of the Australian musical, from Sydney to Melbourne, via New York.
NL: Can you share a little about the journey of The Hatpin, which is now a very different musical that which Sydney audiences originally saw?
JM: It's entirely different, and I also think that this performance that Magnormos is doing, in terms of style and design, is going to be entirely different again.
We never originally wrote The Hatpin to be seen or released, to be honest. Pete (composer Peter Rutherford) had a major composition assignment to do for University, and he wanted to write a dark, semi-operatic piece that allowed him to show off his art music side, and play with dark, gothic kind of classical sounds. I had researched a true story when I was at university studying writing, and wrote a major work based on it, a short story called The Hatpin. Pete said it was great because it was real, and true, or semi-true, as it has become now through the workshopping process.
It was presented for his university lecturers, and we thought, if we're getting actors together to read and sing through the show for his university assignment, why don't we invite some industry along.
The first workshop got a really great reception. Neil Gooding and Kim Hardwick took over, did the second workshop, and then it was taken on by the Seymour Centre. It all happened very fast.
After feedback following the Sydney season, we reworked the piece and it got accepted into the New York Music Theatre Festival, where we re-worked it, and afterwards re-worked it again. Then Hal Leonard picked it up, so now it exists out in the world.
NL: Tell me about the changes the show went through during that New York process.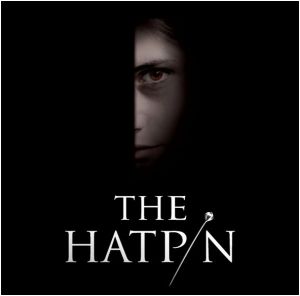 JM: There are certain things that you can only learn from writing more than one show. When I started writing my second show, and I was reading more books on the construction of a musical, I kept returning to Hatpin and going, 'That's where this main character is inactive for too long, and she sings about the same thing twice when that's unnecessary,' so I got the snippers out and talked to Pete. I said, 'How about we shift that song to there, and we turn that into half the size of itself.' We totally removed that, wrote a new song, and removed another song. I moved where the first act ended, so it was on a cliff-hanger, like a suspense drama. There were a lot of song cuts made, keeping the key melodies in, and using reprises to do the work that other unnecessary songs were doing. The largest change after New York was to adjust it so it fit the structural mold of a suspense thriller, like a Hitchcock. Having made those changes, the show now rollicks along rather than taking its time and getting maudlin. It feels much more active.
NL: What can you tell me about the Magnormos production?
JM: I'm very excited about the Magnormos production, seeing the set design, and the approach they're taking with it. It looks fantastic.
As I always intended, although the story is set in 1892, there's nothing buckets and wells historical about it, which is something I hate about musicals. It's very contemporary and twisted. The show itself is designed to be a Gothic melodrama in many ways, and what they're doing, in a very contemporary Tim Burton-esque way, is making it look that way as well, which is very pleasing to me.
In the Melbourne premiere season, Gemma-Ashley Kaplan, who played the role of Clara Makin in The Hatpin in Sydney and New York, joins the Magnormos production in the lead role of Amber Murray. Samantha Morley plays the sassy Harriet Piper whilst Philip Gould is Charles Makin and Sophie Collins plays his seemingly cheerful yet sinister wife, Agatha Makin.
The Melbourne premiere season of The Hatpinwill be directed by Shaun Kingma, with musical direction by Sophie Thomas.
Magnormos presents the Melbourne Premiere of The Hatpin at Theatre Works, St Kilda, from May 16 – 28 (previews May 13 & 14). Bookings: www.magtix.comor (03) 9534 3388.
OTHER 2011 MAGNORMOS HIGHLIGHTS:

In August, Theatre Works will host the world premiere of flowerchildren – the Mamas and Papas' story starring Matt Hetherington, Laura Fitzpatrick, Dan Humphris, and Casey Donovan as Mama Cass. flowerchildren is the exciting new musical about the turbulent private lives of The Mamas and Papas between their spectacular rise to fame in 1966 and their tragic demise only four years later, in 1970. The musical explores the distrust, dangerous passions, and unhealthy co-dependencies behind this group, who left a legacy of timeless hits such as 'Monday Monday', 'Creeque Alley', 'Words of Love', and the iconic 'California Dreamin'.
Subsequent to the extraordinary success of A Sondheim Triptych, Magnormos will pay tribute to Jerry Herman through this year's Triptych at the Melbourne Recital Centre.
OzMade Musicals, the annual celebration of Australian musical theatre showcases recent musicals as well as providing new musicals with developmental assistance in their On the Drawing Board initiative. Submissions of new Australian musicals are currently being accepted via AustralianMusicals.com for OzMade Musicals 2011.
To keep up with the latest news and reviews, like us on Facebook, or follow us on Twitter.