Coral Drouyn explores the immersive performance experience before its opening on the Gold Coast.
The wonderful thing about theatre is that it continues to re-invent itself, to explore new ways of telling stories and connecting with an audience, thousands of years after a Greek Chorus trod the amphitheatres to bring us up to speed on backstory! Hotelling is tailor-made for the Gold Coast – which is seen as either glitzy or ghastly depending on your point of view. Regardless, the Coast has developed its own identity and knows exactly what it is. 30-40 years ago, Theatre Restaurants were all the go, and the audience had a different expectation. You had a meal, watched a show while you continued to drink and, almost inevitably, found yourself, dragged into audience participation which good-naturedly made you look like an idiot. You told yourself that you were an integral part of the show, rather than the butt of the joke. It was (mostly) good fun, and required very little commitment from the audience.
We live in a more sophisticated world now and audience participation has evolved for the better to become immersive performance, providing a fluidity that means you will never see the exact same show twice, because, rather than the audience being an objective observer, it becomes subjectively included in the performance.
Hotelling starts with the premise that we (the audience) are invited to the 118th birthday party of filthy rich international businessman Richard Hightower, in the penthouse apartment on the 64th floor of the fabulously decadent Peppers Soul in Surfers Paradise. Only 22 guests are invited so it's safe to assume that we (the audience) are either friends or family of Hightower's – though there's no chance for us to explore that before the experience. We eat fabulous food from Peppers hatted restaurant, Seaduction, and drink fine wines and become part of Hightower's inner circle for 2 hours of entertainment, which will be subtly changed by our reaction to it.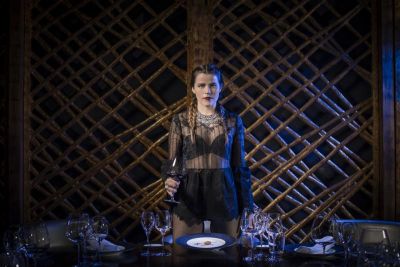 The show is the brainchild of Bleached Arts creators Louise Bezzina and David Pledger and grew out of their collaboration on Bleach* Festival, the Gold Coast's largest arts festival that (as their mission statement tells us) celebrates the coastal lifestyle and culture, connecting art with community across the City with sophisticated, contemporary, innovative artistic programming. Through Bleach* Festival and all its programs and projects, Bleached Arts Ltd aims to deliver incredible arts and cultural experiences that challenge expectations, change perceptions and provide a unique and authentic sense of place, inspiring both locals and visitors alike. It's a sign that the Coast is growing up, that it's not just about schoolies week; and that audiences have a right to expect to be challenged and connected to the whole idea of Festival art. Bleach* isn't looking to compete with the Arts Festivals in our capital cities, but rather to create something new and special that grows out of all the Coast is.
Louise has assembled a great cast for the inner circle of Hightower's world. As the Birthday Boy himself, Todd MacDonald brings a wealth of experience (along with his natural charm) from his years of film and television performances (yes, you have indeed seen him on Neighbours and Blue Heelers), plus onstage triumphs with QTC both as an actor and with his directing. More recently he has gained kudos as the Artistic Director and CEO of La Boite, Brisbane's famed indie theatre. He heads a cast of multifaceted performers. This kind of theatre requires all the necessary disciplines of acting along with strong improve skills and the ability to adapt quickly to any situation. Luckily, there is a sensational pool of talent in Queensland which rarely gets tapped by the Southern States.
Put on your best threads (it's a swanky party after all) and head to Peppers Soul. It's pricey ($150 a head) but remember that includes your food and wine, a mind-boggling setting and a chance to truly immerse yourself in the theatrical experience. Louise and David hope the experience will work on many levels of connection, but one thing they promise above all others…it will be entertaining; theatre as you've never experienced it before. I'll be there on Thursday, and I'll be bringing my jewels out of the safe to impress dear Richard on his birthday.
Hotelling runs from 1st-5th November, 2017.
Two shows nightly
At Peppers Soul
Gold Coast.
Image: Stephanie Pickett. Photographer: Claudio Kirac.