Latest: Aaron Sorkin has withdrawn from Houdini due to film and TV committments.
Hugh Jackman has signed up to play Harry Houdini on Broadway in a new musical about the famed illusionist.
"In many ways I've been preparing for this role my whole life," said the Aussie superstar fresh from smashing box office records with his one man solo show on Broadway.
The musical, written by West Wing creator Aaron Sorkin, will open in New York in 2013 or 2014.
The original composer on the project was Danny Elfman, who has a background in film.
In 2010 Elfman was reported to have said, "I've written music on and off for two years already. It's such a different process [from my film scoring work]. For me, it's taking forever. But other people say, 'Oh, no, you've only been on that a couple of years, that's nothing!'"
Now Elfman has disappeared from the project and in his place comes Stephen Schwartz.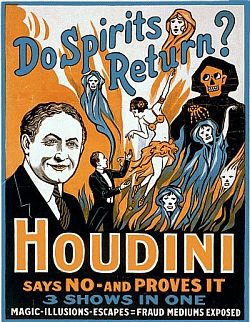 The legendary composer, of Wicked, Pippin and Godspell fame, will compose the music and lyrics for a show described as a contemporary look at the magician's life and death.
"I have been deeply fascinated by the life of Houdini since I was young," said Jackman, who previously played an illusionist in 2006 film The Prestige.
"I am thrilled to be collaborating with this collection of artists who are all at the top of their game."
Sorkin said the musical "tells the story of an epic battle that took place between the world's greatest illusionist and a trio of women, known as 'Spiritualists'".
The screenwriter and playwright won an Academy Award last year for The Social Network, about the origins of Facebook.
Jackman's most recent solo show on Broadway grossed more than $14.6m during its 10-week run.
Photo: Joan Marcus
Other Houdini reading