The National Theatre's stunning Tony and Oliver Award winning production of The Curious Incident of the Dog in the Night-Time is touring Australia. David Spicer spoke to 30-year-old Joshua Jenkins, the actor who plays Christopher Boone - a 15 year old mathematical genius whose special needs do not get in the way of his determination to crack a murder mystery.
What is so special about this story?
It is about universal themes we can all relate to - it is about family, it is about love, it is about loss, it is about coming of age. It is quite difficult not to see a bit of yourself in Christopher or the people that surround him and how we in society view people that are different. I think for that reason alone the book (by Mark Haddon) was so important for so many people.
What do you see of yourself in Christopher?
His passion for maths and science and how he uses that to centre and calm himself. My passion is theatre, literature and music. I almost need those passions in the same way that Christopher does. We all channel our frustrations and disappointments, and joyous occasions, through the things that we love. I have been a 15-year-old. I know how difficult a time that is. You are trying to find your place. You are no longer a boy, not quite a man and the difficulties that brings.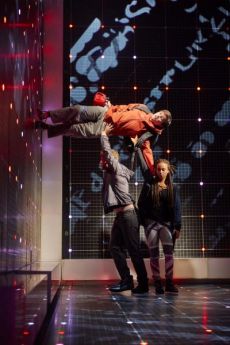 While you have been performing or preparing for the role have you met anyone like Christopher?
I went to a lot of schools to meet people on the autistic spectrum, their teachers and parents, who told me their stories. That was invaluable. In the rehearsal room I tried to let that go and stay close to the script and the novel. However, I draw on it without even realising.
Since the play has been up and running, almost on a nightly basis I have met people who are perhaps on the autistic spectrum or have learning difficulties. They absolutely love the book and show. The other night in Singapore we had a post-show discussion. One guy put his hand up and said, 'I haven't got a question I just want to say thank you so much. I see so much of myself in Christopher Boone and that character and story has helped me realise some of the things I've been through in my life.'
We as a company feel a sense of responsibility that goes beyond the play and means so much to so many people.
Christopher Boone's perspective on the world is eloquently developed in the book because he is the narrator. How powerful is that?
It is a bit like The Catcher in the Rye, where you really feel like you enter the character's mind and you see the world through the character's eyes. In the book he can use words and be very descriptive and tell you how he is feeling and thinking. Dramatically that is less interesting in theatre. So we go down the route of using projections and lighting and movement to enter Christopher's brain. I think the audience goes on that journey with him. It is an immersive experience where the audience feel part of his mind. That is the brilliance of the set designers and lighting; you, the audience, enter his brain and experience what he feels first hand.
Often you hear people say I loved the novel but the movie or play was not quite as good. Do you think this is a case where the theatre matches the novel?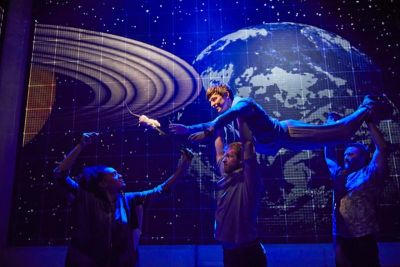 Absolutely. It is different in many ways to the novel, but at the same time it has somehow managed to keep its core values and in many ways stayed true to it. It is an incredibly theatrical spectacle, as well as being a basic beautiful story in the book. It is about simple story telling and it is done so eloquently that I think it is very difficult for a reader to not fall in love with it.
In the last scene where your character displays some of his mathematical genius, was that quite a sophisticated acting job, given you are not really a mathematician?
Yes, that was a far stretch of my abilities. One of the things most actors are quite good at is learning lines. Dialogue is straightforward. I can make sense of the scene's beginning, middle and end and I can learn it quite quickly. But the mathematical formulae did not make sense to me, so it was almost impossible.
It took me two months to learn the appendix at the end of the show. It was a nightmare. Even stuff like trying to learn prime numbers took me forever. The director had to explain to me what Pythagoras Theorem was. That took ages.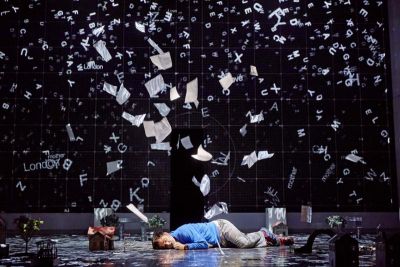 The set is quite extraordinary. How exciting is it to be inside a wizard-like set that transforms into a train station?
The set is wonderful, as it is designed to replicate Christopher's mind. It is all done on the grid system. Christopher's feelings are being projected with lights and images.
Also Christopher can draw from anything on the set. He opens doors and grabs what he wants for the next scene. There is one scene where he is drawing a crime scene with a piece of chalk, where he is trying to figure out who the prime suspects will be. As the character draws it, at the same time it is projected on the back wall.
As the set enters the character's mind it makes my job so much easier. If you are feeling stressed and anxious the set is projecting that, if you are calm and tranquil the set is doing the same thing. It is cheating a little bit, but really helps the actor. It is a set unlike any I have ever experienced before. This production has the production values of a big West End musical but is something you rarely see in a straight play. It is a unique experience. For me it's a gift.
Read more about this play in our Sound, Light and Staging supplement on Page…
The Curious Case of the Dog in the Night-Time
Concert Hall, QPAC, Brisbane
June 12 - 24
Canberra Theatre
June 27 – July 1
Roslyn Packer Theatre, Sydney
July 4 – 28
Adelaide Entertainment Centre Theatre
July 31 – August 4
Perth His Majesty's Theatre
August 8-20
Bookings: curiousincident.com.au