The first ever professional production of Paris – written and composed by Jon English and David Mackay - will be staged in concert form at the Melbourne Recital Hall from July 13 to 15. The much-loved work is being edited by the late rock musician's son Jonathan English, who is "channelling" his father's original vision. David Spicer – the agent for the musical - has the inside story.
Jon English became captivated by stories of Homer's Iliad when as a child his father read the stories to him at bed time. The Trojan Horse, the Achilles heel and the lovers Helen of Troy and Paris were the figures which fired his imagination.
Decades later Jon did the same to his own son Jonathan whilst he was recording the lavish concept album for the musical Paris, based on The Iliad, during the 1980's.
"Paris is as old as me," said Jonathan (picture below with his father). "Dad was making this giant rock opera with David Mackay downstairs and upstairs he was telling me the stories."
When the incredibly expensive album came out, the younger English was "baffled" that the London Symphony Orchestra (used on the album) made songs such as "Hell or High Water" sound so different to the little piano ballad he knew.
Jonathan remembers the excitement at his home at the time that there were real hopes of a national tour of Paris.
"There was lot of interest from different parties in staging Paris initially, but it all went cold very fast. It was pretty devastating for Dad at the time," he said. "It was a real tragedy. Dad was championing that it was going to be an all Australian production."
More than a decade passed before the amateur rights were released (through my agency) and so began an odyssey of re-writes, as the musical was staged 25 times in five different countries.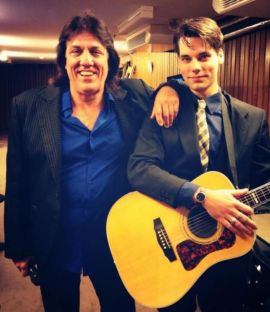 In 2008, a local director Stuart Smith and I produced a season of Paris on the NSW Central Coast – with Jon English playing the role of Menelaus (Helen's husband- pictured below). A company in Austria did an extact replica of our production.
"Dad was thrilled with the amateur productions, seeing what people power could do with it. All these passionate people turning up in their droves."
However, when the singer/composer/actor died last year some of the television networks replayed interviews with him, when he revealed that his one major artistic regret was that Paris had not been staged on a grander scale.
Is that about to change? From July 13 until 15, the newly formed Music Theatre Melbourne will stage a concert adaptation of Paris at the Melbourne Recital Hall. Producer Mark Featherby has pulled together an extraordinary cast including Ben Mingay as Achilles, Tim Freedman as Agamemnon and John Waters as Ulysses.
"Dad would be pretty stoked at the cast. He and John Waters were show brothers across four decades. John was Agamemnon on album, but is now playing Ulysses."
As well as a hot cast, the production team engaged Jonathan to help edit the script.
"I don't think I am doing any re-writing," but instead he said he's using existing material and tapping into "Dad's consciousness."
What does that mean? Is he holding a séance? Does the ghost of Jon English return to whisper into his son's ear? Well kind of.
"I worked with Dad as a teenager for a long time. We never listened to music after driving back from a concert. We loved talking about history and trivia and we talked a lot about Paris. I already have lots of scenarios mapped out from our conversations, which have given me a lot of material to draw from."
It is also handy to have his Dad's laptop and digital audio demo tapes that were all the rage back in the 1980's when the album was being mapped out.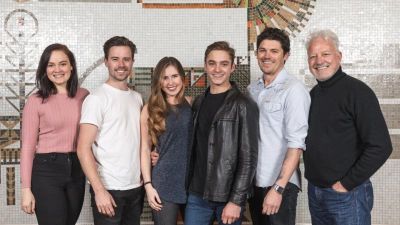 The director of the production Neil Gooding says it is "disarming" how talking to Jonathan is like talking to his father.
"Jonathan knows every thought process and every bit of music. He is very intelligent and very flexible about finding solutions."
Gooding, a producer/writer and currently the chair of the Hayes Theatre, also has a childhood connection to the musical. As a teenager he played the concept album so many times that one of the songs warped.
Jonathan admits that ill health, disappointments and allowing too many cooks to spoil the broth led to the musical being a little 'muddled' in recent times.
So how is Paris being fixed? Well let's explain a little bit of The Illiad and recent portrayals of it.
If you watched the movie Troy, starring Brad Pitt, you will understand the story from the perspective of Achilles, who is commonly the central character.
Achilles was of course the Greek hero who leads the battle against the Trojans, but had that vulnerable heel. Paris, second in line to the throne, ultimately slays Achilles with an arrow to his heel.
In the movie Troy, Paris is portrayed as a very insipid character. He is extremely indulgent and careless in plunging his nation into war by stealing Helen (of Troy) the wife of his enemy.
The vision of Jon English and David Mackay was to focus the musical on the love story of Paris and Helen. Their best songs, such as when Helen discovers Paris washed up on the beach, are stunning.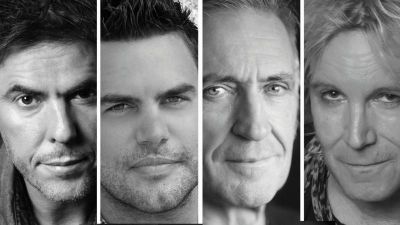 In the first act of the musical Paris leaves Troy for Greece on a message of peace but ends up stealing his enemy's wife, then escaping back to Greece. It has a cracking pace.
Jonathan believes the problem with the musical was that in the second act events Paris was no longer the central character.
"I had this discussion with Dad ten years ago. It is not that I don't feel sorry for Paris at the end. He's just a passenger, there is nothing left for him to do.
"A way for a modern audience to approach a musical that has the lead character's name in the title is that we have to follow his thought process.
"Dad and David Mackay had Paris as a young cocky bloke with nothing to lose. A young kid doing stupid things. He went from being kind of a cute buffoon, then a romantic lead and back to being a buffoon."
In this new adaptation Paris grows in stature. In the first act Paris is the headstrong youth who falls for the trap, set by the Gods, of stealing the most beautiful woman in the world. Now in the second act his character develops and he tries to remedy the situation.
"There are now a few extra beats to his motivation. He accepts adult responsibility to become a leader of Troy."
Paris starts listening to his sister Cassandra, who has been predicting doom from the start. In previous versions Paris did nothing to stop the Trojans from wheeling the big horse they found on the battlefield into their fort. In the new edition he shows a bit more wisdom.
If there is any last-minute tweaking needed Jonathan will be nearby.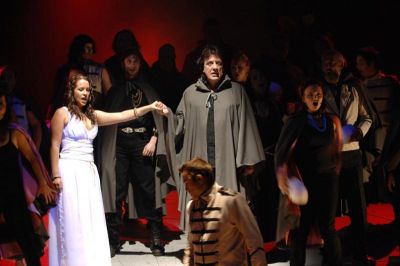 The music director Isaac Hayward, who is re-interpreting the orchestration, has engaged him to play in the band. A skilled guitarist, like his father, he knows the music by heart. But Jonathan is going to have to learn new features in the orchestration.
"Isaac has got me doing all these new crafty things."
In the Melbourne Recital Hall, with 40 voices in the cast, it should sound extraordinary.
Jonathan said it will be nice to put the script down and pick up the guitar.
"People get Paris fever and start to obsess over it. They suddenly get these opinions about how to improve it, like an avalanche."
Maybe the fever might finally be broken.
Paris is on stage between the 13th and 15th of July, 2017.
http://www.melbournerecital.com.au/events/2017/paris-a-rock-odyssey/