Michael Cassel is a rising star in Australian show business. You won't ever see him on stage, but behind the scenes he has become one of Australia's major producers of musical theatre – a job he set his sights on as a child. David Spicer reports.
When Michael Cassel was 12 years of age a production of Jesus Christ Superstar lit a fire in his belly. So excited was he, that he wrote to the producer Harry M Miller with a proposition.
"Dear Harry, will you give me a job?" Harry wrote back and said, "Dear Michael, I suggest you go to High School first. But keep in touch."
We meet in his Sydney office, previously a storeroom behind the stage door of Sydney's Lyric Theatre, which has been transformed into a trendily decked out office.
An assistant hands me an immaculate glossy striped tea cup for a cuppa. Michael's motto is attention to detail. His team of 18 is working in an artfully decked out open plan room on their productions of Kinky Boots, Beautiful and an Asian tour of The Lion King, with other shows in the pipeline.
At the age of 36 Michael Cassel has already had more than twenty years' experience as a producer.
"When I was in Year 9 I started out doing some amateur theatre with the Roo Theatre in Kiama (on the NSW South Coast). I began on stage but quickly realised I had no talent, so, as a pianist, I became their musical director for a few of their youth productions."
At 14 he was already getting itchy feet and wanted to produce on his own. He hatched a plan to stage a massive Carols by Candlelight production. Within twelve months he had an orchestra of 40 lined up, stars of the TV series Neighbours and Radio DJ Alan Jones as the MC, for an outdoor production. 4000 people turned up!
The success of this event gave him an open door to do regular work experience with Harry M Miller, and Ric Birch, who was organising the year 2000 Olympics.
"To think I could make a career out of it was amazing. Every school holidays I used to go to Harry's office and answer the phones. I'd sit there and watch while he was doing deals."
During Year 12 studies he noticed that Tourism Wollongong was looking for an outdoor event manager. At the age of 17 he applied for the job, but through a company he set up – the Michael Cassel Group - to make him sound bigger.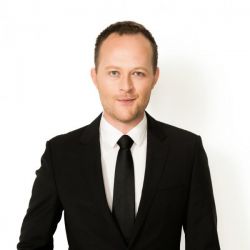 "I made sure the job interviews were after school. I quickly changed out of my school uniform to get Mum and Dad to drive me into town."
He got the job and the Michael Cassel Group is still in business.
"By April of my HSC year, I ended up with an office in Wollongong and my first employee."
Soon after he left Wollongong for the big smoke. By 21 he was helping set up Disney Theatrical's new Sydney office and a few years later was Disney's Director of International business, overseeing productions in South America, South Africa and South Korea. All appropriate locations for a lad from the South Coast.
"When I finished working for Disney in New York my wife and I had a baby, so we came back to Australia. I started working for Global Creatures on international deals, when Cameron Mackintosh called me and said, 'I want you to produce Les Misérables in Australia.' I thought down the track I would become an independent producer. The call from Cameron brought that sooner than expected (at the age of 33).
"It has been a roller coaster ride, setting up Les Misérables and putting this team together."
Since then has had what he describes as a commercial success with Kinky Boots, and a commercial disappointment with Singin in the Rain (which he was a co-producer on), while coming up are Beautiful - The Carole King Musical, a Southeast Asian tour of The Lion King and in 2018 Priscilla Queen of the Desert.
"The hardest thing I have learnt is the attention to detail and quality. You can't compromise on the artistic quality on stage. If you get that right you are giving the audience a great experience. People will want to buy tickets."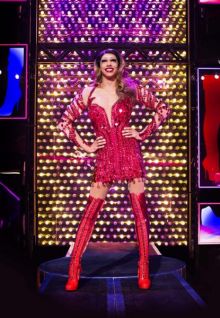 Michael Cassel said making Kinky Boots a success was not straight forward because the show was unknown in Australia.
"The biggest driver for us was reinforcing the great score by Cindy Lauper, the great pedigree of the creative team and the great story, which has a huge heart.
"It still takes a lot of convincing to get people to pay $100 plus for a ticket.
"The best way of promoting a show is having people see it on stage and telling their friends they had a great experience."
Michael Cassel said another challenge in Australia can be casting, which has been the subject of recent negotiation with the Media Entertainment and Arts Alliance.
In Kinky Boots British performer Callum Francis is playing Lola to widespread critical acclaim.
"We searched for six months for somebody with that level of talent. Kinky Boots demanded something extra, and, combined with the ethnicity (needed for the role), proved to be a great challenge.
"In the case of Kinky Boots and other shows it is perfectly justified to cast a certain calibre of performer and ethnicity (from overseas)."
He said Australia doesn't always have the level of depth of New York or London.
"There are not five people in line to play a role. Usually it is one or two deep."
Casting Beautiful – The Carole King Story, which opens in Sydney on September 23, has also proved a challenge due to the number of Afro American roles. Michael is pleased to reveal that he managed to cast the entire show from local talent, after some hard work to coax unique individuals onto his stage.
"I think Beautiful will excite Australian audiences. I went into the theatre (in New York) thinking, 'I know Carole King, Mum and Dad played her album every Saturday night.' I knew all the songs from Tapestry. But I thought, how is this going to sustain a two hour show? I took my seat and was blown away. It charts her story from a 16-year-old school girl; her first number 1 song at 17; her relationship breakdowns; to finding her own voice.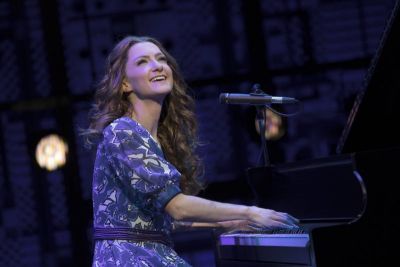 "To me the revelation that she wrote all of these songs for all these major artists, combined with an emotional feel-good musical with big production values, and the incredible casting of Esther Hannford, will knock people's socks off."
'Goodness, doesn't he sound like a producer?' I thought. Maybe Michael Cassel has been practising this routine since he was a teenager.
Beautiful – The Carole King Story opens on September 23, 2017 at Sydney's Lyric Theatre.
Kinky Boots runs in Brisbane until October 22.
Images (from top): Jerry Mitchell, Cyndi Lauper and Michael Cassel on the Red Carpet for Kinky Boots in Sydney; Michael Cassel; Callum Francis as Lola in Kinky Boots - photographer: Darren Bell; Esther Hannaford (as Carole King) in Beautiful - The Carole King Musical. Photographer: Joan Marcus.