Fresh from three years running the Adelaide Cabaret Festival, David Campbell is now on tour singing classic hits from the 1980's. He's also co-hosting Channel Nine's Morning Show and producing other cabaret artists across the country.
On the eve of his current tour, inspired by his new 80s album Let's Go, he caught up with Neil Litchfield.
To what extent are your album choices driven by the fact that it's also going to be a live performance?
"Working on the Adelaide Cabaret Festival, I thought I really need to get a Broadway album out of my system, so I did that.
"After doing the Broadway tour, I thought, 'I just want to go out there and have fun.' I needed to put on a fun, really high-energy show again.
"It was about what would be a great show for that, and what haven't I covered? It occurred to me recently that each album I've done is reflective of a singing style that's influenced me."
"This time it was, 'I've got one more thing to do emotionally if I've got the opportunity, about what influences me as an artist.' A lot of people have been saying to me for years, do an 80s album – you're always making 80s references, you're an 80s kid, why don't you just get it out of the way and do it?"
How different is performing these songs on stage to recording them?
"This was a big album for us to do. The 80s is really the last great era of popular songwriting before computers started writing songs for you. Bands like Spandau Ballet, and George Michael and Wham still used to go out there and tour, and they wrote songs. And they would sing really well – there was no auto-tune, so they would sing the way they sang live.
"It is actually a very challenging sing. It's probably about as challenging as the Broadway stuff was, just using a different side of my muscles. It's the same sort of challenge – it's really physical, and I'm very aware of keeping my voice in good nick for this. You do for most tours, but for Swing you can afford a bit of crack and bobble here and there. For this stuff you have to be really quite pure.
"About two weeks into making the record, the band and I looked at each other and said, 'Oh yeah, we're making a pop album here.' That's what the sound is. So for the tour it was about finding songs that didn't make the album, which are similar to what we've got."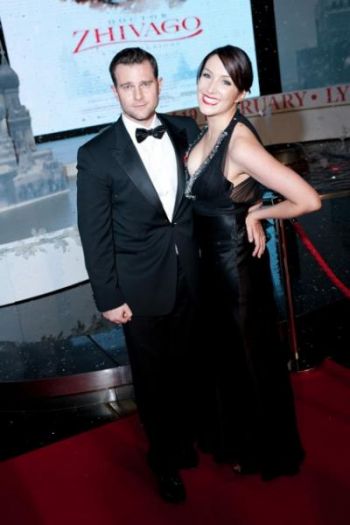 Do you have a favourite song in the show and on the album?
"I really like I'm Your Man at the moment. It was such an epic. I'm a big George Michael fan, I was a huge Wham fan, and 'Faith' is one of my favourite albums of all time. To actually tackle one of George Michael's songs was quite daunting, but I've had this idea for about three years now of doing I'm Your Man like it's a big Gospel pop track, almost Blues Brothers-esque in its influence. There's 80 vocal tracks on that; it's like Frankenstein's monster. How we're going to perform it live I have no idea, but we'll get there."
You mentioned choosing from the songs that didn't make the album for the concerts.
"It's a fairly up-tempo album. I deliberately set limits for it. Like an 80s album, it was going to have about 12 songs. I wanted it to be different from the Broadway album in that it had more up-tempo numbers than ballads.
"We cut a lot of the songs live in the studio, with the rhythm, then added the brass, so it already feels like a live album to me. It was about what are we going to add live on the tour that's not going to sound like we're just doing, 'Oh here's a couple of other 80s songs as well, that we like.' It's like what reason do we do this song for. Even though it's a tour, I do hark back on my theatre and cabaret days; why am I singing this song, what's the reason for having it in there. It may sound good, but so what. I'm challenging myself with that all the time.
"That's how we structure the show – it's not just hey, throw some more songs in so we can go on tour. Joe Accaria, my musical director, and I have spent two months together now culling even more songs than we had for the album to get the show right. It's a long process. We really try to get our shows right. Even though it's a concert experience, we try to put on a theatrical concert experience, so that people can see a through line, and there's highs and lows. I've learnt a lot from directors lashing me in the theatre over the years."
What else can you tell me about the show?
"This is my biggest production yet. We've got an amazing tiered set, which is like a futuristic Countdown thing with LEDs on it. We've got lighting effects and costume changes. My boys who tour with me regularly don't know what's hit them – they're getting costume fittings, they're getting measured, and shoes. They think they're in seventh heaven, while I'm thinking, we're putting on a mini theatre tour, how are we going to do this?
"For people who've seen my shows before, they've not seen anything like this. This is a completely new ball game, but hopefully a fun night in the theatre."
After three years as Artistic Director of the Adelaide Cabaret Festival, how do you plan to use the time that's been freed up?
"It hasn't exactly freed us up too much. (My wife) Lisa is still producing shows here and there. Our company is producing Britney Spears: The Cabaret with Christie Whelan, When I Fall in Love, the Nat King Cole show, and she's also producing Trevor Ashley's show for the Mardi Gras, Diamonds are for Trevor. We've started up a label and are producing for Gillian Cosgriff, and we're going to tour her extensively here, and hopefully internationally, at comedy festivals this year. On top of that, I'm also starting Mornings with Sonia Kruger on Channel 9, so while we say, Yeah, we've got more time because we're not doing the festival this year, we've really just filled that up."
So while you're continuing a heavy schedule as a performer, you've become an entrepreneur for other performers?
"One thing we learned with the cabaret festival was that the big acts like Bernadette Peters and Olivia Newton John pay for the younger acts that people don't know. So we would go to Christie Whelan or Bert LaBonte and say create a show, you are very talented, and people know you in the theatre world, but you can do something really interesting or commercial. That's as well as going for the established artists like Paul Capsis or Meow Meow. We really believe in that, and it's an ethos that we've tried to transfer into Luckiest Productions outside of that.
"We've set up a label, not for me, but for Gillian Cosgriff, and done her first CD. That feels like what we should be doing, whether it's mentoring Toby Francis, or Lisa working very closely with Christie Whelan. We really believe in giving that to artists, because at the end of the day people did that for me and Lisa as well. We feel what this industry needs is people supporting and mentoring each other."
Will we see David Campbell back on stage in a musical soon?
"I'd love to. It almost happened last year; the stars almost aligned but it didn't quite come off for multiple reasons. It's difficult knowing which show is going to become available. I've been lucky enough to be a part of a lot of quality shows, so I don't want to jump into a theatre role for the sake of doing it. Part of that was also because the last show I did was Company, for Kookaburra, so there's a bit of hesitation there. I really would love to get back and do something, it's just about the right piece – a few things have been coming up that would be interesting, but gee they're a long way off.
"I thought the Broadway disc was the biggest hint / audition I could give to a lot of casting people, but nobody took me up on it."
Are there roles you'd love to play?
"I've always liked to play roles like Billy Bigelow, or maybe go back to Les Miz when I get older, but for now, it would be great to create something again, like I did with Shout! It would be great to work from the ground up again.
Middle mage - David and Lisa Campbell. Photographer: Kurt Sneddon. Lower Image - Photographer: John Tsiavis.
Originally published in the March / April 2012 edition of Stage Whispers.