Just a few weeks away from premiering her new show – Jan van de Stool in Parting the Red Curtains, at the Brisbane Comedy Festival in March 2019, Queenie van de Zandt spoke to Beth Keehn.
Since Queenie's alter-ego Jan was unleashed more than a decade ago, the Dutch-born 'musical therapist' has become an Australian cult comedy classic – she even reached the semi-finals of Australia's Got Talent, keeping judges on their toes with quick quips and spectacular vocal vaulting.
Queenie is a leading lady herself – award-winning star of screen, musical theatre and cabaret, and Australia's top teacher of audition technique for musical performance. She has also worked in recording, comedy and as a writer – including for Jan's shows.
I asked Queenie if she could pick out one experience as the highlight of her career so far…
"If it was a role, it would be playing the Witch in Into the Woods for the Victorian Opera – it was just the most extraordinary role to play. And, to date, my most fabulous theatrical experience ever has been touring around the world in my 20s in the ensemble for the international production of Les Misérables. We had around 120 people and toured for 10 months – it was just an amazing experience – some of my best friends to this day are people from that show. We're like family."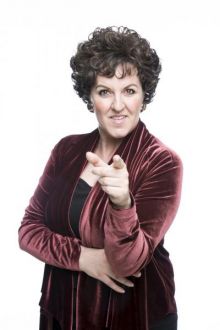 How do you juggle the singing, workshops, writing, and comedy?
"I wish I could be really organised and schedule time for everything. But it does feel like I'm spinning the plates. We are still putting on the final touches for Jan's show at the Brisbane Comedy Festival – and rehearsing. And the workshops have just started so it's a bit crazy, busy at the moment. But hopefully once these first few months have passed, it should become easier. I've made a few changes to streamline things in 2019 – I'm running weekly courses. And I'm concentrating on Jan's show and my touring show Blue: the Songs of Joni Mitchell."
"At the end of last year I created another show for the Darlinghurst Theatre – working title Choose your own Adventure with Queenie van de Zandt–andI'd love to tour that in 2020. So I've got these three shows now – that's enough product-making for a while – it can be such a long process. And I'm still focusing on Jan's show."
Readers will remember that Queenie's alter-ego, Jan van de Stool, the International Musical Therapist became a national cult classic, when she appeared on Australia's Got Talent in 2016. Queenie co-wrote Jan's one-woman show, I Get the Music in You with Tony Taylor. The show has performed to packed houses in Melbourne, Canberra, Brisbane and Adelaide and was nominated for the Green Room Awards and Sydney Theatre Awards. Now Jan van de Stool is regularly asked to host high-profile charity concerts and award shows, such as the 2016 and 2017 Helpmann Awards.
Do you think audiences know you best as Queenie or Jan?
"I'm not sure – I think it depends on the city! In Melbourne, I think they know me more as Queenie because of my musical theatre work. But because we premiered Jan van de Stool at the Brisbane Cabaret Festival in 2004, Brisbane audiences might know me better as Jan!"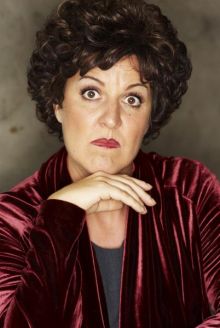 Speaking of Jan, did Queenie have any gossip to tell Stage Whispers readers about her famous former singing teacher?
"Well, it's quite sad – and possibly the price of fame– that Jan works with bigger celebrities than me these days. Since she's been on all the celebrity TV shows and became a household name on Australia's Got Talent, she's become so famous that it is very hard for me to get in to see her. But I'm looking forward to reconnecting at the Brisbane Comedy Festival in March!"
Might we look forward to seeing Queenie and Jan on the same stage together one day?
"Well we know there is a little bit of Queenie in Jan. I'd like to see them both at the same time on the same stage – and, as we know, in the theatre – anything's possible!"
Catch Jan van de Stool at the Brisbane Comedy Festival:
Parting the Red Curtains – Jan van de Stool (Friday to Sunday 22-24 March)
Frocking Hilarious (Friday 15 March)
For more on the Brisbane Comedy Festival, visit: https://brisbanepowerhouse.org/festivals/brisbane-comedy-festival-2019/