The stage musical version of Disney's The Lion King will return to Sydney's Capitol Theatre, opening on December 12, 2013.
Latest News - Casting announced - Click here.
Based on the 1994 animated movie of the same name, the Broadway score of The Lion King features Elton John and Tim Rice's music from the animated film along with three new songs by John and Rice; additional musical material by South African Lebo M, Mark Mancina, Jay Rifkin, Julie Taymor and Hans Zimmer; and music from "Rhythm of the Pride Lands," an album inspired by the original music in the film, written by Lebo M, Mark Mancina and Hans Zimmer. The resulting sound of The Lion King is a fusion of Western popular music and the distinctive sounds and rhythms of Africa, ranging from the Academy Award®-winning song "Can You Feel the Love Tonight" to the haunting ballad "Shadowland."
Julie Taymor's stunning original production features unprecedented use of large puppets on the musical theatre stage.
Now Broadway's seventh longest running musical, The Lion King opened at Broadway's New Amsterdam Theatre on November 13, 1997, moving to the Minskoff Theatre in 2006. The West End production opened in 1999 at London's Lyceum Theatre, where it continues to play.
Since its Broadway premiere, 21 global productions of The Lion King have been seen by more than 68 million people across the globe, grossing more than $4.7 billion, and, cumulatively, running 96 years.
The award-winning musical will celebrate a new milestone in December 2013 when it returns to Sydney, making it the tenth worldwide production of The Lion King, the highest number of concurrently running productions in the show's history.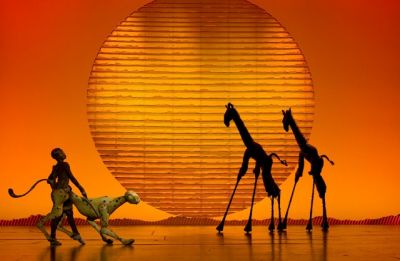 The Lion King won six Tony Awards including Best Musical, with Julie Taymor taking out the award for Best Direction of a Musical, and sharing the Tony for Best Costume Design.
On stage, Taymor's creative vision blends elements of African art and Broadway artisanship to depict anthropomorphic animal characters. Taymor, along with designer Michael Curry, has created hundreds of masks and puppets for The Lion King.
The original Australian production of The Lion King played at the Capitol from October 16, 2003 until June 26, 2005, playing to 1.35 million people. During that original 21-month Sydney season, the show played to about 90% capacity, to an audience of about 1.5 million people, and winning four Helpmann Awards including Best Musical. A Melbourne season at the Regent Theatre followed from July 18, 2005 until June 4, 2006.
Casting is well under way for this all new Australian production and rehearsals begin in October.
Tickets for The Lion King are on sale from 9am, Thursday May 9 through Ticketmaster and travel packages through Wotif.com.
CALL Ticketmaster 1300 558 878
VISIT www.lionking.com.au
HOTEL & FLIGHT PACKAGES wotif.com/lionking
Our earlier coverage.
NSW Minister for Tourism, Major Events and the Arts George Souris, and Thomas Schumacher, the President of Disney Theatrical (via live satellite link from Times Square, New York), announced the revival on February 7, 2012.
Minister Souris predicted that the 2013 / 14 production will run for approximately eight months in Sydney, to an audience of around half a million people.
"There's no doubt that major musical productions do drive tourism, enhance the cultural life of our city and state, and generate economic benefit for the people," he said. "Through our tourism and major events authority, Events NSW, the State Government is focussed on filling our theatres to generate more overnight visitor expenditure. Sydney has now become the number one city for first run musicals in Australia, as well as hosting successful seasons of other beloved musicals.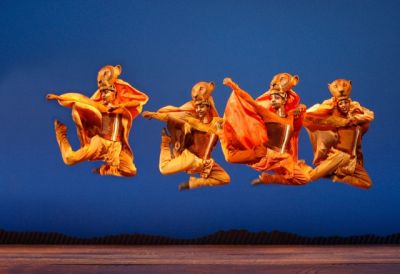 "Last year was a bumper year for musicals in Sydney, with musicals selling well in excess of one million tickets. Stage productions in 2011 generated more than $70 million from interstate and international visitors alone, who travelled specifically for these world famous shows.
"In 2012 and 2013 Sydney will be hosting a range of musicals including two world premieres.
"Pursuing blockbuster musicals forms a key plank in the NSW Government's strategy for the NSW economy. Our focus is make sure NSW has one of the leading event calendars in the world."
Minister Souris pointed out that almost half a million tickets were sold to Sydney's previous Disney musical, Mary Poppins, with about 54,000 people travelling from interstate and overseas to see the show. He predicts that The Lion King will attract 50,000 visitors from overseas and interstate, generating $36 million in new money for NSW.
Asked about casting, Thomas Schumacher said, "Casting The Lion King is a very specific, special thing. In Australia, one of the resaons why we loved the production so much was that it was truly international, cast with many people from Australia. Of course there's always a component of brilliant, beautiful South African performers in the show, but one thing we did differently in Australia last time, and I hope we can do again, is also include Maori people in the show … so if we can stay true to what The Lion King has always represented, it'll be built in Australia, around an Australian cast, and then be peppered by international company."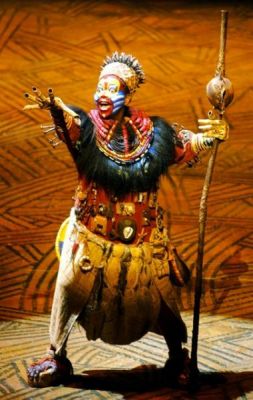 Questioned about the age demographic of audiences for The Lion King, Schumacher said, "Frequently people talk about The Lion King as a show for young people, and in fact it is a show for families. If you're a young person and you come along to se the show you identify with Young Simba and Nala. If you're a teenager or in your early 20s, you tend to identify with grown-up Simba and the struggle that he makes. Of the show, at the very centrepiece of it, has the death of a father and a child's guilt and reconciliation. The show is also about community, and coming together at a time of enormous struggle, and so although this simple myth that sits inside the show is not complex, the values of The Lion King seem to speak to a very broad audience. …
"If you were to join me here in New York or in Hamburg on a Saturday afternoon, we would probably see a very similar audience, which includes families coming as a unit to see the show. If you were to come with me on a Wednesday night you would see primarily adults at the show.
"One of the reasons that the show has been so successful is that it plays to a very broad audience, so when we say family, we mean the broadest sense of that, and that's part of why The Lion King has worked. I can tell you that even the movie, which is remembered as a children's movie, was re-released last year on video. I went to a 10 o'clock showing of the movie in 3D here in Manhattan, and I thought I'll be alone in the theatre. I was literally in a sold out 400 seat movie theatre, and evrybody in the theatre was roughly 25 - 35 years old - people who had a deep emotional connection with the material. …
"We never recommend it for really little kids … it's a full length musical … it's very loud, it's got a lot of action in it, and it deals with very serious themes …"
At this stage there are no fixed plans for interstate touring, though Thomas Schumacher gave a sense that with such a large production in the country, further touring was certainly on the cards.
As with all international productions of The Lion King, original director Julie Taymor will supervise the new production.
Further reading