On 21 March 2014 a cast of 60 international and local artists will converge on the purpose-built 1276sqm stage on Sydney Harbour in Opera Australia's (OA) modern adaption of Puccini's Madama Butterfly.
Along with the Principal Artists announced last year, the full Madama Butterfly company hails from 11 different countries. The cast joins the company of 626staff and crew that come together to make Handa Opera on Sydney Harbourhappen. The Principal Artists will alternate between the 'Butterfly' cast and the'Pinkerton' cast.
Spain's La Fura dels Baus will artistically lead the production, including Director Àlex Ollé, Set Designer Alfons Flores and Costume Designer Lluc Castells. Having such an international cast and creative team means that when rehearsals start on 17 February, there will be six different languages spoken between the principal cast alone.
"Opera is often said to be the universal language, and for this Madama Butterfly it will certainly come in handy," joked Opera Australia's Artistic Director Lyndon Terracini. "We're thrilled that each year Handa Opera on Sydney Harbour's reputation grows internationally and we have been able to attract such a superb cast. Of course we're particularly proud of our Australian emerging artists featured in this production, such as Michael Honeyman, who will join Madama Butterfly fresh from playing Escamillo in OA's Carmen."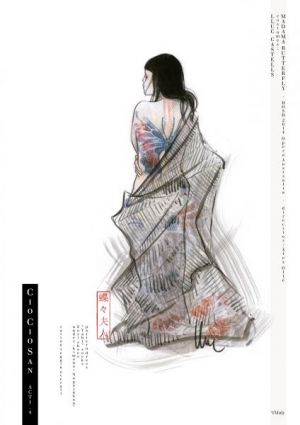 Madama Butterfly also features a full orchestra, meaning that for every performance over 150 artists will be working either on stage or in the rooms hidden beneath the stage and grandstand.
Site Designer Eamon D'Arcy will again transform Mrs Macquaries Point for the event, this year into a slice of Japan, complete with five different dining venues on site. Cuisine ranges from simple Japanese-inspired snacks at the Adina Garden Bar to a full 3-course luxury dining experience at the Platinum Club.
"Handa Opera on Sydney Harbour is more than a show – it is a complete event experience, that is unique the world over," said Executive Producer Louisa Robertson. "The site is open every show day from 5pm, so ticket holders can immerse themselves in the world of Madama Butterfly, enjoy some great food and wine, fireworks, the Harbour view and of course, La Fura dels Baus' stunning interpretation of this timeless love story."
Madama Butterfly comes to Sydney Harbour 110 years after it was first performed at La Scala in Milan, Italy
THE 2014 MADAMA BUTTERFLY CAST
PRINCIPAL CAST
Butterfly Cast
Cio Cio San Hiromi Omura (Japan / France)
Pinkerton Georgy Vasiliev (Russia)
Suzuki Anna Yun (Russia / Australia)
Sharpless Michael Honeyman (Australia)
Pinkerton Cast
Cio Cio San Hyeseoung Kwon (South Korea / Australia)
Pinkerton Andeka Gorrotxategi (Spain)
Suzuki Victoria Lambourn (Australia)
Sharpless Barry Ryan (Australia)
Goro Graeme Macfarlane (Australia)
Bonze Gennadi Dubinsky (Russia / Australia)
Kate Pinkerton Celeste Lazarenko (Australia)
Yamidori Sitiveni Talei (Australia)
Commissioner Simon Meadows (Australia)
Registrar Adam Player (Australia)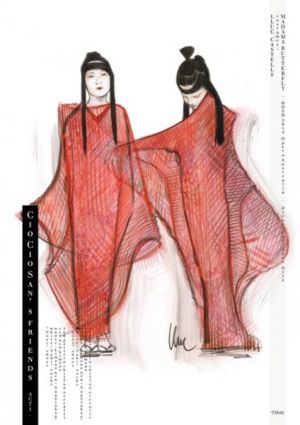 CHORUS
Marcus Bortolotti (Australia)
Chanyang Choi (Korea / Australia)
David Commisso (Australia)
Rachel Cunningham (New Zealand / Australia)
Helene Dahlberg (Sweden / Australia)
Keara Donohoe (Australia)
Emma Fraser (New Zealand / Australia)
Emily Garth (Australia)
Richard Hansen (New Zealand / Australia)
Amanda Hutton (Australia)
Hongxin Jiang (China / Australia)
Bernadette Lucarnus
Alison Manifold (Australia)
Jade Moffat (Australia)
Paul Morris (Australia)
Maximilian Naguit (Australia)
Kathryn Radcliff (Australia)
Amy Radford (Australia)
Matthew Reardon (Australia)
Agnes Sarkis (Iran / Australia)
Daniel Song (South Korea / Australia)
Sarah Ann Walker (New Zealand / Australia)
ACTORS
Steven Agyei (Australia)
Charles An (Korea / Australia)
Stanley Choy (Australia)
Cheng Chuah (Malaysia / Australia)
Jemwel Danao (Australia)
Xander Ellis (Australia)
Andrew Fritz (USA / Australia)
Ryuichi Fujimura (Japan / Australia)
Jason Gao (China / Australia)
Hiroshi Kasuga (Japan / Australia)
Julian Kuo (Australia)
Jayden Lai (Australia)
Ghandi MacIntyre (Australia)
Lily Nguyen (Australia)
Benjamin Park (Australia)
Samuel Park (Australia)
Atsuko Pengelly (Japan / Australia)
Genki Tanaka (Australia)
Khanh Trieu (Australia)
Mizuki Uei (Australia)
Julie Wu (Australia)
THE STORY
A US property developer Pinkerton is in Japan in the early 1900s, and takes a Japanese wife (Cio Cio San) whom he nicknames 'Butterfly'. Pinkerton tells his confidant Sharpless that the marriage is purely of convenience, and that he intends to take an American bride as soon as feasible. However, Butterfly is in love with Pinkerton, and despite her friend Suzuki's warning, her loyalty is steadfast. After an extended absence, Pinkerton returns to Japan where love and heartache unfold.
Madama Butterfly features some of the opera world's most iconic arias including Cio Cio San's Un bel dì vedremo (One Beautiful Day). The story has been the basis of several other works including musicals Miss Saigon and Cho Cho, Broadway play M. Butterfly, 5 screen adaptations, Malcolm McLaren's 1984 electroopera hit Madame Butterfly and even Weezer's alternative rock album Pinkerton.
The Handa Opera on Sydney Harbour performances of Madama Butterfly will be sung in Italian with English subtitles.
The show runs for approximately two hours and forty minutes with an extended interval of thirty-five minutes (plenty of time for champagne!).
THE PRODUCTION
· Madama Butterfly will have a distinctly modern feel e.g. American solider Pinkerton is represented as a property developer, and one of Madama Butterfly's most striking costumes features a full-body tattoo.
· The stage will grow by 12m on previous years, resulting in a 44m x 29m performance space. The stage itself is undulating to mimic the hills of Japan and features a full bamboo garden (made locally in Australia).
· For the first time, the stage is designed to become an extension of the Royal Botanical Gardens itself, utilising 1279sqm of artificial turf.
· Two 24-tonne, remote-controlled cranes form part of the set, moving giant billboards around the stage.
· The show features two inflatable orbs to represent the sun (12m diameter)and the moon (6m diameter). The sun orb has its own barge to give the impression it is rising from the Harbour.
· Every performance has two firework moments.
TICKETS
Madama Butterfly plays March 21 to April 12, 2014. Tickets $79 - $350.
All performances 7.30PM. Site gates open 5.00PM.
Tickets via opera.org.au 02 9318 8200 or ticketmaster.com.au 1300 723 038
Flight and accommodation packages showbiz.com.au/butterfly 1300 361 936
DINING EXPERIENCES
All menus are available on opera.org.au
Platinum Club bookings 02 9318 8300
No bookings required for The Adina Garden Bar, Northern and Southern Terrace, Northern Cantina or Sparkling Wine and Oyster Bars.
GETTING THERE
Handa Opera on Sydney Harbour is located at the Fleet Steps, Mrs Macquaries Road inside the Royal Botanic Garden Sydney.
Train The site is a short 15-minute walk from Martin Place or St James stations.
Drive There is limited, metered street parking on Mrs Macquaries Road or there is flat-rate parking from 4.30PM at Domain Car Park. A shuttle bus operates between the site and Domain Car Park.
Water Taxi $10pp ($20pp return) service between Opera House and Milsons Points to Andrew (Boy) Charlton Pool.
Images: Costume Designs by Lluc Castells. Courtesy Opera Australia