It's the ultimate part for any black South African man to portray - the father of the nation, Nelson Mandela. Perci Moeketsi will play the role in Madiba the Musical on stage in Sydney, Melbourne, Canberra, Adelaide, Perth and New Zealand. He told David Spicer how the end of the Apartheid regime in 1994 changed his life.
Perci Moeketsi was only six years of age in 1994, when South Africans of all colours were allowed to vote in a general election for the first time.
"I remember moments when there was tear gas being thrown around. My mother and father had to run to get some towels to cover my sister and I up," he recalls.
The memories are not strong enough for him to remember the smell of the tear gas, fired from canisters by Police, but what is clear to him is the tension around at the time.
Soon that tension dissolved and new opportunities arose that had not been available to his parents. He relished the opportunity to get a "proper education". Instead of attending a chaotic school in a black township, he was enrolled at an elite private school, formerly the exclusive domain of the ruling white minority.
"The education system was terrible. The teachers did not want to teach, as they were forced to teach in the Apartheid way.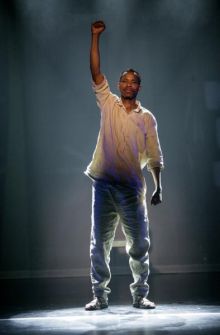 "I was one of the few who knew Afrikaans. I went to their school, which was a large private school with better teaching and resources."
The 29-year-old is now one of South Africa's most sought-after performers, with credits in television and film as well as being a genuine triple-threat stage performer.
He says he now feels blessed to portray Mandela.
"Privilege, humility – there are so many synonyms of gratitude that I feel. To be finally given the opportunity is beyond words. I will make sure I nail that character, to show I am so grateful for this."
To do justice to the role he must focus on all aspects of Mandela's character.
"He is someone who is represented as a saint. But he was human. He went through three divorces. This should tell you of the challenges that life had brought his way.
"He had common weaknesses that were a result of growing up in such an unstable place and not being able to offer his family stability."
Mandela's strengths are legendary. As a young lawyer he led the resistance movement – then spent 27 years in prison, including long stretches of hard labour. When he was released, instead of seeking revenge he preached forgiveness.
"He was willing to die to make sure the black person was liberated and achieved equality. Then he came back and said this is not the time to die, but to live and establish the freedom which I was willing to die for. That is a wise man; a wise man knows how to change his mind. That is one of the best things that I love about him. He did change his mind about how to fight."
Madiba the Musical, which premiered in France, is being staged in an English-speaking country for the first time.
The Associate Director Dennis Watkins says audiences will be surprised at how entertaining the show is.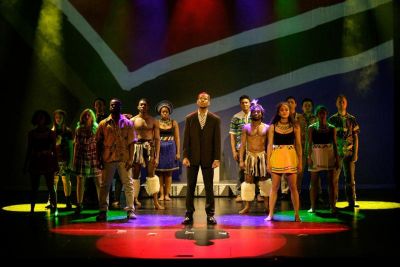 "Mandela went from prisoner to President. Audiences in France go wild at the end."
The musical has a sub plot which involves a love story between a white girl, who is the daughter of a Police Chief, shot dead a black protester at Sharpville, and a black boy who is the brother of a political prisoner.
"It is shocking that their relationship was illegal."
Dennis Watkins describes the music as contemporary pop with French and African influences. New rap songs have been written for the English-speaking edition.
Perci Moeketsi is wildly excited at the rap music, describing with intense enthusiasm how much he enjoyed the musical Hamilton. But he admits Mandela was not such a big fan of modern music.
"He loved authentic African choral music. But he appreciated all the arts, even if he didn't understand them."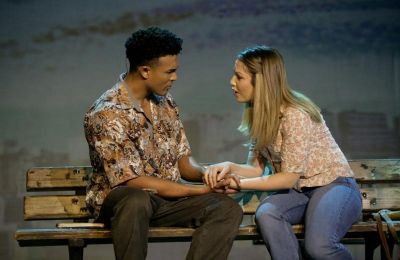 Nelson Mandela would have turned 100 in July this year. Milestones around him often prompt reflection on the state of modern South Africa.
Perci Moeketsi believes that he would not be proud of everything that is happening.
"His famous statement is making the rounds a lot today – 'If the ANC Government does to you what the Apartheid Government did to us, then you to do the ANC what we did to the Apartheid government.' I am quite a spiritual guy. (I compare Mandela to) Moses, who led the people of Israel from Egypt into freedom, but he couldn't quite get them into Canaan."
But don't expect too much politics in Madiba the Musical. The production is a celebration of the journey to the promised land.
"What Mandela would be proud of is that a person can come to Australia and portray a character of black leadership and strength that has the acceptance of the world."